Here's the scenario: you have an existing connection to the internet that is connected to a router of some sort, which in turn connects to your other computers via ethernet or built-in wireless access point.
You want to extend your wireless range by adding another wireless access point (WAP).
Sounds easy, and it can be. However, there are a couple of "gotcha's" along the way.

Routers and access points
The first point of confusion is simply this: routers and wireless access points are two different devices.
If you have a "wireless router", a router that provides wireless connectivity, what you really have is two separate devices in a single box:
A router, which handles routing data to and from the various devices connected to it.
A wireless access point, which allows devices to connect using Wi-Fi.
Two devices, one box, very convenient.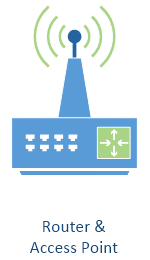 We often refer to these two devices packaged together as a "wireless router", or just "the router", or even as "the access point", which blurs the distinction between the two.
The gotcha is that not only do not all routers come with wireless access points, but sometimes what you really want is a wireless access point without a router
.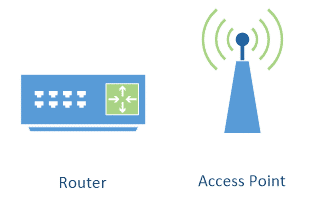 That's the situation we're in here.
Adding an access point
You almost certainly have a router of some sort, particularly if you share a single internet connection among multiple devices. It handles all the communication to and from the internet, distributing it among the various computers and devices you connect to it. Whether or not it already includes wireless capability is actually irrelevant. One network, one router.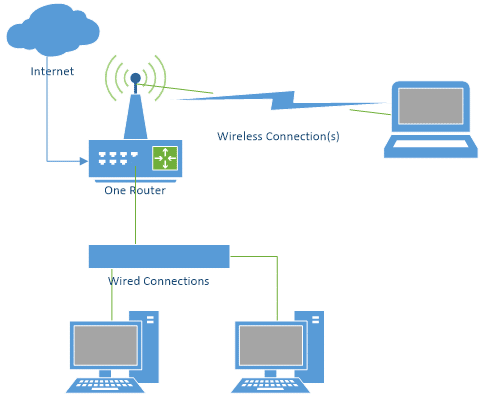 The simplest approach to adding a wireless access point is to add only a wireless access point, and not another router.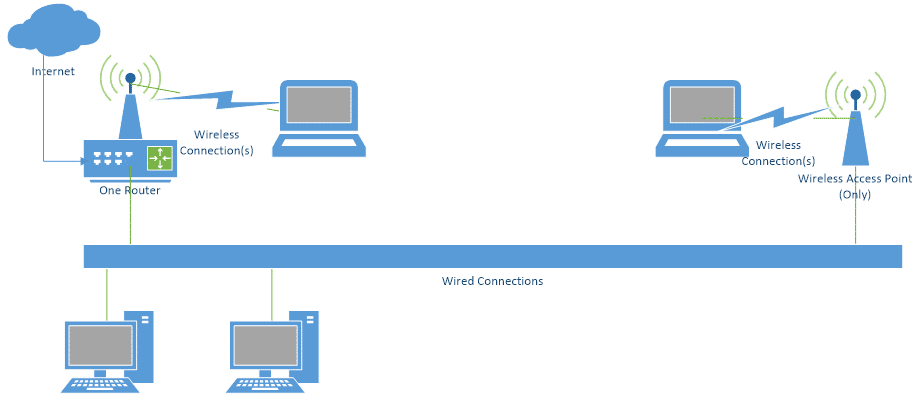 Unfortunately, searching most online stores for 'wireless access points' will return you a list of wireless access points and – you guessed it – routers that include wireless access points.
It often takes a close reading of the specifications to understand exactly what it is you're getting. If the description includes terms like "router", "wireless router", "NAT", or "DMZ", these are all indications that what you're looking at is actually a router.
However, if it says "wireless access point", perhaps with terms such as "bridge" or "repeater", then it's very likely you're looking at something that – perhaps among a few other things – can be used as only a wireless access point.
A router in the hand…
Sometimes you already have an additional wireless router you'd like to use as if it were simply an access point.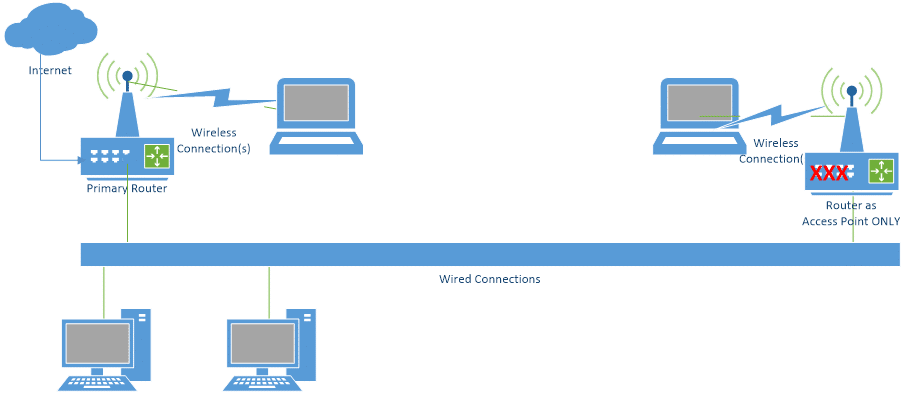 The best I can say here is that it could work, but it's not guaranteed. It's also not necessarily easy.
The most important thing is to make sure the wireless router is not actually "routing". Typically, that means making sure it's not attempting to perform network address translation, known as NAT, or providing DHCP services.
NAT is the technique that lets multiple machines on one side of your router share a single internet connection, and, most importantly, a single internet IP address as well. The router does this by using DHCP to hand out local IP addresses to each machine on your local network, and translating between those addresses and the "real" internet IP address when the local computers access the internet.
If NAT is turned on at both the main router, and the router you're attempting to use as a wireless access point, all wireless devices go through two levels of NAT to access the internet. Not only is that adding unnecessary overhead, but it can introduce some real problems. NAT "protects" the "local" devices from the remote devices … in this case, the wireless access point will "protect" the wireless machines from the rest of your local network. In effect, it'll make them inaccessible.
Unfortunately, exactly how you prevent your wireless router from actually routing varies based on the specific brand and model. Check your documentation for NAT or for providing DHCP services to connected clients, and turn that off on the router you want to use only as an access point.
It might work.
It might be easier just to get a dedicated wireless access point.
Podcast audio

Download (right-click, Save-As) (Duration: 5:34 — 5.2MB)
Subscribe: RSS
More for Patrons of Ask Leo!
Silver-level patrons have access to this related video from The Ask Leo! Video Library.
  Getting Your Wireless Access Point to Work With Your Router