Download and install Macrium Reflect and use it to back up your computer.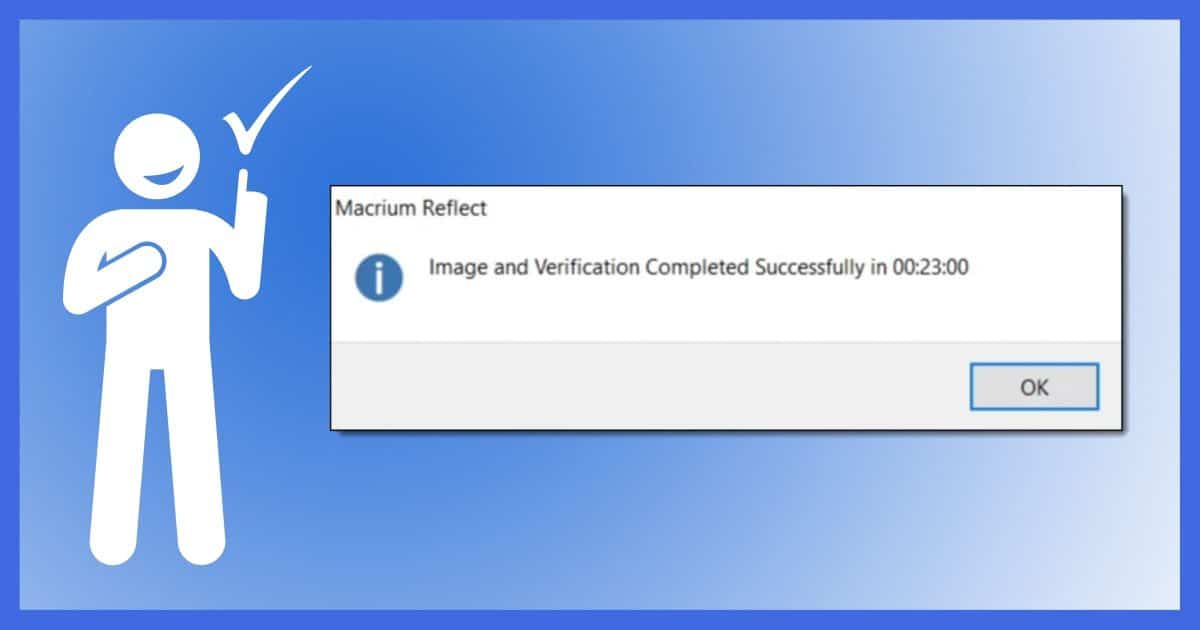 Once I've convinced you that image backups are important, your next question is most likely to be "OK, how?" Here's a short-and-sweet answer.
One of my most common pieces of advice is that you create an image backup regularly, especially before doing something "big" like updating your version of Windows or making other major changes to your computer.
The most common response: "How?"
There are many ways to do it and tools you can use. In this article, I'll walk through the steps using the free edition of Macrium Reflect.
This isn't an exhaustive how-to, but rather a quick demo of how easy it is to create an image backup. This may be all you need.
Creating an Image Backup
Download, install, and run Macrium Reflect's Free edition. Click on "Image selected disks on this computer." Ensure the disk you want to back up is selected and the disk containing the destination is not. Enter the destination for the image file and run the backup. The result will be an ".mrimg" file at your destination containing the complete image.
Download and install
You can get Macrium Reflect Free from their website, here.  Scroll down and look for "Reflect 8 Free".1 Be sure to get the free (not the trial) version of their paid product. The free version is all we need for this.2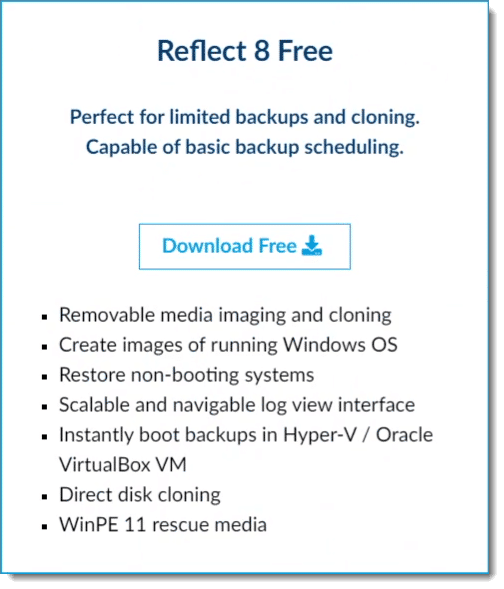 This downloads a small program which, when run, will download the full program.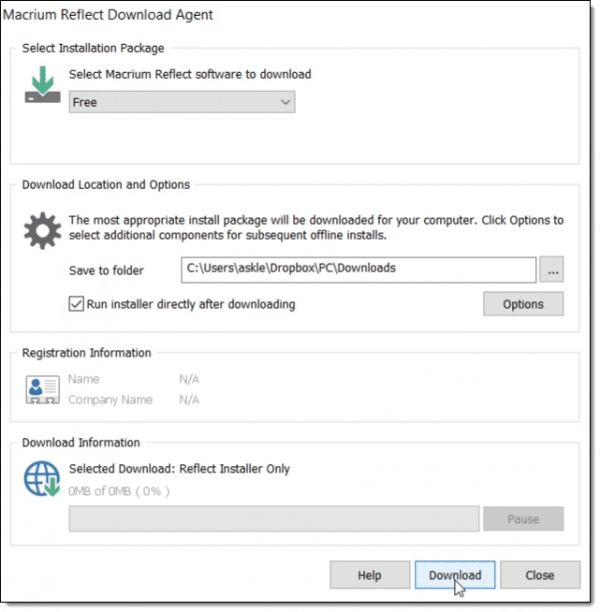 Note that "Run installer directly after downloading" is checked.
Install it as you would any other program you download from the internet. This means always choosing the non-default or "custom" install, if there is such an option, and paying careful attention to the options presented.3
At this writing, it's safe to accept all the default settings during the installation.
When the installation is finished, Reflect will give you the option to "Launch now."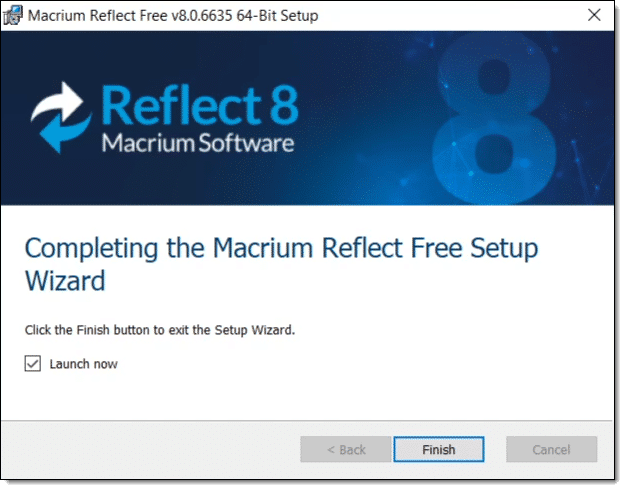 To run Macrium Reflect, you can leave that checked and click Finish, or you can double-click the shortcut that's now on your desktop.
Creating an image backup
You'll need an external hard drive. Connect one that has enough free space. The details can get complicated, but a rule of thumb to start is making sure that the free space on the backup drive is greater than the actual size of the drive you're backing up. If your C:\ drive is 500GB in size, then make sure you have at least 500GB free on your external backup drive.4
Reflect needs administrative access to back up your system, so you'll first need to OK the User Account Control prompt when you start it.
Reflect will then bring up its default window.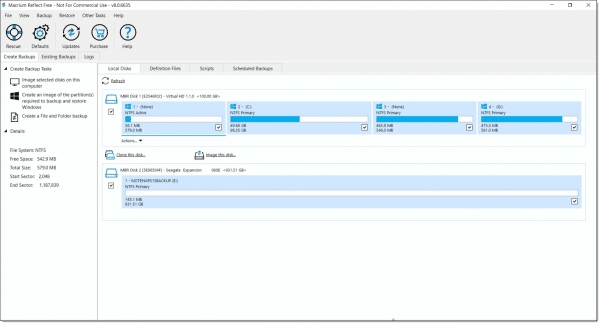 This will sound counterintuitive, but ignore everything except for the "Image selected disks on this computer" link on the left. Click on that. This will display the "Select Source Drive(s) & Partition(s)" dialog.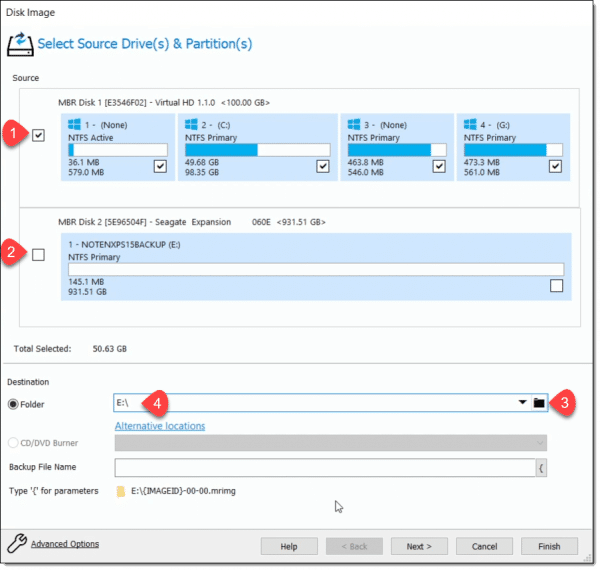 Yours will likely look somewhat different as you'll have different disks and partitions. Each line across the top half of the dialog represents one physical disk, and each box on the same line represents a partition within that disk. In the example above, line 1 is the internal disk on this machine, and it has four partitions, one of which is the "C:" drive. Line 2 is the external drive, which has only a single partition, the "E:" drive.
The disk(s) you want to image should be checked. The checkbox on the far left selects the entire disk, including all the partitions on it. This is what you want.
The disk on which you want to place the image should be unchecked. It may be checked by default, so be sure to uncheck it.
Clicking on the folder icon at the end of the "Destination – Folder" line opens a small navigation window that allows you to select where you want the image to be placed.
You can also enter the path to the destination manually. In this example, I've entered "E:\", which means the backup image will be placed in the root of the E: drive.
There is one item in Advanced Options (click on that in the lower left) that you may want to enable.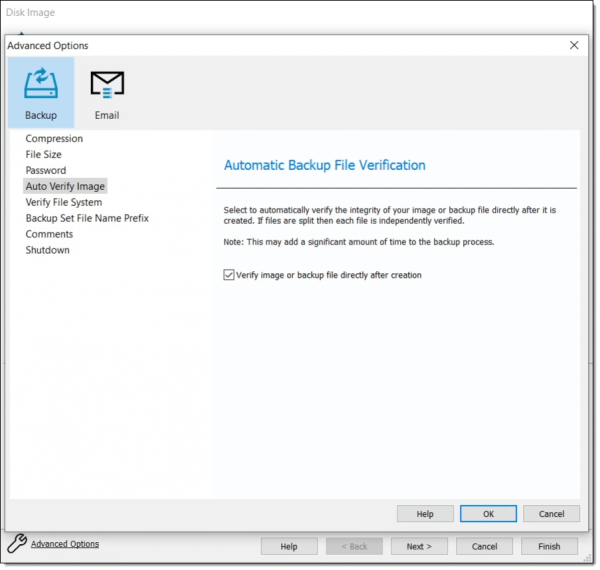 Automatic Backup File Verification runs when the backup has completed. It compares the newly created image to the original to ensure that everything was backed up properly.
Click OK if you've turned that on.
Click Next.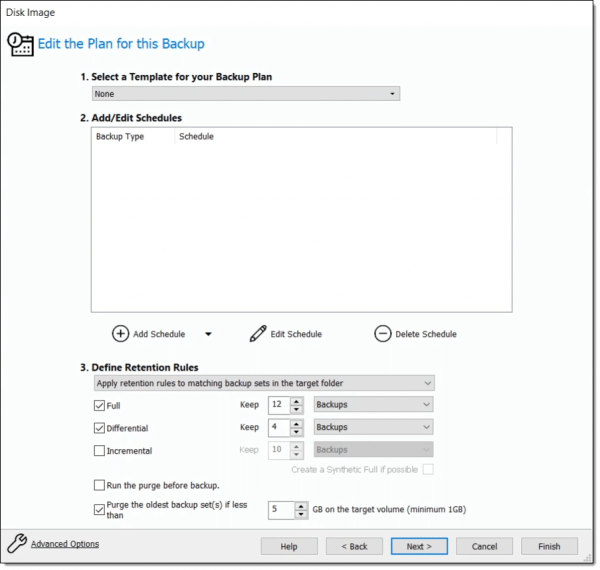 This dialog is all about scheduling and space management, which you don't need to deal with when you're just creating an image. Click Next.
Reflect presents a summary of all the choices made and the operations to be carried out.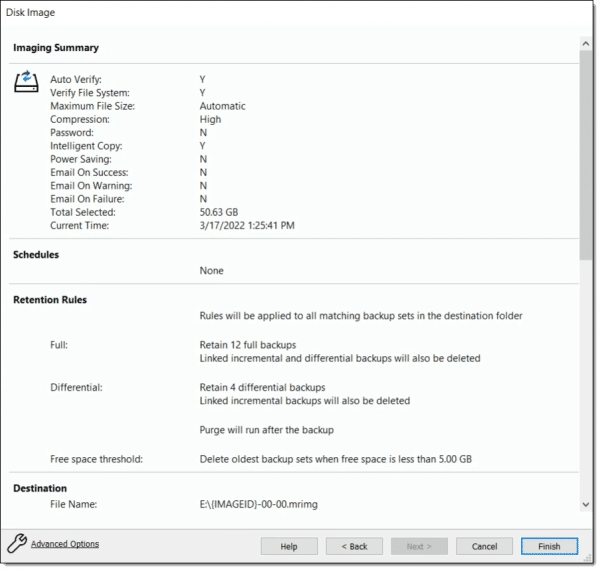 Click Finish.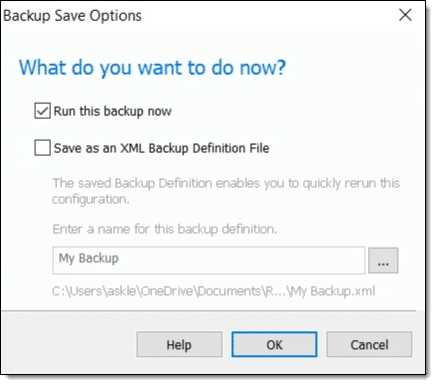 Make sure that:
"Run this backup now" is checked.
"Save as an XML Backup Definition File" is unchecked. (This is used when scheduling backups.)
Click OK, and the backup will begin.
The backup process
How long the backup takes depends on many factors, including but not limited to:
The amount of data on your hard disk to be backed up.
The speed of your internal hard disk.
The speed of your external hard disk.
The speed of the connection used for your external hard disk (USB2, USB3, or something else).
The impact of other software running on your machine at the same time as the backup.
…and probably more.
It could be minutes; it could be hours.
Eventually, the backup completes.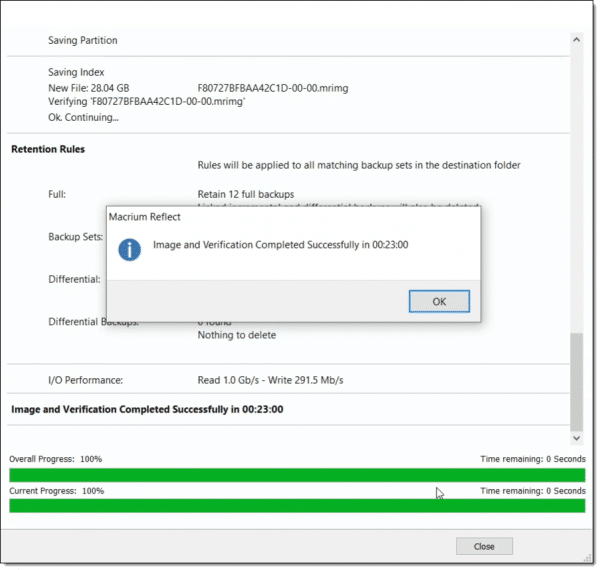 The result of a backup
If we look at the results of our example backup using Windows File Explorer, we see a backup image file on my external backup drive.

A Macrium Reflect backup creates one ".mrimg" file whether you've backed up one drive or many, one partition or many. Should you need to restore, that's the file you need.
But what about restore?!
I want to be very clear here: having the backup in the first place is much more important than knowing how to restore it.
Once you have the backup, you have options. You can learn to restore the entire image, pick out individual files to restore, or find a knowledgeable friend or technician to do it all for you.
As long as you have a backup image, you have options. Without it, you don't.
Do this
You now know how to create an image backup. Give it a try now, before you need it.
Then, the next time you're about to do something "big", you'll know how to do another to protect yourself from disaster. You'll have created an image backup to save you.
While you're at it, subscribe to Confident Computing, my weekly newsletter! More about backups with less frustration and more confidence, solutions, answers, and tips in your inbox every week.
Podcast audio

Download (right-click, Save-As) (Duration: 13:29 — 12.1MB)
Subscribe: RSS
Footnotes & References
1: The current version as of this writing. If it's been updated, by all means get the latest. Reflect generally remains similar across version updates.
2: Their paid product is good and has additional features we might care about later, but for now, free is all you need.
3: Macrium has no history of including foistware, but this is a habit you should always use when installing downloaded software.
4: Technically, it's not the size of the drive but the size of the data on that drive you're about to back up. And even then, there are other factors at play. As I said, it can get complicated. The rule I've presented above is safe and guaranteed to work.