Can I set up an automatic email reply to all the [BULK…] emails I get telling them that such are not being received at my email address? Would it be advisable to do so; I get few if any that inform or provide any useful info. Or perhaps I need to ask "what is the best way to deal with [Bulk…] emails other than one by one?"
I'm going to assume that by "BULK" you mean unsolicited email, more commonly called spam: email you never signed up for and you simply don't want.
Never, ever reply to spam. Period.
It won't help, and will more likely make things worse.
So, while I suppose you could set up an automated reply, that's not what I'm going to show you.
Instead, let me explain why replying to spam — automated or manually — is a really, really bad idea.
Replies to spam don't go where you think
When you reply to an email, your reply is sent to the address listed in the "From:" field1 in the original email.
The problem is that the "From:" line in spam is generally a lie. It's rarely the person or organization that sent the mail. More commonly, it's the email address of someone who is completely unrelated to the spam message.
If you reply to spam, the person who gets your message can do nothing about the spam. In fact, they could claim that you're now spamming them.
"From: spoofing", as it's called, is used by spammers to hide themselves. It makes tracing the real source of spam difficult, if not impossible.
Replies to spam confirm you're real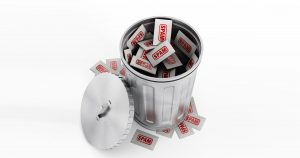 Spammers send email to millions of addresses at a time, including many that are bogus. (Another reason for faking the "From:" address is so the spammer doesn't get all the resulting bounces.)
Why?
It's more like "Why not?" There's no additional cost to the spammer to send out all those bogus emails, as long as some of the addresses they send to are valid.
Sometimes spammers do pay attention to your reply, but not in the way you want.
If they pay attention to it, they may use it to confirm that your email address is valid and their spam has been read by a real person. Note that they will not read your message. They don't care what you have to say. By replying, all you've done is confirm to them that your email address is legitimate.
That's exceptionally valuable information to spammers, giving your email address gold status among their targets.
The result is that you'll get more spam … lots more spam.
Deal with spam as spam
So, what should you do with spam?
If it's really, truly spam — something you did not sign up for — then mark it as spam in your email program or email service.  They will use the assorted characteristics of the message to better identify and automatically filter spam in the future.
If it is something you signed up for, then unsubscribe. Mark it as spam only if the unsubscribe process doesn't work.
Don't bother blocking the sender of spam. As we've seen above, the sender is rarely accurate, and changes randomly.
Delete it and move on
If you don't have the option to mark it as spam, or it doesn't seem to help, simply delete it and move on. It's just not worth getting all worked up over. There's very little you can say or do that will stop spam once you start getting it.
As a last resort, you might consider moving to an email service that has a better spam filter. While not perfect, as of this update Google Mail remains the most effective, in my opinion.
Podcast audio

Download (right-click, Save-As) (Duration: 4:28 — 2.1MB)
Subscribe: RSS
Video Narration