Time to take a different approach.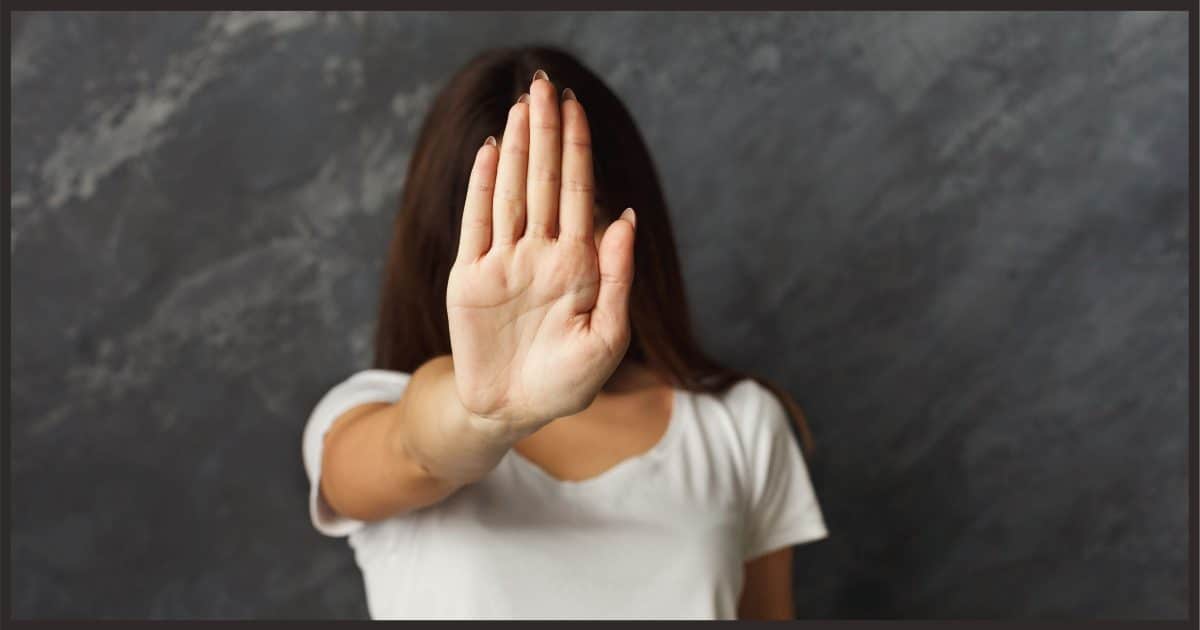 When a legitimate email sender doesn't respond to an "unsubscribe" request, they're no longer legitimate. Here's what to do.
If you use … and then try to unsubscribe they will not let you out. They keep sending e-mails almost every day. All I can do is to delete them but what really stinks is that they do not honor that "unsubscribe"!
It's unfortunate, but there are definitely some "overly aggressive", to put it mildly, companies out there.
I'm not really talking about spam. We all get that, and of course, you should never try to unsubscribe from it.
This is about companies — technically legitimate companies — that start abusing the privilege of sending you email, and won't stop when you ask politely.
It's time to get less polite.
When unsubscribe doesn't work
Make sure the email was sent after you unsubscribed. Depending on the email program or interface you use, your options to prevent messages from an unwanted sender include marking them as spam repeatedly, using an explicit "block sender" feature, or creating a filter or a rule to automatically delete their messages. If none of those options work for you, deleting each message as it arrives is quick and reliable.
Check the date
Before you get upset, check the date of the email you're looking at after you unsubscribed.
If it was sent before you unsubscribed, the sender's done nothing wrong — not yet anyway. They sent that message to you before you asked them to stop.
Apparently, it's not uncommon to work through a long list of email in "most recent first" order, unsubscribe from a mailing, and then continue to encounter older messages. I've heard of people getting upset because they think the messages had been sent after unsubscribing, even though they had not been. Check the date.
When you do unsubscribe, give them at least a little time to take action. I'll generally give them a day.
But don't expect them to travel back in time. That technology doesn't exist yet, at least not that I'm aware of.
Mark 'em as spam
This is my go-to response. If someone is sending you email, especially if it's a lot, and you follow the proper procedure to ask them to stop — meaning you've unsubscribed — continuing to send you messages makes them a spammer. It's the very definition of spam: unsolicited commercial email. Once you've said "stop", it's "unsolicited" in my book.
In theory, if you mark something as spam often enough, the spam filter should get the message and begin routing those messages to your spam or junk folder automatically.
The problem, of course, is marking as spam doesn't always work, and it doesn't always work quickly. It depends on the email system and spam filter you're using. Some systems seem to react well and don't take much encouragement, while others seem to completely ignore the suggestion.1
Some systems act on your personal opinion and realize that you think it's spam. Others use the so-called "wisdom of the crowd" and won't start marking it as spam until a large number of other people have marked it as spam as well.
So if it works, great. It's my preferred solution.
If it doesn't, we need to investigate alternatives.
Block senders
This isn't available in all mail programs and isn't something I recommend for run-of-the-mill spam. However, if you're getting spam from a consistent source — the same "From:" address on each message — blocking them is an option.
For example, when you're viewing an email in Gmail, click the vertical ellipsis, and one of the options will be to "Block" the sender.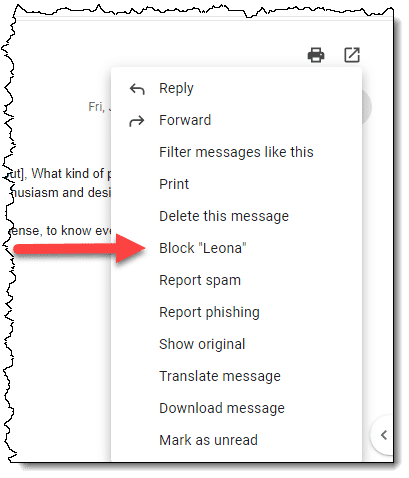 Now when you look at Gmail settings, in "Filters and Blocked Addresses" you'll see a list of the email addresses that you've blocked.

Many online email services, and some email programs, have a blocking feature. It's usually in their Junk Mail or Spam settings.
Remember: this only blocks a single email address. Spammers routinely change the "from" on all their messages, which is why blocking normal spam doesn't work. If you're getting unwanted messages from the same source over and over, "block sender" is an option.
One rule to spam them
If blocking isn't an option, or you want finer control over what happens, the next solution I recommend is to set up a rule or filter in your email program or interface to automatically act on the message when it arrives.
For example, in Gmail's "Filters and Blocked Addresses" settings, you can Create a new filter and specify the email address on which you want it to operate.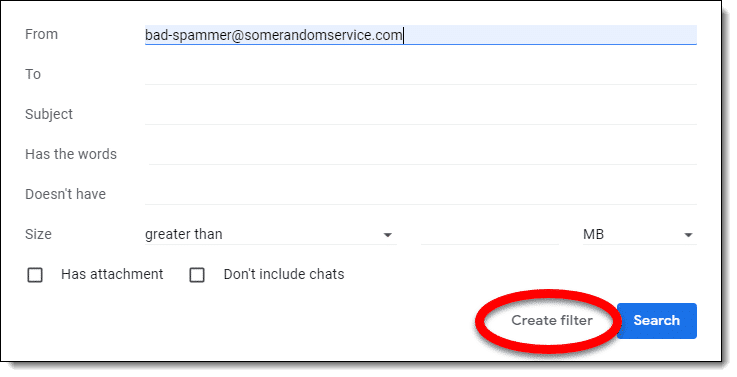 After specifying the search criteria — in this case, the email address we wish to block — we can specify what is to happen.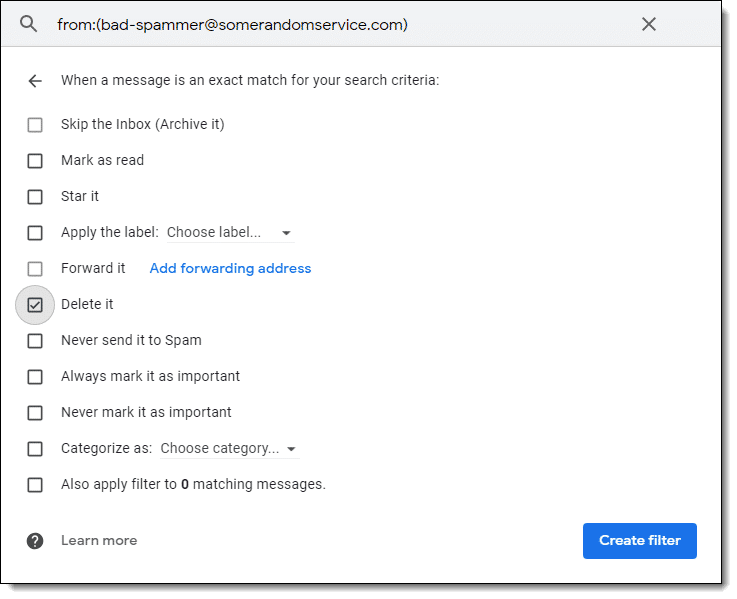 Oddly enough, "Mark as spam" isn't an option in Gmail filters, so the next best thing is to automatically delete it. Many other programs and interfaces also let you mark it as spam in their filters.
I mention filters and rules because, as you can see, you have much finer control over what gets filtered (perhaps you need to see some of the emails from that address, but not others), and what happens (perhaps bypassing your inbox is enough). If blocking the sender doesn't do it for you, perhaps a more flexible filter will.
Ignore them
I'm often amazed at how much ire spam raises. If you're facing an uncontrolled flood every day, that's one thing. Hopefully, a good spam folder reduces it to a trickle.
But even with just a trickle — say a single spam message every day showing up in an inbox — I've people can get really, really upset. It seems like life's too short to let the spammers get to you that quickly, but that's just me.
Unfortunately, if none of the techniques above work, or they aren't available to you, your options are few. Of course, you can get a new email address, but that's a tremendous amount of work and complication just to stop one problematic subscription.
My more pragmatic alternative is simply this: the delete key. It's fast, it's effective, and it's always there for you.
You deserve control
The bottom line is that whoever is sending you email and offering to unsubscribe you isn't playing by the rules when they ignore your request. If that's an issue for you, you need to take matters into your own hands and explore options like blocking, filters, or other techniques to get their messages out of sight.
Podcast audio

Download (right-click, Save-As) (Duration: 4:56 — 5.7MB)
Subscribe: RSS
Footnotes & References
1: I'm looking at you, Outlook.com.