One of the things that frustrates me occasionally in the questions that I'm asked is something I'm also guilty of myself: not reading what's right in front of my face.
Rather than only venting about it, I want to talk a little bit about why it's so important to read and follow instructions.
Because it's obvious that so many people do not. (And, yeah, like I said, sometimes that includes me.)
The question that started this
This morning as I was reviewing questions in the Ask Leo! question queue, I came across this one:
How i solve this problem sir pls! I use windows 7!-
A problem has
been detected and windows has
been shut down to prevent
damage to your computer.
UNMOUNTABLE_BOOT_VOLUME
If this is the first time you've seen
this stop error screen, restart your
computer. If this screen appears
again. Follow these steps: _ _ _
That was the entire question. (I did not respond, for reasons that will become apparent.)
We've all seen these types of error messages at one time or another. Messages that, essentially tell you exactly what to do next.
My assistant's proposed response was spot on: "I'd follow the steps described in the error message".
So why didn't the questioner do that?
And if he did, why didn't he include that information? After all, the Ask Leo! question form does also include the following instructions:
BE COMPLETE: I require the version of all software involved (particularly Windows), the full text of any error messages, the specific make and model of computer and detailed steps to reproduce the problem you're seeing. Without enough information you won't get an answer. Period.
It's more than just error messages
Like I said, that question was just the spark for today's mini-rant. The fact is I frequently get questions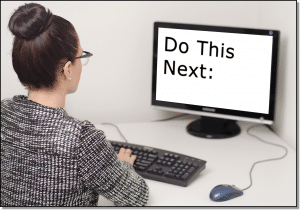 where it's obvious that individuals have failed to read what's on the screen in front of them.
Sometimes when someone asks "what do I do next?" it really is as glaringly obvious as not seeing the actual words on the screen that say "do this next".
I get that there's a lot of information on the screen. And as we'll see in a moment, I also get that it's not always glaringly obvious. But taking an extra five minutes to carefully read and think about what's on the screen in front of you is significantly faster than the amount of time it takes to submit your question to me (or any Q&A site), and then possibly wait days for an answer – that might not even come.
Take a breath. Sit back. Read. Think.
Then follow the instructions that might already be in front of you.
Like the aforementioned "Follow these steps:".
It's not always obvious
Like I said, I totally get that information on the screen might not be presented in a way that's as obvious as all that, and might use words that are not easily understood.
My favorite example are the ellipsis in Outlook.com's menu bar:

The "ellipsis" is the three dots that appear at the end of the menu items. You don't need to know what it's called, but do you know what it means?
Outlook.com's designers think you do. As it turns out many people do not. And yet access to some functionality in the Outlook.com interface absolutely depends on your knowing what those three dots mean.
For the record, they mean that the menu bar is "continued" because there's not enough space to display it all. Click on the three dots and you'll see what else there is: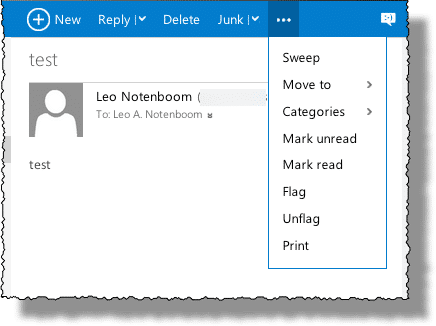 That's obscure to many people, and I totally get that.
At the other end of the spectrum
Have a look at this screen shot of the Facebook login page: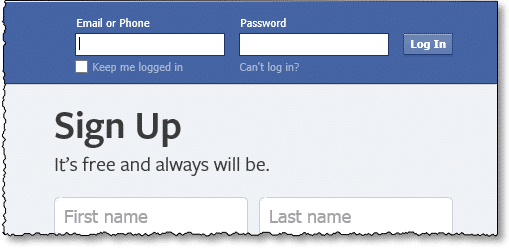 Two questions for you:
Is Facebook going to start charging for access some day?
What should you do if you can't log in?
The only hint I'll give you is that the answers are clearly in front of you. You'll see them. You'll also be surprised at how many do not.
Just like those that didn't see "Follow these steps:".
My advice for better computing success
So let's turn this little vent into some practical advice that'll help you run into fewer frustrations as you use technology.
First, I don't have to tell you this, but there will be problems. Expect them. Things will go wrong. (Heck, it's why I'm such a cheerleader for backing up. :-) ).
When they do, when you find yourself in a frustrating situation, facing an unknown error message or just filling out a web form asking for help:
Take a moment.
Breathe.
Read carefully, the information that's on your computer screen, or the instructions that you've been presented with.
Take the time to make sure you understand them as best you can.
Take your next steps accordingly.
Not everything you encounter will be something you understand – I'm not saying that at all.
But if you give it a chance, many problems will become manageable if you just take the time to think about it.
And for the rest … well, that's one of the reasons I'm here. Just, kindly, read my instructions as well, OK?1 :-)