I frequently get questions from folks who download some free software only to find out that it's not free at all, and they get quite upset at having been misled.
Except that they weren't misled. Not really. Had they read more closely, they would have realized that "free" wasn't really free at all.
That's not to say there aren't misleading advertisements out there – there are. But even the completely up-front and honest ones are sometimes easy to misunderstand.
So let's look at some variations of "free" that aren't really free at all.
Free Download!
"Free Download!" is a common advertising headline. In fact, you may see it on many of the advertisements here on Ask Leo!.
And it's not lying: the download – the act of downloading the software from its server to your computer – costs you absolutely nothing.
What happens next varies. You may need to pay to use the program, or you may need to pay to use some features of the program, or to use it past a certain point in time. Or the software could be completely free.
But the headline "Free Download!" means nothing apart from the actual download of the file to your computer.
Free Trial
By itself, "Free Trial" seems pretty clear: you get to try out some software for some period of time, or some number of uses, after which you need to pay to continue to use it. Free trials are often completely full-featured versions of the software you're interested in; at other times, they may have limitations that are removed only by purchasing the software.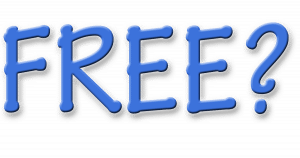 The confusion arises when there are two versions of a particular program:
A truly free version that might be older or more limited in functionality.
A free trial that will eventually demand payment for continued use.
As you can imagine, companies often promote the free trial over the completely free version so they eventually get paid.
Take care to note exactly what it is you're getting. If it's a "trial", then eventually it will not be free.
Free Scan!
This is perhaps one of the most easily confused of the free variants, and yet it's once again completely accurate.
A free scan will typically do exactly that: perform a scan of your computer for whatever it is that the software is designed to scan for. Absolutely nothing was promised about what happens next.
Free scan does not imply free repair.
Most free scans are really nothing more than a form of free trial, allowing you to run the scan on your computer to see if you even need whatever it is the results might indicate. Most then offer to repair or act on those results – for a fee.
The worst examples of this genre of software are free scans that lie. They are nothing more than "scareware" – software that scares you into taking unnecessary action. Typically, one of those unnecessary actions is spending money to purchase the so-called "repair". (Actually, the worst of the worst are, in fact, malware themselves, installing malicious software on your machine only to then offer to remove it … for a fee.)
Unless it's a specific program that you know has a good reputation, I recommend avoiding anything that advertises itself using the "free scan" marketing tactic. There are just too many slimy players out there that leverage it to do nothing more than take your money.
Free with advertising
There have almost always been websites that are completely free, except for the "cost" of being presented with advertising as you view the website's content. Ask Leo! is a fine example. Advertising is an important component of what keeps Ask Leo! afloat, and what keeps the content on the site otherwise truly free.
Particularly in the mobile world, there's now a lot of free software that is, indeed, truly free as well, with the caveat that advertisements are included. Some include paid upgrades that allow you to use the software without the advertising.
But the bottom line is that advertising in general is one thing that keeps the majority of free websites and resources truly free to you and me… with the "cost" of seeing the advertising.
Other forms of "free"
You're likely to run into other forms of "free" as well.
Perhaps the most common is what I call the "public radio" model, where every now and then you're asked to contribute money to the operation of the site or software. Wikipedia is a great example of this: enduring periodic fund drives is part of the cost of using the resource, and simultaneously a critical component of keeping such a valuable resource free to the internet.
"Free" is a powerful word, and with great power comes great responsibility, as well as great opportunity for abuse.
It's important to understand exactly what the word "free" really means, and exactly what it applies to when you're presented with offers on the internet.
Sometimes free really is free. Sometimes free means free, but with an acceptable pseudo-cost, like advertising.
But sometimes free isn't really free at all.
Podcast audio

Download (right-click, Save-As) (Duration: 6:07 — 5.7MB)
Subscribe: RSS