What they mean, and what you need to change.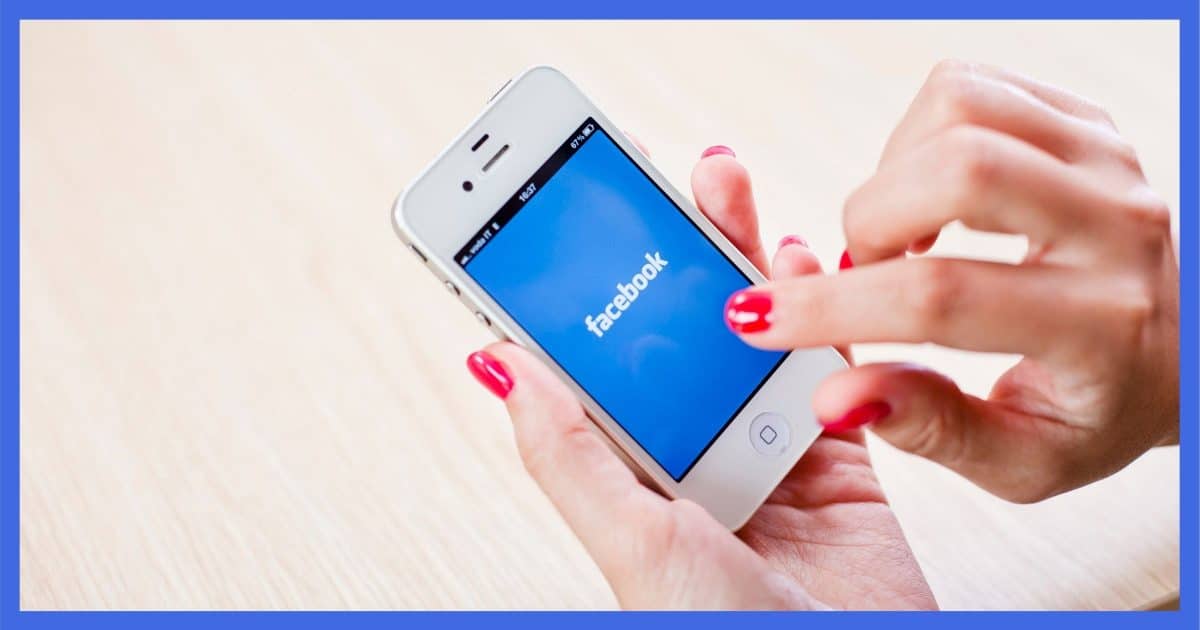 You can and should be aware of and control your Facebook privacy settings.
Often, your own actions impact your privacy the most. Oversharing on social media is perhaps the best example.
Nowhere is it more common than on Facebook, where privacy settings are so complex that it's difficult to know exactly who can see what, when, and where.
Let's review Facebook's privacy settings and what they imply.
Visit the Privacy Settings and Tools page in your Facebook Settings. Carefully review each of the available settings to ensure they're set to the privacy level you both want and expect. Remember, though, that anyone who has access to what you share — even if limited to a trusted list of friends — can still turn around and share that information further than you might expect.
But first, a caveat
One of the issues we face with technology is change. Just about the time we have something figured out, it changes for one reason or another.
Experience shows this is particularly true for Facebook. Presumably to make things clearer and more secure, Facebook occasionally changes the options and settings they provide as well as how and where they're configured.
It's quite possible that what I show you today may change by the time you read this.
Since "click here, then here" type of instruction is likely to be invalidated by future changes, I'll skip them. Instead, I'll focus more on discussing each of the current settings.
App versus website
I recommend you make changes to your Facebook account's privacy settings by visiting facebook.com in a web browser on a desktop or laptop. I believe that the privacy settings are clearer, easier to find, and more completely defined there than in the app.
I'm sure that most can also be adjusted by using an app on a mobile device, but this is important enough that the additional clarity and ease of access is important.
I'll use facebook.com for the screenshots accompanying this article.
How do you use Facebook?
Before altering your privacy settings, it's important to ask yourself, "How do I want to use Facebook?"
Do you want to be easy or difficult to find?
Do you want to share everything with the world, or just a few select friends?
How do you define "friend"? Close friends in real life? People you've met? People you've never met but correspond with? People you recognize? Anyone with a pulse?
The answers to each of these questions impact the settings you choose. If you choose the private/close friends route, you might elect to make it difficult to be found and restrict who can see what you share. On the other hand, if you're using Facebook as part of a public persona, you might choose more public settings.
The choice is up to you. But do make it a choice rather than an accident, particularly since Facebook's defaults tend towards more public access.
Facebook Settings
Click the downward-pointing triangle in the upper-right of the Facebook page to expose a drop-down menu of options. On that menu, click Settings & Privacy.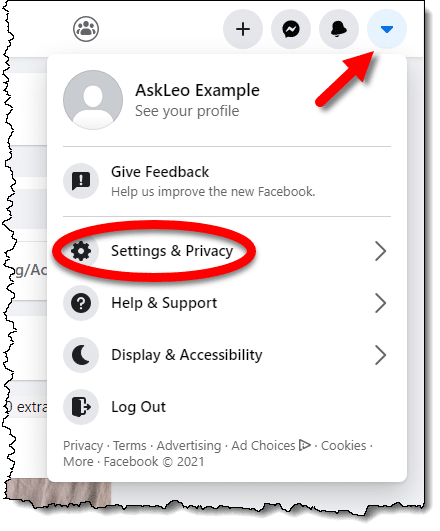 A different drop-down menu will appear. Ignore the Privacy items, but click on Settings.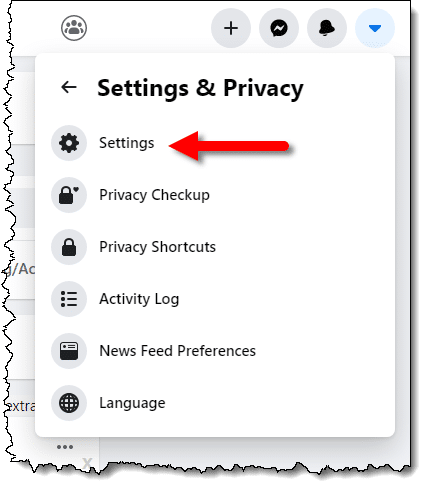 This will bring you to the full Facebook settings collection.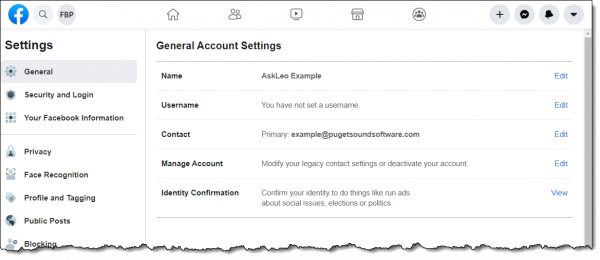 Click on Privacy in the left-hand pane.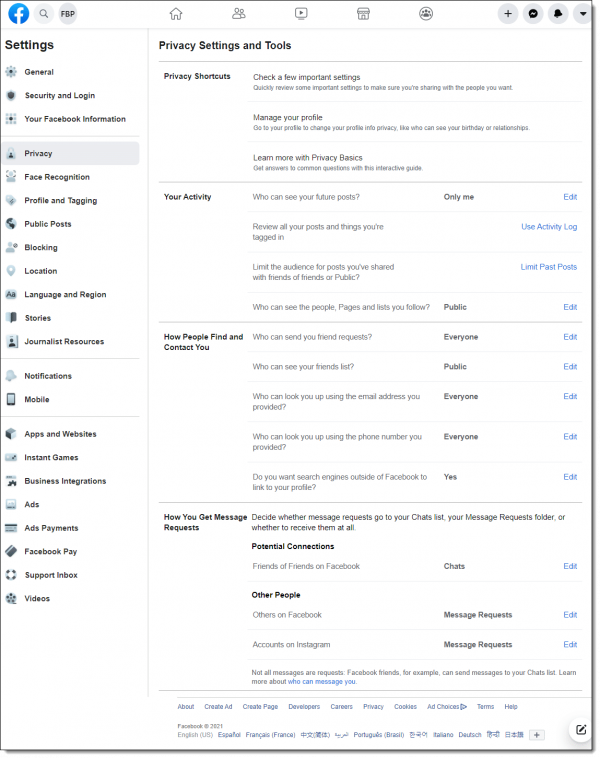 Privacy Shortcuts
The upper section contains three shortcuts: Privacy Checkup, Manage Your Profile, and Learn More with Privacy Basics.
Privacy Checkup: This walks you through most of your current settings and also includes security, app access, and advertising settings.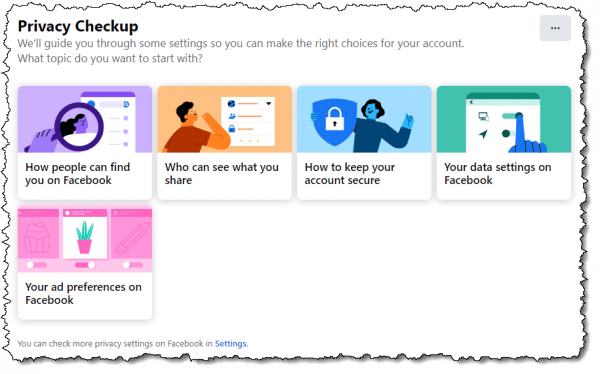 I'll cover individual settings below, but if that seems too overwhelming, at least do this part. You can also return here at any time to review the settings and explanations.
Manage your profile: change what information is displayed in your profile.
Learn more with Privacy Basics: more in-depth information about how to manage your privacy on Facebook.
The rest of the privacy settings are divided into three major areas: your activity; how people find and contact you; and how you get message requests.
Privacy Settings
Your activity
This section is about what happens to the things you put on Facebook, including your posts, comments, tags, and more.
Who can see your future posts? These settings control the visibility of posts you make on Facebook from here on out. Click Edit and you'll have access to a drop-down list of the possible options by clicking the downward-pointing triangle next to the current setting.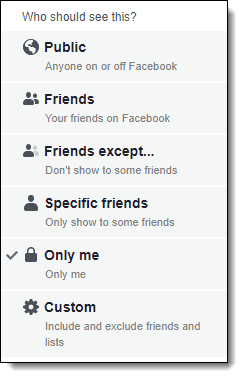 The settings include:
Public: anyone, anywhere, even people without Facebook accounts
Friends: only your Facebook friends
Friends except: specify individual people on your Friends list who will not see posts
Specific friends: select individual people on your Friends list who will see posts.
Only me: allows you to post something to Facebook only for your own use
Custom: specify specific people, groups, various lists, and more
Two important things to realize about this setting
First, you can change it for each individual post you make, but it stays at what you last set it to. So, for example, if you set it to "Friends" here on the settings page, and then set it to "Public" for a specific post you make, the setting remains "Public" until you change it back.
Second, restricting access to something less than public, while certainly a reasonable choice, does not prevent those you share it with from further sharing your post in other ways. Nothing prevents them from taking a screenshot of your post and sharing that publicly. You've probably seen screenshots of embarrassing public posts long after the original post has been taken down.
My approach is to leave this setting "Public" at all times and to remember it's set this way. This serves as a reminder to me to only post things I'm comfortable with truly being public.
Review all your posts and things you're tagged in is just a shortcut to your Activity Log and Timeline review. This allows you to go back and view (or change) the visibility of your past actions.
Limit the audience for posts you've shared with friends of friends or public? This option allows you to make wholesale changes to everything you've shared in the past. With it, you can, for example, change all your previously public posts to be restricted to a smaller audience. I've never used this, nor would I recommend relying on it. There's just no true way to truly "undo" something done publicly. Your post could have been copied, screen captured, or any number of other things taking it out of your control.
How people find and contact you
Who can send you friend requests? This has two settings: "Everyone" or "Friends of friends". I have this set to "Friends of friends". What you want will depend on how you use Facebook. Fortunately, unwanted friend requests are easy to ignore.
Who can see your friends list? This allows you to assign the same level of privacy as you would a post: Public, Friends, Friends except, and so on. Once again, I have mine set to Public as a reminder that any of my friends who can see the list could copy and share it publicly.
Who can look you up using the email address you provided? Possible settings are "Everyone", "Friends of friends", or just "Friends". I figure if someone knows my personal email address, I don't have a problem with them finding me on Facebook. Again, the setting you choose depends on how you use Facebook.
Who can look you up using the phone number you provided? Possible settings again are "Everyone", "Friends of friends", or just "Friends". My thoughts are similar: if you know my number, it's ok with me that you can find me on Facebook.
Do you want search engines outside of Facebook to link to your profile? Do you want people to be able to find your Facebook profile on Google or Bing or other search engines?

How you get message requests
This is all about Facebook Messenger and how messages from people who are not Facebook Friends should appear.
Potential Connections: You can opt to allow friends-of-friends to contact you directly in chat, or in the separate Message Requests area without notification, or you can specify that they be discarded.
Other People: You can indicate that Facebook and Instagram messages be sent to the Message Requests area or discarded.
Facebook Privacy Basics
Finally, as you may have noticed in the menu we started with, there's currently an item called Privacy Basics at the bottom.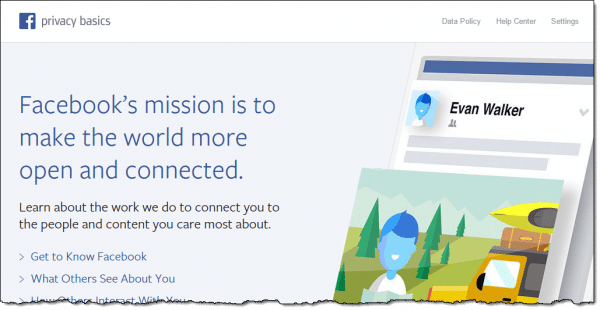 I recommend you take some time to review the information presented there.
If nothing else, the very wording of the Facebook mission is worth noting: "… make the world more open and connected." To me, this indicates their rationale behind making your default settings as open, public, and permissive as they are.
Podcast audio

Download (right-click, Save-As) (Duration: 11:58 — 13.6MB)
Subscribe: RSS