Dealing with an unintentionally empty inbox?
I get reports of people who have lost the contents of their inbox. We'll look at a couple of common causes and resolutions.

The contents of my inbox disappeared! Can I recover?
I get this question occasionally for several email programs and services.
Depending on exactly what happened, your mail — like the truth — may still be out there.
Email disappeared!
The most common cause of disappearing email is an accidental filter or view setting. Check those settings first. Then check your trash for accidentally deleted email and your spam folder for accidentally flagged email. Finally, for online accounts and accounts connected via IMAP, check in with your email provider in case something went wrong at their end or they can help.
Check your filters and view
This is probably the most common cause of the panic. In a nutshell, a view or filter was applied to the inbox that hides everything.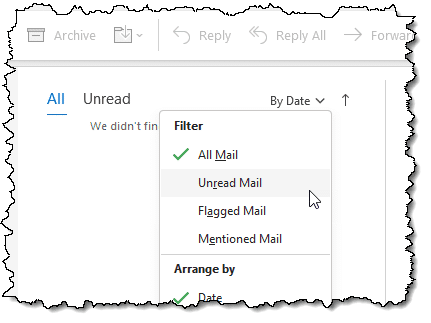 For example, if you filter to show only unread mail and you have no unread mail, your inbox will appear empty because all of the email you've already seen will be hidden.
The example above shows the setting for Microsoft Office Outlook, found at the top right of the message list. In other email programs or websites, look for menus or options relating to "view" or "filter" — it's not uncommon to find that you've accidentally told your email program to hide all the messages you expected to be there.
Check the trash or recycle bin
CTRL+A followed by the DEL key is a two-keystroke way to delete everything in your inbox. I'm not saying you did this on purpose, but it's possible to accidentally delete items.
That's why the Recycle Bin and Trash folders exist.
Check the contents of those folders for your missing email. You may need to look carefully, as it may be intermingled with other items you intended to delete.
Check spam or junk folders
This hasn't happened in a while, but I have seen email programs misfire and suddenly not only start delivering all email to the spam (or junk) folder, but actually move all existing inbox email there as well.
Needless to say, it's frustrating when it happens, but at least there's a possibility your email is there and recoverable.
Check with your email provider
When all else fails, check with your email provider.
Particularly for online email or for email programs configured to use IMAP to access your online email, if something goes wrong at the provider it can manifest in a variety of ways, including a suddenly empty inbox. Hopefully, they'll be able to provide some guidance, and ideally, a backup.
Do this
Don't panic.
There are several things to investigate. As I said, in my experience, it's often just an accidental view or filter setting that is easily fixed.
This should also serve as a reminder that things can go wrong. If your email is important (and for most people it really is), back up your email on a regular basis.
Also, subscribe to Confident Computing! Less frustration and more confidence, solutions, answers, and tips in your inbox every week.