As I mentioned last week, my year-long experiment revealed that using a laptop as my primary machine everywhere had some shortcomings — shortcomings that weren't easily fixed by changes to the laptop itself.
It was time to end the experiment and return to a more traditional desktop machine for my work here at home.
This time I did something a little different, though.
I asked for a little bit of help.
Manufacturer choice
In my basement is the desktop machine I used prior to the desktop machine I used prior to the laptop. If that's confusing, think of it as my prior-prior-desktop.
It's based on a Intel Core 2 Quad Q6700 Quad-Core 2.66GHz processor — quite the machine in 2008.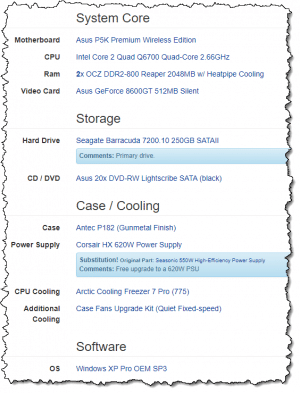 It's not even that bad a machine for 2020. It's had a few upgrades — RAM has been maxed out at 8GB, I replaced the hard disk and installed additional hard disks installed internally and externally, and, if I recall correctly, upgraded the video card along the way as well. It's now running Ubuntu Linux and acts as a file server on my local network as well as a host for a virtual machine or two.
Yes. 12 years in, the machine continues to work, and work well. It was a good investment.
Which is why I'm returning to its manufacturer, Puget Systems, for my new machine.1
Asking for help
Recall from the previous article that the areas I felt the laptop falling short:
Video editing
Running virtual machines
Online gaming
My belief was that addressing the first would take care of the other two.
I poked around on Puget Systems' website, using their solutions-based approach to get an idea of what to expect. "Solutions-based" means they have pre-configured systems designed to handle specific software packages. The closest to my needs were systems configured for Adobe Premier, a high-end video editing package. The system aimed at 4k editing looked interesting, but without really diving into all the excruciating details and nuances of the assorted components — something that, honestly, bores me to tears — I wanted a little more confidence that what I was looking into made sense for me.
So I asked. My email to them read:
I have three high-usage scenarios that I would like to address better than my current solution:

video editing using Camtasia (hopefully you've heard of it). My current machine can do it, but it can also get quite pokey during editing.
virtual machine management using VirtualBox. I typically only run one, but a) I'd like to configure it to be beefier, and b) I'd like to have it not impact the host system quite as much as it appears to do right now.
Guilty Pleasure: World of Warcraft. :-)

…

When I look at your "solutions" the "4K Recommended Systems for Adobe Premiere Pro" is the closest solution-driven recommendation I can see, but I wanted to run all this against a real person as well.

Additional considerations:

I *really* believe in future-proofing as much as possible. Hence while I believe I want 64gig RAM today (mostly for those VMs), ability to expand can be important.
1TB internal SSD is probably enough to start. Once again, I expect the computer to be expandable to include additional drives in the future. (Currently also have a 6TB USB3 external that's serving me well.)
Quiet would be good. I often record in the same room in which the computer will sit. (This is something I forgot in the web submission)
After asking me my budget2, my contact at Puget Systems made a recommendation.
System configuration
The resulting configuration is based on an AMD Ryzen 9 3950X 3.5GHz Sixteen Core processor. That's actually quite a step up from the 8-core Intel i9 in the stock configuration I was looking at (as well as the 6-core i7 in my laptop). The other major upgrade is a higher-end video card targeted at gaming, which will benefit the video editing experience as well.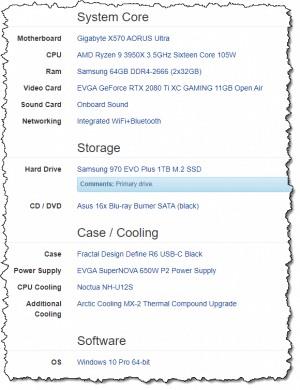 While it's configured with 64 gigabytes of RAM, the motherboard can handle 128. I've installed only one drive — a 1 terabyte SSD using the M.2 form factor3, with room for two more. And it has several traditional SATA ports for more internal devices.
I'll be keeping my 38″ Dell monitor, as well as its 6TB external drive, both currently used with my laptop when in its desktop configuration.
Caveat: Whenever anyone posts a system configuration online, opinions are guaranteed to follow. "Why did you get THAT?" "What about THIS?" "OMG it's so expensive!" "Oh, man, you got robbed!" I expect the comments to this post will not disappoint in that regard. Realize that this is one of literally tens of thousands of different configurations, and the ultimate measure of success is simply whether it meets my needs today and in the future.
It's an investment
My budget was $5,000.
I'm in no way suggesting that you need to spend $5,000 on a new machine. My needs are significantly more demanding than that of the average computer user. Depending on your own needs, you may be able to get away with much less — perhaps even a tenth of what I've budgeted for the most basic of solutions.
My machines are also a business investment. I fully expect this desktop to last at least a decade, if not longer. Exactly how long it will be my "primary" machine remains to be seen, but I've stacked the deck — in terms of initial configuration and long term expandability — to maximize its useful life, not at all unlike that 12-year-old machine still purring away in my basement.
My goal in sharing this process is to underscore how important it is to understand exactly how you use your computer when it comes time to purchase one. With so many options and possibilities, as well as sources of information and misinformation, questions like "What will you do with it?", "How long will you keep it?", and, yes, "What's your budget?" should guide you as you make decisions.
Even if you don't make those decisions yourself — if the thought of even considering the components of your computer bores you to tears — the people to whom you turn for advice will need those answers in order to make a reasonable recommendation.
Next up: in the coming weeks, I'll update my recommendation for the very first things to do with a new computer.
Podcast audio

Download (right-click, Save-As) (Duration: 7:43 — 8.0MB)
Subscribe: RSS
Footnotes & References
1: That their name and my corporate name (Puget Sound Software) are similar is purely coincidental. We're both located near Puget Sound, the body of water to the west of Seattle. P.S.: it's pronounced "pew-jet".
2: Always an interesting question. My budget is "X" means that they'll come up with a system that is almost exactly "X", and they didn't disappoint; they came in $4 over. Whenever you're asked for your budget, provide the number you want to pay. If you have the ability to raise it, do so strategically by making targeted changes to the configuration if it falls short in some way. Good companies like Puget Systems are more than willing to work within your budget, or let you know if what you're looking for isn't realistic given the amount you have to spend.
3: M.2 is actually an expansion card interface supporting significantly faster transfer speeds than a traditional SATA interface used with most internal drives.