A Cyclic Redundancy Check error usually means there's a problem with your hard drive.
CRC errors happen when there's a bad spot on the media of your hard disk. Data recovery and disk repair are often possible with the right tools -- but you won't need them if you have a backup.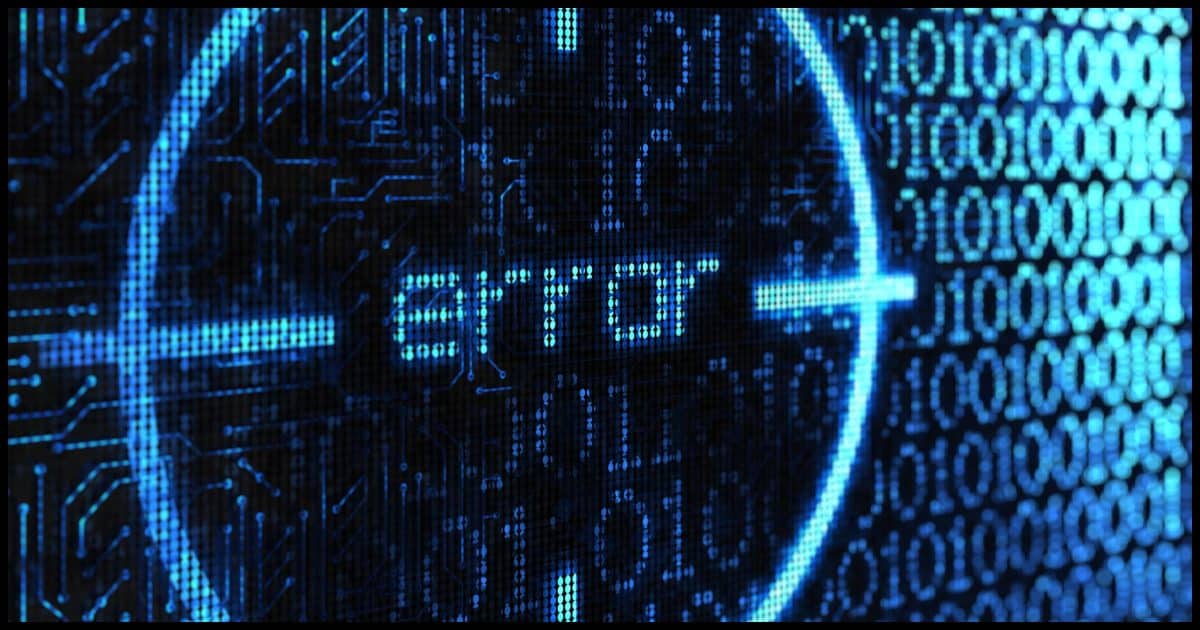 Question: Outlook started acting up, so as part of my attempts to fix it I tried to copy the PST to another location. The copy failed part way through with a cyclic redundancy check error. How can I get past this and back up my data?
A cyclic redundancy check, or "CRC" error, indicates a bad spot on your hard drive. That you see it when trying to copy a file means the bad spot may be within the file itself.
We need to verify that, try to recover your file, and repair your hard drive.
Then we need to learn from this.
Dealing with a CRC error
Begin by trying to copy the file exhibiting the CRC error to another location. If it copies without error, then the CRC error was in the previous destination, not the original file. If the error remains, save a copy of the file, even with the error, and try to repair the disk using surface-scanning tools. Use CHKDSK or try to repair the file with file-specific data recovery and repair tools. Finally, consider whether you should replace the disk on which the error occurred.
What's a CRC error?
Cyclic redundancy check, sometimes also called a checksum, is a fancy name for some complex math that detects when data has been damaged. It starts with a formula that takes the data in question, calculates a number, and then stores that number with the data. Later, the data can be read, the number calculated again, and if it matches the number stored originally, all is well. If the number calculates differently, then something's wrong and you get a CRC error.
Let's say our algorithm is to simply add up the numbers representing our data.
If our data is:
097 115 107 108 101 1111
We'd add those numbers, resulting in a check sum of 639, which is added to the data.
097 115 107 108 101 111 639
That data is written to disk. Later, the disk is damaged or writing to the disk itself had a problem, changing one of the numbers.
097 115 107 122 101 111 639
Now the math doesn't add up. We know there's a problem. That's a CRC error.
In the file or not?
We'll start by making sure the problem is with the file being copied, since it's also possible the problem is with the hard disk location being copied to.
It's a two-step process using Command Prompt.
"CD" to the folder in which the file resides.
Copy the file to NUL.
NUL is a special device file name meaning "nothing". This operation copies the file to "nothing". This is helpful because the only disk access will be to read the file; there's no attempt to write to the disk.
First, locate the file. If you're not sure where a PST file is, Where Is My Outlook "PST" File Located? has instructions to find it. As an example, my file is in "C:\Users\lnote\Documents\Outlook Files\Outlook.pst".
Run Command Prompt, and enter the two commands corresponding to the two steps we listed above.
CD "C:\Users\lnote\Documents\Outlook Files\"
copy Outlook.pst NUL
(Replace my example location or file with yours, of course.)
If a copy to NUL works without reporting an error, the problem is likely not with the file but with the location you were trying to copy it to. My recommendation would be to copy the file to a different disk entirely — perhaps a USB stick, external drive, or something else.
If the copy to NUL fails with a CRC error, then we've confirmed that the bad sector on your hard disk is being used by some portion of the file. In that case, we have some things to try.
Try to fix the file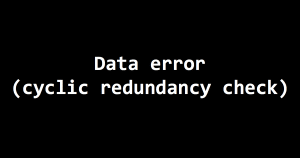 If the problem is in the file itself, we start by making as best a copy as we can. This preserves a copy in a state where "it can't get any worse than this". Some data within the file may be lost, but you'll have copied as much as possible before taking any additional recovery steps.
Once again, we want to copy the file to a different disk, and once again, this is best done within Command Prompt.
CD "C:\Users\lnote\Documents\Outlook Files\"
xcopy /c Outlook.pst D:
(Replace my example location with yours, and the "D:" drive with the drive letter assigned to the drive to which you're copying the file.)
Two important things to note: we've used the xcopy (for eXtended copy) command, and we've added the "/c" switch, which keeps copying even if it encounters errors. As you've already experienced, the default behavior of both COPY and XCOPY, as well as copying a file using Windows File Explorer, is to stop if an error occurs.
Now that we've got a "no worse than" backup copy, we can attempt to repair the disk.
Try to fix the disk: disk surface recovery tools
If you're willing to spend money, there's a possibility we can repair the hard drive.
Tools like SpinRite analyze your hard disk and repair sectors without modifying its contents. If SpinRite runs on your machine (sadly, it may not on more and more machines, as it's not been updated in some time)2 and a bad sector can be recovered, it's very possible that SpinRite, or other tools like it, will recover it.
Running tools like this is not without risk. If your disk is on the verge of failure, the work of analyzing and recovering the data could push it over the edge into a more catastrophic failure.
Try to fix the disk: CHKDSK
If surface analysis and repair tools don't do it, then Windows's CHKDSK utility is the next thing to try. It's not as thorough, and it doesn't perform the same deep analysis and recovery, but it can help the disk recover from some types of failures.
Once again, in the Command Prompt:
CHKDSK /R
The "/R" parameter — for "repair" — directs CHKDSK to check for disk physical and surface errors and repair them as best it can.
If this is your system drive (most often C:), the command will not run immediately, but will be scheduled for the next reboot. You'll need to reboot to make it happen.
After CHKDSK is done, try making another copy of the file. If it works, save that as a possibly fixed copy of your file.
Even if CHKDSK repairs the problem, I'm torn about how much you can trust the hard disk. You could still experience future failures. Given that disks are relatively inexpensive compared to data loss, I'd be tempted to replace the drive, especially if this is not the first instance of an error.
When all else fails
If none of the steps above repair the bad sector or otherwise recover your file, you're a little screwed.
It's now time to work with the best-effort file you saved earlier and, depending on what kind of file it is, try to recover the contents. In your example, an Outlook PST file, that means running scanpst on it, which will scan the contents of the file and attempt to recover what it can. There will most likely be data loss — sometimes a lot of data loss.
That's why I encourage you to never run utilities like scanpst on your only copy of the file. You always want the original to go back to in case there's something else in it you can recover manually.
For other types of files and applications, it depends entirely on how that application deals with a partially corrupt file and whether it can be repaired.
Do this
Which brings me to my last point.
If this is the only copy of the file — if you will suffer significant data loss if this file has been damaged — then you haven't been backing up.
Start. Backing. Up. Now. This was a wake-up call. Even if you successfully recover your file, you should be scared.
Start backing up your important data. Now. In fact, start backing up everything, whether you think it's important or not. The next time there's a problem, you may not be as lucky.
While you're at it, subscribe to Confident Computing! Less frustration and more confidence, solutions, answers, and tips in your inbox every week.
Podcast audio

Download (right-click, Save-As) (Duration: 5:57 — 8.2MB)
Subscribe: RSS