Make it stop . . . or go away.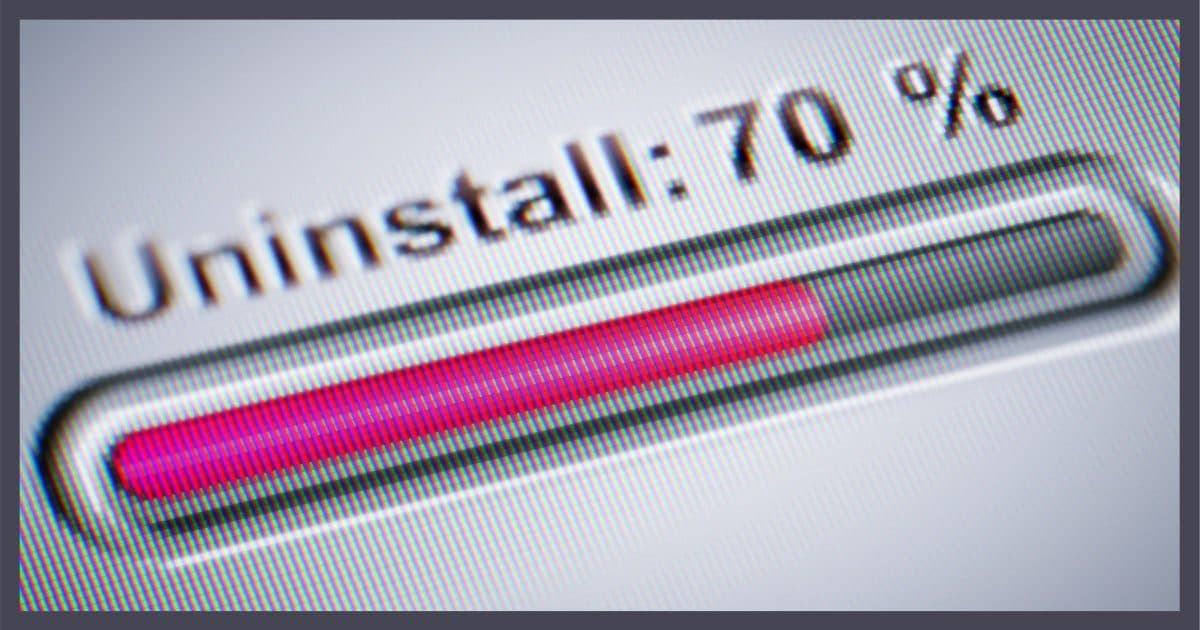 Problems with a program that won't install can be tricky. It's important to capture the exact wording of any error messages you are receiving.
I have Mozilla Firefox and it continues to crash, so I'd like to uninstall it. When I try to uninstall, I get a message that reads, "The program running has to finish first." I don't know what this is. I also downloaded an uninstaller. When I run it, it seems to hang up on deleting the files. At one point it told me I should buy the full version. I even did it as Mozilla advised and downloaded a newer version, except that it doesn't seem to have downloaded, as I can't finish anything. I am majorly confused.
There are definitely some confusing things about your problem, but I'm also a bit perplexed by some of the details of your question.
First, I suspect that the error message, "The program running has to finish first" is not exactly what your computer displayed. I know it may seem picky, but when you're trying to get to the bottom of a problem like this, it's important to have the exact wording of the error message.
Uninstall issues?
Reboot.
Try a dedicated uninstall program.
Run Process Explorer and terminate related apps.
Download and install the program again.
If that worked, UNinstall it again to clean up.
Always carefully track and capture error messages appearing along the way.
Error messages are important
Error messages don't always just tell you what's wrong. They're often written so helpdesk, tech support, and someone like me might be able to diagnose what's happening in a complicated problem like this.
Based on what you described, and making a few assumptions, I have ideas about how you can fix this.
Typically, when there's a message about a program needing to finish first, it means exactly what it says: the program may be in the process of closing down, even if it's not visible on the screen. In situations similar to yours, it's often a previous run of the uninstaller itself that's still running and needs to finish first.
This problem is usually resolved by rebooting your machine.
Step 1: Reboot your machine
Rebooting is usually the first fix for problems like this. If you haven't yet done so, reboot your machine and see if this doesn't immediately allow you to uninstall the software.
For now, I'm going to assume you've done this at least once.
Let's talk about the uninstaller that you have.
Step 2: Try an uninstallation program
There are several different uninstallation programs you could be using. Revo Uninstaller is one I've used and recommend often.
You're reporting the uninstaller app — whichever one you're using — hangs while it does its job. This hints to there being a program running the uninstaller can't close.
This is also resolved by rebooting your machine. If you've done so already, I recommend you reboot one more time and then run Process Explorer.
Step 3: Run Process Explorer
With Process Explorer, you can see what software is running on your machine, and more importantly, whether something related to Firefox (or whatever program you're having difficulty with) is still running. You can then use Process Explorer to force the related program to exit, and then run the uninstallation program again.
Step 4: Download and install the program again
The last item that you tried — downloading the latest version of Firefox — is a great idea. I often recommend doing this in situations similar to yours.
Run the installer, and once again, pay careful attention to the error messages that may crop up along the way.
Step 5: Uninstall after a successful install
This seems counterintuitive, but if the previous step works and you're able to get your program cleanly installed, I'd uninstall it. The reason is that it's clear that the previous uninstall didn't finish completely, and left something behind that caused problems. This is an opportunity to get that cleaned up.
Then, if you like, install the program again.
Step 6: If errors persist, write them down
When you run the installation program you downloaded, you may see warning messages if the problem is still present. Make sure you capture the exact error messages in the order they appear. Take a screenshot, if possible.
That's the kind of information that people like me really need in order to help further.
Podcast audio

Download (right-click, Save-As) (Duration: 6:43 — 7.4MB)
Subscribe: RSS