Question: I'm having problem starting up my computer. When I press the Power button, it lights up and everything inside it runs, but nothing appears on my monitor. I don't know what the problem is. I already cleaned it and had reset the CMOS, but nothing works.
I'll put it this way: just because the lights are on doesn't mean anyone's home.
You turn on your computer. It makes noise. You can see lights — perhaps even blinking lights — and assume it must be running.
It might be.
The problem is, it might not be running at all.
Blinking lights and running fans mean there's power, but little else.
Beeps and the power-on self test (POST) can provide useful information, though beep information is BIOS-specific.
No beeps at all often mean a fundamental hardware problem relating to the CPU, motherboard, other components, or even the power supply.
A broken or disconnected monitor can make it appear as though the computer is broken.
Lights and noise mean very little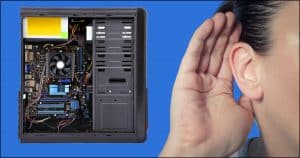 The phrase "everything inside it runs" is impossible to prove just by looking.
You hear the fans all start to blow, disks might start to spin, and you might see some lights come on, but all that tells you is the computer has power.
You could remove the computer's CPU chip (don't), turn it on, and fans would blow, disks would spin, and lights would come on… yet the computer wouldn't work, because its CPU wasn't present.
All you really know at this point is that the computer has power, which is good. The bad news is, you can't assume much more.
Did it beep?
One of the more underrated and useful diagnostic tools for problems of this sort is the beep. That beep is generated by software — specifically, the UEFI or BIOS installed in your computer.
If you hear the beep, the CPU is working, the BIOS seems intact, and at least some RAM is working.
One beep is typical, and indicates things are well, at least to a point. If you hear more than one beep — if it sounds like your computer is beeping out Morse code1 — it's trying to tell you something. It's trying to tell you something isn't working, and may even be trying to tell you what isn't working.
The POST (or Power On Self Test) has detected a problem, and is using a pattern of beeps to tell you something is wrong. Unfortunately, what beep codes mean depends on the BIOS manufacturer. There's a fairly comprehensive list here.
Why beeps? The BIOS can't assuming anything is working, including the display. With no way to show you the problem, beep codes are its way to talk to the outside world.
No beeps?
If you don't hear any beep at all, it's likely you have a more serious problem2.
One or more of the CPU, RAM, motherboard, or some other hardware component isn't working.
Exactly what has failed is not something you'll be able to tell from the outside. You'll probably need to find a technician to have a look.
One beep, but no display?
If the computer gives you one "all is well" beep when it starts up and you still don't see anything on the monitor, then it's time for a very fundamental test of your own.
Check the monitor. More specifically, check that it's turned on, connected, and the connections are good.
If you still don't have display, this is a great time to borrow a monitor and connect it as an external monitor to your laptop, or temporarily swap out your desktop monitor. Borrow a cable, too; they can and do fail. If the borrowed equipment works, then you know it's your monitor or cable needing repair or replacement, not your computer.
If the borrowed equipment doesn't work, that points back to the computer itself as the source of trouble. Anything, from CPU, RAM, and video problems to the power supply, could be at fault.
Sometimes, you just need a technician
Just like sometimes you need a mechanic to repair your car, sometimes you need a technician to diagnose your computer.
Not only does a good tech have the experience to deal with this type of problem, but they have equipment that allows them to look at things the average consumer can't see, and a collection of replacement parts they can use to quickly test individual components on your machine.
Podcast audio

Download (right-click, Save-As) (Duration: 5:35 — 5.9MB)
Subscribe: RSS