What features should I look for on a long lasting hard drive? I know it will fail at some point, and that I should have multiple backups. I grew up in a time when the technology was much more expensive, so I'm not really used to being able to have access to multiple backups. What I'm looking for is how I can determine the expected lifespan of a hard drive.
My friend and I both lost backup drives in the last week, both were 3 years old. Mine was used constantly as a network storage device, hers was used sparingly as a backup drive. We have both given up hope in recovering the data. I do have mine on a few other drives, but not as well consolidated at it was on the drive that died, there is little hope for her photo collection.
I would suppose warranty length and MTBF would be two factors I could determine the lifespan. Also, I know a couple of sites that keep the statistics. I was also wondering if recovery 'insurance' would be useful.
I have to start by pointing out that if data was lost when a "backup" drive failed, then it wasn't really a backup drive; it must have held the one-and-only copy of the files that were lost. As I so often say, if it's in only one place, it's not backed up.
I've been watching hard drives and hard drive technology for a couple of decades now, and it's been both amazing and frustrating: amazing in the speed and capacity we now take for granted, and frustrating in that there are certain things we can still never count on.
Like the drives themselves.
Don't count on the manufacturers
It's interesting to watch the state of the HDD (hard disk drive) market over time; you begin to notice trends. The relevant trend I've noticed is this: this year's winner is next year's loser, and vice versa.
By that I mean that today, drives from manufacturer "X" perform well, last seemingly forever, and are just generally "the best" when compared with the competition. Drives from company "Y", on the other hand, have high failure rates, poor performance, and garner a well-deserved negative reputation.
And next year, they'll trade places. Or company "Z" will be the best. Or some random upstart we've never heard of will enter the market with fanfare and exceptional initial quality. Meanwhile, an industry darling will stumble and fail, and their drives will be the ones to avoid.
All that is to say that there is no "best" drive manufacturer in any absolute or persistent sense. Today's best may be tomorrow's worst.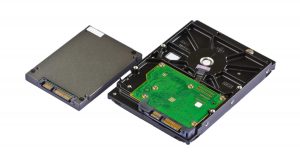 You can't count on a brand name.
However…
Buy a brand name anyway
To stack the deck in your favor, you do want a brand-name drive. Seagate, Maxtor, Samsung, Toshiba, and Western Digital are all current hard drive manufacturers with track records and name recognition. Most also manufacture SSDs (Solid State Drives) in addition to HDDs, but the list of SSD manufacturers is somewhat longer given their current increase in popularity.
Note that I'm not saying any of these brands are "the best". As I said above, that changes over time. The point here is that "the best" generally cycles through these name brands. Choosing from their offerings reduces your overall risk of failure.
Recovery insurance
Recovery insurance isn't something you buy — it's something you do.
The only recovery insurance against hard drive failure is a backup. If you're not backing up, there's absolutely no guarantee you won't lose everything in an instant due to a catastrophic hard drive failure. And yes, it's possible that a drive will fail in such a way that even advanced (and expensive) recovery techniques will be unable to recover the data stored on it.
There is no substitute for backing up. Period.
My approach is simple: rather than researching which drives are best or last longer, I'll pick from a few "go to" brands1 for my replacement drives.
I'll take the time I would have spent researching which drives are best today, and spend it setting up a comprehensive backup strategy, so when (not if) the drive eventually fails, I won't lose a thing.
With backups in place, there's simply no excuse to ever lose something as precious as a photo collection. A good backup strategy protects you no matter what drives you happen to purchase, or how quickly they fail.
Podcast audio

Download (right-click, Save-As) (Duration: 5:14 — 2.5MB)
Subscribe: RSS