I just got a new Lenovo laptop and I'm having the darnedest time typing on it. I'm upgrading from a PC. I used to use this wonderful Windows ergonomic keyboard, which I loved and cherished. I had no issues or problems and I knew where everything was. With all of these newly built laptops now, I'm forced to keep my palms straight and elbows in. I can't stand it. I constantly miss keys, touching the middle pad thingy. I'm constantly misspelling words, going back and backspacing words because I've hit the Enter key instead of the Shift key, cursing like mad. I'm going insane. Is there any way that I can just plug my old ergonomic keyboard back into the USB port, slap cardboard over the laptop keyboard, and go about my regular carefree life? Please say there's a way!
I feel your pain. My dissatisfaction with the keyboard on my Microsoft Surface prevents me from using it more. It's not a bad keyboard. I'm sure that it works well for most people. It's just not particularly suited for my large hands and fat fingers.
Yes
The short answer to your question is yes. If you have a USB-plug keyboard, plug it in. It should start working in a few seconds. I do it all the time.
In fact, I have a friend who's borrowing a laptop of mine that has a bad key on it. Rather than swapping out the laptop based on its usage, it's more effective to just give her use a USB keyboard to use with it.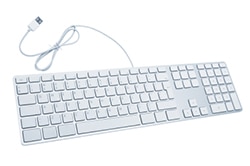 The only time that this may not work is if you're dealing with an older keyboard – one with the round plugs at the end of its cable: the PS2 port, the PS2 connector, or the DIN connector. While there may be some USB adapters available for those, they may not work in a situation like this.
But if your keyboard is USB, plug it in! You can even plug in more than one keyboard. It will work.