In an earlier article, I covered adjusting the default Windows 10 privacy settings at the time you install or upgrade to it.
The key, as is true for many software installations, is to avoid the default "Express settings" option. Instead, always use custom settings, so as to expose the choices the setup program might be making on your behalf.
But what if it's too late? What if you've already installed Windows 10, and want to adjust the settings after the fact?
I'll explore where those settings are kept and what you can change in your installed and running copy of Windows 10. Regardless of the decisions made at set-up time, you can always change your mind.
Windows 10 privacy settings
Click on the Start menu, and then click on Settings.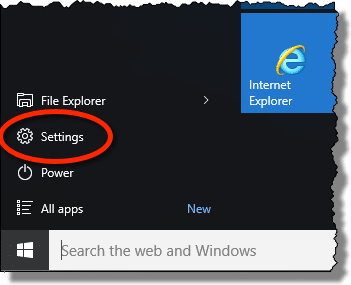 In the Settings application, click on the Privacy option.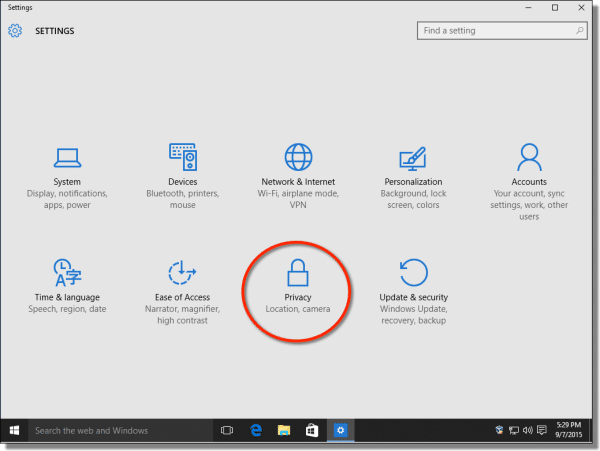 This will display a page with many of the privacy options we care about.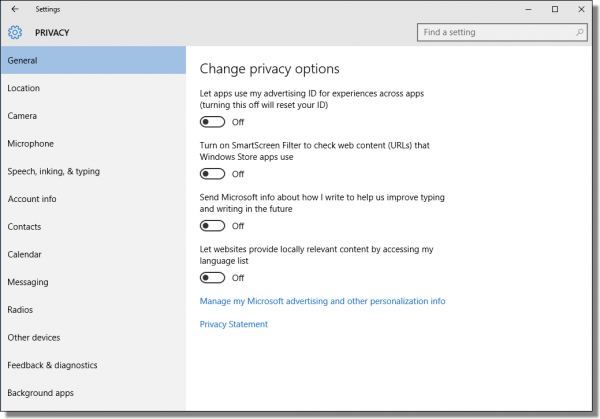 On the left, the "General" section of settings is selected by default, and several privacy options are displayed. Turn each on or off as you see fit.
Click on Location, in the left-hand list, to bring up location-related settings.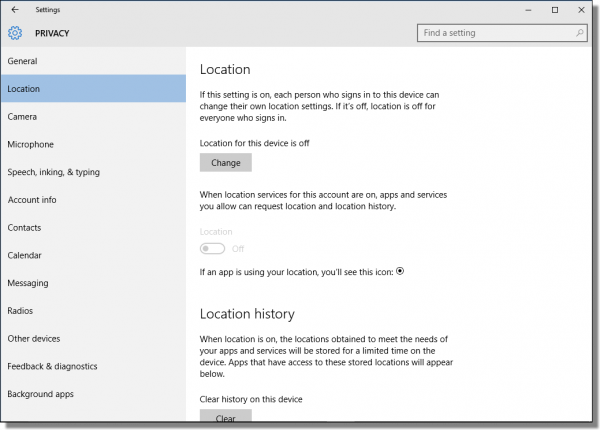 Once again, this displays a list of privacy settings you can elect to turn off or on as you see fit.
This is also an example of something easily overlooked: there's more to this list than fits on the screen. Click in the pane on the right and scroll down to expose more.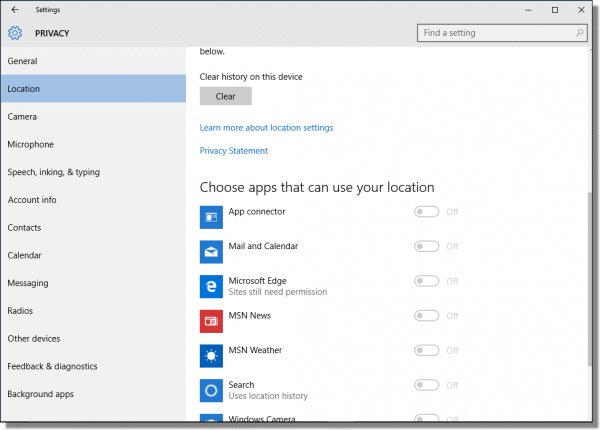 In fact, you may need to page down more than once to expose all the settings available in each section.
Repeat this for each of the sections listed in the left-hand pane. You'll find numerous privacy-related settings – many more, in fact, than were exposed at installation time. These allow finer control over specific aspects of Windows 10 privacy. Review each and decide which you want enabled.
In addition, in the "Background apps" section, you may be able to speed up your computer a little by disabling some background applications with privacy ramifications. Some of these apps simply may not apply to how you use your computer.
As many options as there are here, there are still more that we want to check.
Control Panel settings
At least one setting mentioned in Windows 10 setup is in Control Panel.
There are many ways to launch Control Panel – perhaps the easiest is to type "control panel" in Windows Search, and click on Control Panel Desktop app when it appears.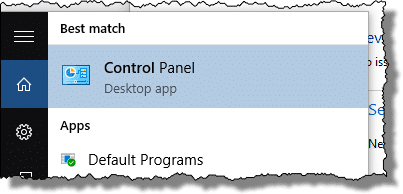 In Control Panel, click on System and Security, then Security and Maintenance, and then Security to expand the list of security-related options.
Here you'll find the Windows SmartScreen setting. While I recommend leaving it on for security, this is where you would turn it off if desired.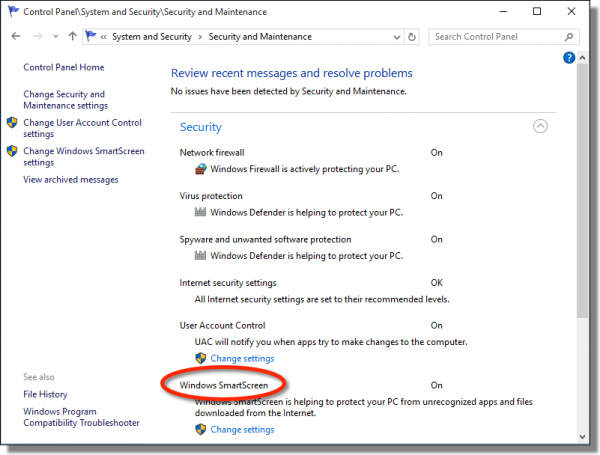 Interestingly, this seems unrelated, or perhaps only partially related, to a SmartScreen option we saw earlier in the Settings app, and possibly even unrelated to the SmartScreen setting listed in the Edge browser.
Microsoft Edge settings
Settings related to Edge, Microsoft's new web browser, are naturally contained within the browser's own Settings page.
Fire up Edge, click on the ellipsis on the right end of the menu bar, and click on Settings.
Scroll down in the resulting setting pane, which will be displayed on the right side of the Edge window. This is another case where the fact that you can scroll down isn't necessarily obvious, but it's required to expose the additional settings we want.
Click on View advanced settings.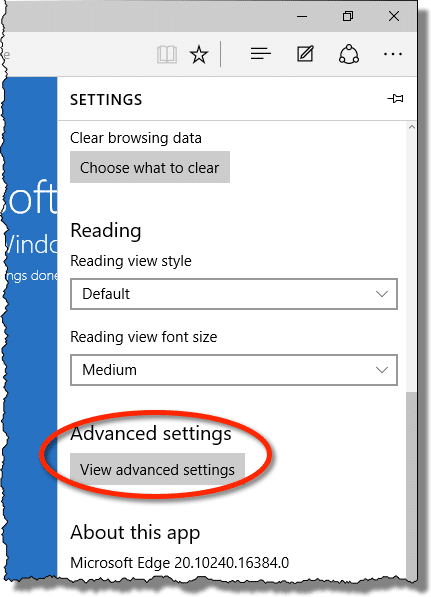 The resulting panel of options – once again, a longer list that you need to scroll through to see in its entirety – includes several privacy-related options.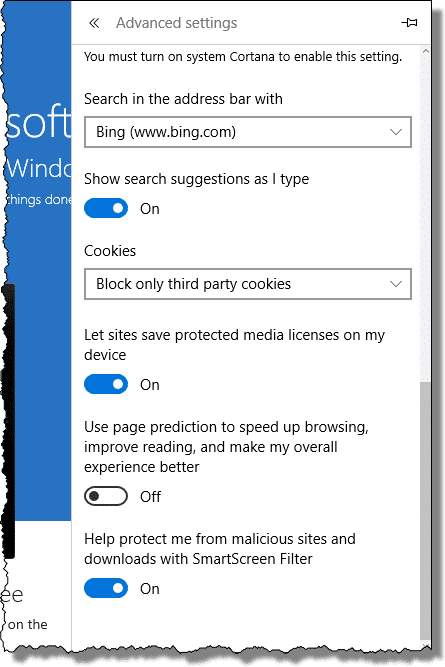 Scroll through the list, examine the various entries, and make sure they're set as you desire. My biggest recommendations are to block only third-party cookies, and to turn off "page prediction", which can cause additional internet traffic as Edge tries to guess which links to pre-load in case you click on them.
Additional settings
WiFi Sense, Microsoft's controversial attempt to make it easier to connect to your friends' password-protected WiFi hotspot, is covered in an earlier article, How do I turn off Wi-Fi Sense (and what is it?).
It's important to remember that each application you run in Windows, regardless of Windows version, may have its own independent privacy-related settings. Internet Explorer 11, for example, includes yet another instance of the SmartScreen Filter setting, in addition to its own privacy and security-related settings. (In IE, click the gear icon, Internet Options, Advanced, and then scan through the list provided in Settings.)
On one hand, it might seem frustrating that you need to visit several places – the settings app, Control Panel, Edge, Internet Explorer, and so on – in order to review all the Windows 10 privacy settings. However, what we've been referring to as "Windows 10 privacy" is, in reality, a collection of the privacy settings of any number of different applications, in addition to the operating system itself.
Is this everything?
What's perhaps more frustrating about the privacy settings I've reviewed above is that we really don't know what else is being shared with Microsoft or third parties. The Privacy Policy we all agree to in order to install Windows 10 seems pretty vague and all-encompassing. While the settings we can adjust above (and perhaps more that I've overlooked) will control some of what is exposed, it's clear that in the long run Microsoft has the ability, and our permission, to collect a lot of information about how we use Windows.
Some find this disturbing, because they fundamentally don't trust Microsoft, and resent the apparent requirement that this information be made available in order to run Windows 10.
I find it disturbing, not because I don't trust Microsoft – I actually do – but because it's such an obvious public relations nightmare, and to be blunt, a blunder. Microsoft could clear this up in an instant with three specific actions:
Configure Windows 10 to share as little personal information as is practical by default. Then, perhaps, provide a reasonable incentive – either a clear benefit or some kind of perk – to encourage customers to turn individual options on.
Give users clearer control, perhaps with a dedicated privacy application, that more clearly spells out what type of information is collected, why, and exactly how it's used, with the option to turn each type of collection on or off.
Be more transparent about data collection and use overall. This is really a generalization of the options provided in the previous point, but by being more clear, more transparent, and more specific about data collection and user privacy – perhaps even in some kind of independently verifiable way – Microsoft could turn all of this into a non-issue.
Until the unlikely day they choose to do so, the choice is up to you: use Windows 101 (or not), and if you use it, take the time to review the many privacy options that exist.
Podcast audio

Download (right-click, Save-As) (Duration: 8:01 — 7.4MB)
Subscribe: RSS