I was asked the other day to describe how I back up my machine. Presumably the intent was to learn some kind of "best practices" from what I choose to do for myself.
Ummm…. no.
Oh, I'll describe what I do, as best I can, but I'll warn you: I'm a geeky edge-case, far away from what "average" computer users do. It's unclear whether anything I do might help you directly.
The big take-away might be that I'm crazy, I back up like crazy, and I automate as much as a I can.
Beyond that … well, it's a maze of twisty little passages.
Virtually everything
I want to start by pointing out that while I have several physical computers, I actually have many more that are virtual.
For example, the Windows 10 and Windows 8.1 machines I use, both for research and a variety of Windows-only applications, are actually virtual machines on my desktop computer.
What that means is that they also have "virtual" external hard drives. Rather than having half a dozen external drives on my desk, I have a single 8-terabyte external drive, on which each of the virtual machines lives, along with its virtual external drive.
Another complication is due to the nature of what I do; it's important that I evaluate and run several different back-up programs. You'll see that reflected (no pun intended) across the machines below.
Physical inventory
Let's start with a physical inventory of the actual computers I use or am otherwise responsible for.
Desktop: Mac Pro with 64GB of RAM, a 512GB internal SSD, the 8TB external hard drive I mentioned earlier, and another 1TB external. This is my office machine, where I do most of my work.
Laptop: Macbook Pro with 16GB of RAM and a 1TB internal SSD. My travel and "family room" computer.
Microsoft Surface Pro, first edition, with 4GB of RAM, a 110GB internal SSD, and a 512 GB external drive. After a very smooth upgrade to Windows 10, this machine now sits in a corner and is dedicated for use with two connected scanners.
Dell XPS laptop with 8GB RAM, 512GB internal SSD, and a 1TB external HD. This machine also had a very smooth upgrade to Windows 10, even though it's at least six or seven years old. Once upon a time, this was my primary laptop for travelling. These days, it's dedicated to playing audio into our stereo system.
Puget Systems Desktop with 8GB RAM, three internal drives and five external drives, running Linux Mint. This was my old desktop machine, and now lives in my basement, playing the role of "network attached storage", or NAS. You'll see it plays a prominent role in backing up, below.
My wife's laptop: a Macbook Air I'm responsible for maintaining and backing up as well.
Believe it or not, this may be the lowest computer count I've had in years. :-)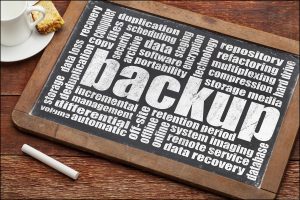 Backing up the Macs
The internal SSD on my Mac desktop is backed up to the 1TB external drive using Apple's Time Machine application.
I also run Crashplan (free edition) on my desktop Mac, my MacBook, and my wife's Macbook Air, and have it configured to back up the primary hard drive on each to the Linux box in my basement. This is the only formal backup used on the two laptops (though as you'll see shortly, much of what's on those machines is backed up in other ways).
Portions (though not all) of that gigantic 8-terabyte external drive are copied1 to some of the external drives on the Linux machine. Specifically, the files that make up the virtual machine images, the collection of files that go into creating my videos, and my collection of photographs, are copied each night by a custom script.
There's more going on with that 8TB drive that I'll get to in a moment.
Backing up the Windows 10 laptops
Each of the Windows laptops are no longer treated as "portable", so each has an attached external hard drive.
The Dell XPS laptop runs Macrium Reflect free, and creates periodic full and differential backups according to Macrium's default settings.
The Surface Pro runs Macrium Reflect Home, and performs a full image backup once a month.
Backing up off-site
In addition to the backups I've discussed so far, there are several forms of off-site, or "cloud" backup, and related technologies.
Being a software engineer at heart, I use a software version control program (SubVersion2) to main a wide variety of files across my servers and local computers. Besides allowing me to make changes anywhere while maintaining version consistency across all those machines, everything is backed up in multiple places – on multiple computers and on the askleo.com server.
I use online cloud storage – Amazon's Web Services – for a couple of purposes, including delivering large video and audio files to my sites. I also use it for online backup. In fact, uploading my entire collection of photographs – perhaps my single most irreplaceable digital asset – has been a priority for years.
I use Bittorrent Sync, a utility very much like Dropbox but without online storage, to automatically copy files between the multiple machines I might be working on. Thus, any files I'm actively working on are automatically replicated to several machines every time I hit "Save".
One set of files – my personal and business records –  are also synchronized to my server "in the cloud" for an additional layer of backup. Because these are sensitive files, however, I use BoxCryptor to store and upload only encrypted copies.
I also use OneDrive and Dropbox, though mostly as cross-machine workspaces with semi-real-time online backup. I use both to share files with my staff and others, and I also use DropBox to automatically back up any files my wife works on on her laptop.
About the Linux box
With no fewer than eight internal and external disk drives, you might expect that the Linux box in my basement plays an important role in my personal backup strategy. It includes:
Three terabytes of NAS that can be used by any machine on my local network. It's another way to transfer files, but it also ends up being a repository for downloads, documents, archives, files, email (some dating back to 1986), all of my music, and my complete photo collection. Backup images from other machines are also stored here.
More archives. Backup images of other, older machines, or other information that is less critical. These archives are archives of convenience, and could be lost without concern.
A complete backup of the NAS. Each night the NAS is copied by a custom script to another hard drive.
Backing up virtual machines
On my desktop machine (remember, it's a Mac) I use Virtual Box to run virtual machines of other operating systems. There are at least nine, including virtual machines that can run:
Windows 3.1
MS-DOS
Windows XP
Windows Vista
Windows 7
Windows 8
Windows 8.1
Windows 10
Linux Mint
No, I don't run them all at the same time (though I have run XP, Vista, 7, 8.1, and 10 all at once, just to see if I could).
As we saw above, the files that make up the virtual machines are backed up nightly to the Linux box. However, because these are the machines on which I often test, evaluate, or simply learn about backup software, some may include additional backups using Windows-based software.
Specifically, at this time:
The Windows 8.1 machine runs Macrium Reflect Home, and performs my recommended "daily incremental, monthly full" backup scheme to a simulated external drive.
The Windows 10 machine runs EaseUS Todo Home, once again performing a "daily incremental, monthly full" backup to a simulated external drive.
Belt, meet suspenders
So far, just about everything is backed up in at least a couple of places, if not more.
But I'm just a little obsessed about backing up. In particular, I've heard too many stories of account loss to rely on just one online backup strategy, or even a single encryption technology.
As a result, at least once a week:
The contents of my Dropbox is zipped into a single large file, which is then encrypted using GPG, and uploaded to my Amazon storage.
The contents of my OneDrive account is zipped into a single large file, which is then encrypted using GPG, and uploaded to my Amazon storage.
The unencrypted files that are normally encrypted using BoxCryptor are zipped into several files, each of which is then encrypted using GPG, and uploaded to my Amazon storage.
On my server, the source code control repositories are – you guessed it – zipped into large files which are encrypted using GPG and uploaded to my Amazon storage.
This is one of the reasons I often tell people that in order for me to lose something that's actually made it into my system would typically take the simultaneous destruction of all my machines at home, the failure of my hosting company, and the failure of several different online service providers.
I feel pretty safe.
An example: how my photographs are backed up
While all of that is pretty darned complex, (I tried to draw a diagram once – I couldn't), it's also almost completely automated and takes very little of my time. Once a month I do a little clean up as I also snag backup copies of things that can't be automated, like an export of my LastPass database.
But it is complex, so let's walk through what happens when I take a picture – as I said, I consider photographs one of my most valuable assets; not because they're that great, but because if lost, there's simply no way to recover them.
Any photo I take on my phone is automatically uploaded to the "Camera Roll" folder in OneDrive, and appears on several of my computers running OneDrive within minutes.
Once a night, that OneDrive folder is automatically copied to my photo collection, stored on the 8-terabyte drive.
If I take a photo using my digital camera, I manually copy the photo to my photo collection.
From there, it's a series of automated copies:
Each night, the photo collection on my 8TB drive is automatically copied to my NAS.
Each night, the NAS is automatically copied to its backup.
Once a week, images are automatically uploaded to my Amazon storage.
It's overkill!!
I'm crazy, and I know it. I'm obsessive about backing up.
But you already knew that.
And, no, this isn't even close to what I recommend the "average computer user" should do. For you, an external hard disk and some good backup software, coupled with something like Dropbox or OneDrive, puts you in great shape.
On the other hand, if you're in IT, if you run a business, if you have a complex combination of virtual and real machines as well as a mixture of operating systems and online services ….
Well, who knows. Maybe you need to be a little crazy too.
Podcast audio

Download (right-click, Save-As) (Duration: 13:02 — 6.0MB)
Subscribe: RSS