If you read my article Can we no longer view websites without getting pop-ups?, you'll see that some of the comments on that article range from annoyed to indignant – and not at the state of the web in general (though that's certainly represented there as well).
No, some people are absolutely outraged that while reading an article that will hopefully help them make pop-ups go away, they're suddenly faced with…
A pop-up.
From me.
So, let's talk about pop-ups, why they exist, why some are worse than others, and why some sites (including Ask Leo!) use them.
Pop-up abuse
I think it's important to acknowledge that not all pop-ups are created equal.
I know I get annoyed as all heck when some site – most often sites that use "click bait" style headlines to get you to visit them – display pop-up after pop-up, or spread their content thinly over page after page, each with its own pop-up (or even) multiple pop-ups.
I leave and vow never to come back.
Until I forget, and click on one of those silly headlines, only to be reminded why I left and never came back.
Pop-ups on Ask Leo!
Originally, Ask Leo! had no pop-ups at all. I relied on people finding the site through the search engines, or perhaps word-of-mouth, and then remembering to return because they found it interesting.
The problem? Asking people to just come back when they remember to is pretty pointless; there are too many competing distractions. The number of visitors to the site stagnated.
Then I added a weekly newsletter and encouraged people to subscribe. On each page, there was a sign-up form that people could fill out to start getting The Ask Leo! Newsletter.
The problem? Few people noticed the sign-up form. My suspicion is that "ad blindness" caused most folks to simply not "see" the form at all. Even if they might have been interested in subscribing, they tuned it out. Newsletter subscriber growth was pitiful – barely breaking even with normal, expected attrition.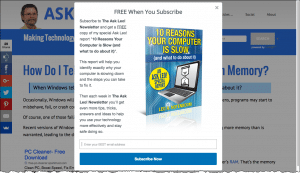 Next, I added a one-time pop-up, timed to appear only after someone visited the site for 30-60 seconds (I experimented with the timing), and only once every 30-180 days (I experimented with the frequency).
The result? Rather than getting flooded with complaints, both newsletter subscriptions and site visits grew. Yes, there were occasional complaints, but far fewer than I expected.
Pop-ups work.
That's why they exist.
The cost of free
I'm sure you've heard it before: there's no such thing as "free" on the internet. Everything has a cost.
Sites that provide free information, like Ask Leo!, must make money somehow or they simply cannot exist. Rather than charging for the information – which, by the way, a) doesn't work, and b) restricts access to only those who can afford it –  sites rely on advertising revenue, and possibly direct sales, to break even or even turn a modest profit.
And all that depends on traffic: getting people to visit the site. The irony is that the more people willing to view the information provided for "free", the healthier the site's revenue situation becomes.
The "cost" is advertising, which often takes the form of pop-ups.
Ads versus ads
I want to distinguish between different types of pop-ups: offers and advertisements.
Pop-up ads are just that: advertisements like any other, which happen to pop up on the screen at some point while you visit a site. The advertisements can be for just about anything, and are often unrelated to the site or the site's topic.
They're just ads.
Offers are advertisements in a sense, but they give you something in return for an action. For example, my pop-up offers you a free ebook when you sign up for my newsletter. This is a very common practice that uses pop-up technology less frequently (once a month, for example) to get your attention and give you an immediate and direct benefit as a result.
True advertisements are pretty much constant, and, like any ad, are pretty hit-and-miss when it comes to offering you actual value.
Your alternatives
I can confidently say that Ask Leo! would not exist as it does today had I not been able to use the newsletter pop-up to encourage people to subscribe and view my (otherwise free) information each week.1
Not only would that be a business loss for me, but it would also mean one fewer resource of helpful answers on the internet for anyone to use at any time without any monetary cost.
I'm sure other sites feel the same way about their constant advertising, or whatever it is they choose to pop up as you visit. Hopefully they've done the math and decided that it works for them, and is an important cornerstone of their business model.
Your choices are actually quite simple:
In the case of less-intrusive sites and pop-ups such as the one you'll experience here, just hit the ESC key, or close the popup, and carry on using the free resource.
In the case of more annoying and persistent pop-ups, decide if you're willing to pay the price to consume the otherwise free information. If not, leave the site.
Pop-up blockers, ad blockers, and tools like NoScript can sometimes, though not always, be used to prevent pop-ups from appearing at all. My position remains that this is akin to theft; it's taking the information provided without paying the price that compensates the provider. I realize that not everyone feels that way, but the bottom line is that no one is forcing you to visit sites that behave in ways you don't approve of, just like no one forces you to visit sites with content you don't like.
Podcast audio

Download (right-click, Save-As) (Duration: 6:25 — 3.0MB)
Subscribe: RSS