One of the issues I see folks experiencing from time to time is difficulty in grasping large numbers.
I mean, really, do you know the difference between a megabyte, gigabyte, terabyte, and petabyte?
And if you have a grasp of the definitions of each, do you really "get" just how large those numbers are?
We often see visual representations of bigger numbers – representations like the megapenny project, which illustrates several large numbers using one-cent U.S. coins. For example, what would a billion pennies look like? (Spoiler: bricks the size of five full-sized school busses.)
There is one unit of measurement I think might make computer data a little more conceptually tangible.
The Bible as a unit of measure
I choose the Bible not out of any religious significance, but because it is the world's best selling and most widely distributed book. Regardless of your faith, regardless of your location, regardless of your take on its contents, chances are you've at least seen a Bible at some point in your life.1
Like a penny, it's something tangible that people can relate to. You probably have a sense of just how big it is. Yes, physical books will vary in size and shape to a certain degree, especially if they include illustrations or ancillary information. The point is that at a visceral level, you likely have a frame of reference for the size of that book.
So, let's use it as a measure of some of the common rates and capacities we throw around in the tech world.
How big is a Bible?
First we have to understand just how big the Bible actually is.
I downloaded the plain-text version of the complete King James Version of The Bible from Project Gutenberg. It includes old and new Testaments, plus a tiny bit of additional information from the Project Gutenberg, and is formatted very simply.
It comes in at 5,218,805 bytes. That's approximately five megabytes.23
Since there are eight bits in a byte, that means it also comes in at 41,750,440 bits. That'll become important in a moment, since some things we care about are measured in bits (a single one or zero), while others are measured in bytes (a collection of eight bits).
How many Bibles fit on your fingertip?
This is a photo of a two-gigabyte microSD flash memory card on my finger.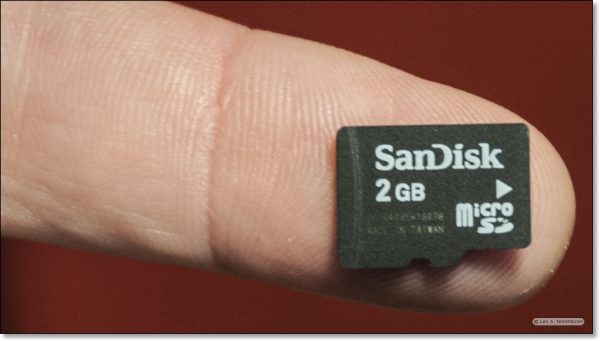 These memory cards are fairly ubiquitous, particularly in mobile devices, since they're so tiny. So, let's do the math: two gigabytes typically refers to 2,147,483,648 bytes, or just over two billion.
It can hold 411 copies of our text-only Bible, all on the tip of my finger.
In fact, that microSD card is rather old. I recently picked one up for my video camera that holds 32 gigabytes. That's 6,583 Bibles – again, in a device that's smaller than the tip of your finger.
How many Bibles can you back up?
I often speak about backing up, and recommend that you have an external drive.
Since I started making that recommendation, I've purchased several 500-gigabyte external drives.
Over 500 billion bytes is difficult to comprehend – so how about over 100,000 Bibles?
My most recent external drive clocks in at a whopping4 8 terabytes5. That's 1,685,461 Bibles – or just over 1.6 "megaBibles", if you will.
Bibles in "the cloud"
It seems somehow fitting to measure some of the cloud storage we have access to in terms of the number of Bibles it could hold.
Dropbox's default two gigabytes is the same 411 Bibles we just placed on my fingertip in the photo above.
OneDrive's 15 gigabytes could hold 3,086 Bibles.
OneDrive's terabyte of storage for Office 365 users equals over 210,000 copies of the book.
You get the idea. You can store a lot of Bibles in the cloud.
How fast can you read The Bible?
Most internet and network connection speeds are measured in bits per second, not bytes. That's why we need to know that our example Bible is 41,750,440 bits long. How long a download is that?
At 33kbps (kilobits per second), which is a common dial-up modem speed: 21 minutes per Bible, or about three Bibles in an hour.
At 768kbps, very basic DSL connectivity: 53 seconds, or just over 60 Bibles in an hour.
At 10mbps (megabits per second), the speed of basic ethernet, fast DSL, and a common cellular modem speed: just under 4 seconds – around 900 Bibles an hour.
At 100mbps (fast ethernet, and a common fiberoptic-to-the-home speed), 0.4 second – 9,000 Bibles an hour.
At 1gbps (gigabit per second), high speed ethernet: 0.04 second – 90,000 Bibles in one hour.
Naturally, all of these are theoretical maximums for each speed, and don't reflect overhead or other factors.
But that's not the point.
The point is to get a better sense for what some of these numbers mean.
"A terabyte of storage" or "a gigabyte per second speed" are both just phrases until you have some kind of frame of reference. Since you have some sense of how big the Bible is, storing 210,000 copies, or transferring 90,000 Bibles in an hour, might give you a better feel for just how much data we're talking about.
At least it's been an entertaining thought exercise.
Podcast audio

Download (right-click, Save-As) (Duration: 7:15 — 6.7MB)
Subscribe: RSS