Maybe like a cheap padlock.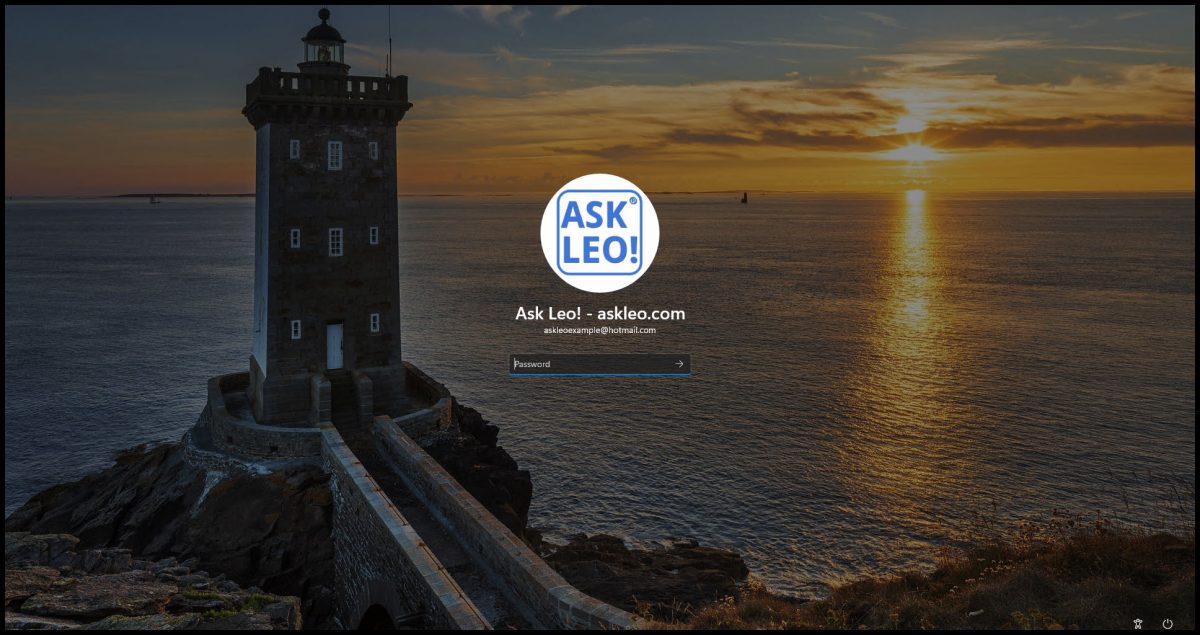 Your Windows log-in password gets you surprisingly little real security. I'll look at why that is, why you might still want one, and what I do instead.
Question: I use Windows on two desktops and a laptop. Up until now, I have never bothered using a password when logging on. But recently, I was cautioned to use a Windows Logon password when I bought the laptop. The shop where I purchased it said this was for security, in case someone took it. They also said the use of a password on my home PCs would prevent malware from being automatically installed should I inadvertently download something. Is this true? I ask because a year ago, I tried to close a pop-under ad using the red X button and unknowingly installed malware. I now use Task Manager for such operations, but the bad guys keep changing what they do, so that solution may someday no longer work.
The security provided by a Windows login password is highly overrated.
It doesn't protect you from many of the things that you've mentioned, and it's pretty darned easy to circumvent.
You should probably have one, and with the migration to Microsoft accounts, you'll need one (though you can still log in automatically); just be aware of what it gets you and (especially) what it doesn't.
Is your Windows login secure?
Your Windows login doesn't really protect your computer's contents from theft. While it will keep honest people honest, it's not a comprehensive security tool. Instead, rely on things like physical security, encryption, and other best practices for staying safe.
The biggie: theft
If someone takes your computer, they don't need your password.
There are several approaches a thief can take to compromise your computer and/or steal your data.
The lesson is simple: having a password on your Windows login gets you zero security should your computer be stolen.
Or put the way I usually put it: if your computer's not physically secure, it's not secure.
What a Windows log-in password does get you
Not much.
I view the Windows login as a cheap padlock. It keeps honest people honest and prevents a few mistakes, but is not much of a deterrent to someone who's really intent on breaking in.
I don't see how it slows down malware infections since those happen when you're already logged in, using a password or not. The only scenario slightly impacted might be malware trying to get administrative privileges. If there's no administrator password, perhaps it could. But that scenario seems rare, especially given that the true "Administrator" account is disabled by default and UAC is enabled for all other accounts.
Login passwords are useful, and perhaps even required, for some things:
Preventing unauthorized access to your files by other computers on your local network.
Allowing authorized access to your files when using other computers on your local area network.
Signing into your desktop computer remotely.
My Windows machines all have log-in passwords for two reasons:
I now use Microsoft accounts for all, which requires a password.
I want to be able to log in using Remote Desktop.
On machines I don't expect to travel with, I typically have automatic login turned on so I still don't have to enter the password.
I do not password my Windows login for any serious security.
Do this
So if the Windows login doesn't make your data secure, what does?
Particularly for portable computers you take with you, the most important things you can do are:
Enable BitLocker whole-disk encryption.
Do not enable automatic login.
You might also consider those steps for desktop machines where you can't control physical security. If anyone can walk up to the machine, they can do anything.
For all machines, then, staying secure comes back to our common list of best behaviors:
Have good security software.
Keep all your software — security, applications, and operating system — as up to date as possible.
Be skeptical and on guard. That means not opening attachments you don't expect and learning to recognize and not fall for phishing attempts.
Back up religiously.
But definitely don't assume that the Windows login really helps.
And while you're at it, subscribe to Confident Computing! More tips like this, less frustration, and more confidence, solutions, and answers in your inbox every week.
Podcast audio

Download (right-click, Save-As) (Duration: 7:18 — 6.5MB)
Subscribe: RSS