Is Microsoft done sneaking through forced upgrades to windows 10?
This is a question I received during a recent Facebook Live video session.
I think it captures the ongoing frustration that so many people, including myself, feel when it comes to Windows 10 updates and how they're handled.
For better or for worse, the answer is actually very simple.
Nope
No, Microsoft will not be changing their approach to updating Windows 10 any time soon.
While I'm certain they're being heard, there's no sign that ongoing complaints about Windows 10 updates are being acted on at all. As far as anyone can tell, it's full steam ahead on continued updates, required updates, and the lack of control over updates.
And while I absolutely believe that the vast majority of people should be taking all updates, always, I do believe there are good reasons to give us control over which updates are installed, and when.
You know, kind of like how it was in Windows 7 days.
Required updates
Honestly, "required" updates aren't actually new. In prior versions of Windows, you needed to have your installation updated to a specific point before further updates would be applied. Typically, that point was a specific service pack. For example, at some point you'd need to have service pack 1 installed to continue to receive further updates.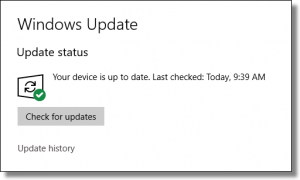 Windows 10 doesn't use the concept of "service packs", but given the branding they've been using on major updates of late — for example, the "Creator's Update" — it's safe to say they're pretty comparable to the service packs of old.
I fully expect that at some point, you'll have to have Windows 10 updated to the "Creator's Update" or better in order to continue to receive any further updates at all.
Given that those further updates often involve important bug- and security-related fixes that you want, getting that update pretty much becomes a requirement to continue to safely use Windows 10.
Is it sneaky if they told you they would do this?
As I said, there's frustration around the lack of transparency and lack of control individuals have over Windows 10 updates.
But I don't consider it "sneaky", or that they're "sneaking in" updates. Microsoft has been pretty clear that updates will continue happen, and that we're not given the control we might want. That's not sneaky; that's just living up to what they promised.
Even if we don't like it.
Honestly, the sneakiest update-related thing they did was the whole Windows 10 upgrade process itself, and that was software that was snuck into Windows 7 and Windows 8!
Upgrades will continue until morale improves
The most pragmatic approach I can recommend is to resign yourself to knowing what you can and cannot control, and then making the choice to either live with that or move to another operating system. I know it sounds harsh, but you and I aren't going to change Microsoft's mind. After all this time, it's pretty clear Microsoft intends to continue this practice, so complaining and expecting them to change their minds about something this fundamental feels to me like a futile waste of energy.
To me, the most important part of "living with it" is making sure to back up regularly, so that in the unlikely event an update does something improper, you have something you can roll back to.
And, honestly, unless you have specific knowledge about a specific update causing a problem, taking all updates really is the right thing to do.
Voting with your feet
I know this aspect of Windows has many people upset and talking about switching to other operating systems. Believe it or not, Windows — even Windows 10 — still fares well in comparison to the alternatives.
Linux: Most distributions are updated constantly. For example, every couple of days I check in on my Linux Mint machine, and every couple of days it seems there's yet another handful of updates to be applied. Where Linux shines, of course, is in transparency. Whatever the change, you can dive as deeply as you like to understand exactly what changes were made and why. Oh, and plan on upgrading your OS to a new version at least every five years, since that seems to be the maximum support duration for most major distributions.
MacOS and iOS: Apple has never won awards for transparency, particularly when it comes to OS updates. While less frequent, perhaps, it's rare to get details about exactly what is being fixed, or why.
Android: Perhaps the worst of all in some ways, applications are constantly updating, and OS updates are often obscured behind a vendor-specific layer that seems to make it nearly impossible to understand exactly what's being fixed and why.
I'd love to be wrong about some of these, but this represents my understanding as well as my personal experience.
In comparison, Microsoft's approach may not look quite as bad.
But they could all be much, much better.
Podcast audio

Download (right-click, Save-As) (Duration: 6:19 — 3.0MB)
Subscribe: RSS
More for Patrons of Ask Leo!
Silver-level patrons have access to this related video from The Ask Leo! Video Library.
  Finding Control Panel After the Windows 10 Creators Update