Every so often I see email addresses listed like this:
Name <myemail@hotmail.com>
or even
myemail@hotmail.com <myemail@hotmail.com>
What's it all mean, especially that last one?
Well, the last one is someone just not filling in some information in their email program like they're supposed to.
But in general, that format is just the email protocol recognizing that most people don't think in terms of email addresses; they think in terms of names.
Email addresses
By now, you probably realize that an email address looks like this –
emailname@somerandomservice.com
"emailname" defines the person or account that is to receive the email, and "somerandomservice.com" usually indicates the email service (like "outlook.com"), or the domain on which the person has their email delivered (like "askleo.com").
The problem is that you and I don't think in terms of email names. (OK, you don't. Computer geeks are often another story. :-) ).
So they came up with another format.
Display name
In almost all email programs, you can actually enter email addresses like this:
descriptive name <emailname@somerandomservice.com>
The real "email address" part is enclosed in angle brackets and is preceded by something more human-readable, like a name. So you might see:
Leo Notenboom <leo@somerandomservice.com>
As far as the mail system is concerned, the "Leo Notenboom" part – the descriptive name – is actually ignored. It can be pretty much anything. It's the email address that matters.
Defining display names
Most of the time, all this is entirely transparent to you.
For example, when you configure Microsoft Office Outlook, you'll see two fields, one for Your name, and one for Email address.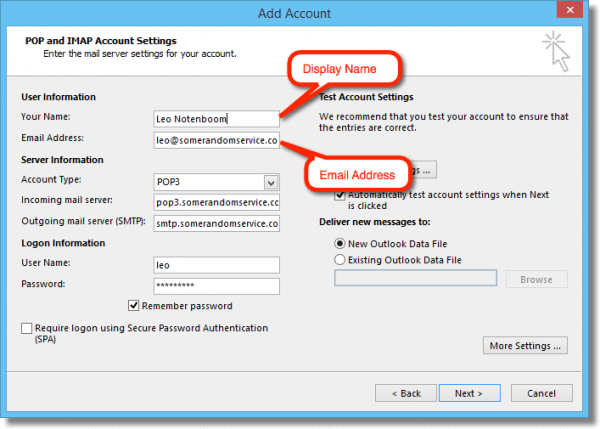 Those are the display name and email address, respectively. When you send an email, Outlook automatically puts those two together into the "From:" field of the email you send, in the form "Your name <Email address>".
Similarly, when you create an address book entry for someone that includes both a name and an email address, your email program will frequently use both in the "To:" line in the same fashion. Leave the name blank, and it'll only use the email address.
If you add someone to your address book or contacts from email you receive, typically your email program will add both name and email address, if both are present.
Confusion in name only
It can definitely get confusing at times.
Some email programs will actually hide the email address, displaying only the name. You might need to double click on the name (or perhaps right click on it and choose some option) to see the actual email address associated with the name.
Now, as to why you're seeing addresses with this format –
emailname@somedomain <emailname@somedomain>
– one of three things happened:
When configuring their email program, the sender entered their email address in both the "Name" and "Email" fields.
The sender didn't enter a "Name" at all, and the email program is using their email address as their name.
The email program ignored the "Name" field, and substituted the email address instead.
Most often, it's the first.
Intentional misdirection
It's very common to see a "Name" that is obviously totally unrelated to the email address that goes with it. Something like:
Chester <leo@somerandomservice.com>
Or, even worse, you'll see email addresses with the format
someotheremail@randomisp.com <emailname@somerandomservice.com>
In other words, the "Display Name" looks like an email address, and the "Email Address" looks like an email address, but the email addresses bear no relationship to each other whatsoever. Some email programs will display only one, some only the other, and some will display both.
These are almost always the result of spam. The whole point is to confuse you or bypass spam filters.
Remember: the display name is ignored by the email system. It's only the email address that's meaningful – and even then, when it comes to spam, it can be faked.