I am trying to send an e-mail to a co-worker and I keep getting the following message:
Delivery Status Notification (Delay)
 This is an automatically generated Delivery Status Notification.
 THIS IS A WARNING MESSAGE ONLY.
 YOU DO NOT NEED TO RESEND YOUR MESSAGE.
 Delivery to the following recipients has been delayed.
The strange thing is that it is only happening with that specific email address. What does it mean, and why it is happening?
It means exactly what it says: the email you sent hasn't been delivered yet; it's been delayed.
The mail system will continue to attempt to deliver the email. Eventually, it'll either be delivered, or you'll get a fatal-error message.
Why? Because.
Seriously, there are many, many reasons that email could be delayed.
And if that's a problem for you, then you may be thinking about email the wrong way.

Real time was never intended
One thing many people fail to realize is that email was never meant to be "real time".
The entire email infrastructure is actually built to expect (and properly handle) delays ranging from a few minutes to hours to even days. While most of the time, email arrives nearly instantaneously, the fact is, you can't count on it.
Email is what's called a "store and forward" system. When you send an email, it's received by a mail server, stored for some period of time, and then forwarded to the next server in the path to get your email to your recipient. Finally it lands on your recipient's mail server, where it's stored until the recipient downloads it (another kind of "forward" to their inbox) or reads it online.
Those "periods of time" that a server might hold on to your message before forwarding it are typically very short, but there's really no guarantee that they will be. There could easily be any number of legitimate mail server delays along the path that your email takes to get to your recipient.
That's not the system being broken; that's how the system works.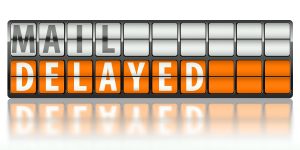 Resilience is built into the email system
It's important to remember that the internet – the system, computers, and connections between them – wasn't always as generally reliable as it is today. Servers could be down for periods of time, and the connections between them could fail, or weren't even continuous connections at all.
The email system we still use today was built to handle all that instability gracefully and still get your email through.
That means that today, when, for example, your recipient's mail server is temporarily off-line, the email system just deals with it.
Rather than not deliver the email, your mail server keeps trying to pass the message along. In some cases, it's nice enough to let you know that this is happening, by sending you the "Delivery Status Notification (Delay)" message.
Eventually, when the recipient's mail server comes back online, the delivery succeeds.
Failure remains an option
Of course, a sending server will only try for so long. If I recall correctly, if the message cannot be delivered after five days, you'll get an error message – a "bounce" message that indicates a failure. Instead of a warning telling you that the mail was delayed, it'll tell you that try as it might, the message didn't make it through.
There are many reasons mail can be delayed. I see it most often when mail servers themselves are overloaded, unstable, or when they have problems with their connectivity to the internet.
The most common reason? You sent it to the wrong email address – a typo, perhaps.
If you get this "Delivery Status Notification (Delay)" warning, there's nothing you can really do, other than to make sure you sent it to the correct address.
If your message is truly urgent, you may need to find a way other than email to make contact.
Podcast audio

Download (right-click, Save-As) (Duration: 4:33 — 4.2MB)
Subscribe: RSS