I've been puzzled about my Outlook 2007 junk filter for a long time now. The junk filter is set high and it seems to do a pretty good job of catching the majority of flagrant spam. What puzzles me is that there are certain senders that I've marked as junk, but email from these senders still somehow seems to find a way to evade the filter and come into my inbox anyway. Some of these are the flagrant kind but others are seemingly legitimate companies or individuals. What is strange is that I can even create rules to move items from these particular senders to the deleted folders, but the rules seem to have no power to do so. Are these senders doing something unethical or sneaky to get the past filters and their rules? One of the senders is using Constant Contact. Does this mean that they're an unethical company? What's really going on here?
First, let me begin by saying Constant Contact is certainly an ethical company. The problem is that as an email service provider, the people that send email using them may or may not be.
Companies like Constant Contact and my favorite, Aweber, will actually check to make sure that their users are being ethical or they'll terminate their account. Unfortunately, there's a window of time where the unethical users will continue to send spam before the company actually finds out.
No, you're right. What's happening here is that the senders are in fact being sneaky.
Marking email as junk
There are many different things that could be going on here, but I want to be clear about one thing.
When you mark something as junk, you are not necessarily just saying, "This email sender is sending me junk." You're also not necessarily blocking the sender of that email. Instead, you're telling your email program that this message "looks like" junk.
As for your question, it's a common misconception to suspect that email programs detect spam only by looking at the From address of the email.
They don't.  When you mark something as junk, the From address is only one piece of information. As we'll see in a minute, it's actually a small piece of information that's not very reliable.
What spam filters really do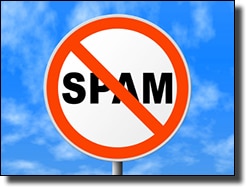 Spam filters examine the entire message, looking at
Where it came from
Who it came from
What it says
How it says it
Many other different things
It then uses that to add to its knowledge of what you think is junk or spam.
The problem here is that spammers have been spoofing From addresses for a really long time. They rarely send email from the same address twice. Heck, they rarely send spam from an address that they even own. They'll say, "This message is from Mary Jones," and have an email address for Frank Johnson when the name and the email address that display don't relate to each other, and have absolutely nothing to do with the actual sender of the mail.
Blocking or setting up rules for email addresses and having the spam filter focus on the From address are ineffective and inefficient ways of blocking spam. That's why most spam filters now look at the content and other characteristics of the email rather than looking at the From line.
Outlook is doing the best that it can with the spam that's coming in, but your expectation that it will block things based on the sender address is probably off the mark. It's not a technique that, by itself, works very well at all.