Sometimes, when faced with an assortment of Windows problems, starting over is the most pragmatic alternative.
Windows 10 includes the ability to reinstall (or "reset") Windows to its just-installed condition.
There are definitely a few caveats to be aware of, however.
Before you start
There are two types of reset: complete and data-preserving.
A complete reset is akin to the old "reformat and reinstall" of Windows. The process overwrites everything on the hard drive. All your files will be lost.
A data-preserving reset preserves the files in your Documents folder.1 Everything else will still be deleted. Most importantly, that means all of your installed programs as well as any customizations you made to Windows itself.
Because this is such a significant operation, I strongly recommend you begin by taking an image backup of your system drive. That way, you'll always have the option to restore the system to the state it was in before you reset it, and you'll always have the ability to recover files that were deleted by the operation.
Reset this PC
In the Windows Settings app, simply search for "Reset" and click on "Reset this PC" when it appears in the results.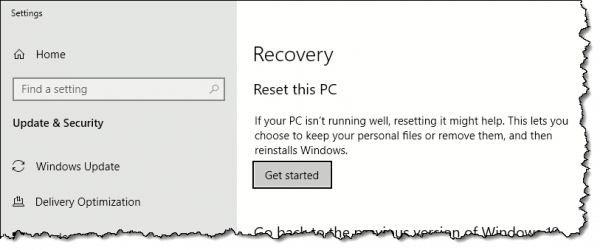 Click Get started to begin the operation. You'll be asked to choose which reset type to perform.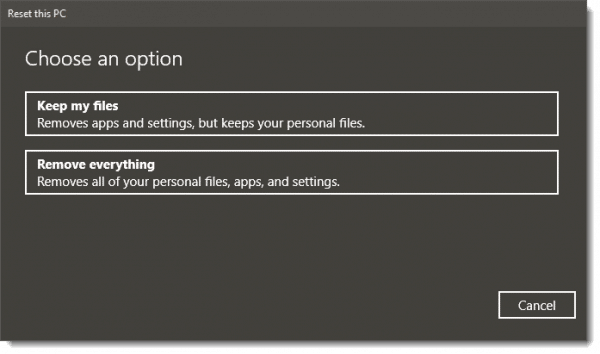 As mentioned above, "Keep my files" leaves certain files on your computer untouched, but will still delete applications and settings as part of resetting Windows. "Remove everything" will remove all files, much like the old "reformat and reinstall"2.
For this example, I'll click on Keep my files.
After a few minutes of "Getting things ready", you'll be presented with a list of the applications that will be removed as a result of this operation.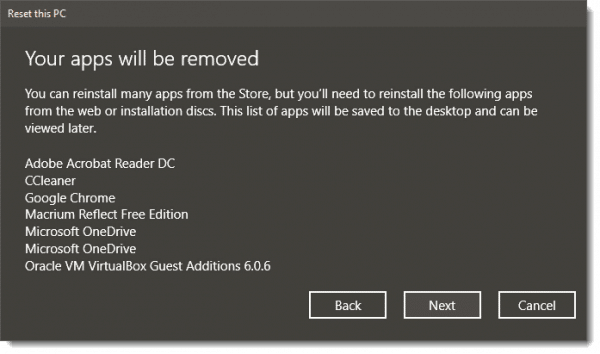 If the list is lengthy, you can scroll through it. This list will also be preserved as a link on the desktop after the reset is complete.
Click Next, and Windows will present a final confirmation that it's "Ready to reset this PC".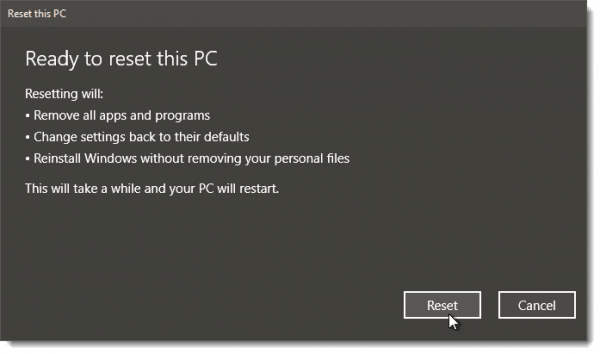 Click Reset to begin the operation.
A reset will take some time, and your PC will reboot several times as part of the process.
Once complete, you should find yourself back in Windows, configured as it was originally.
It's reset; now what?
After completing a reset, my recommendation is that you then:
Bring Windows as up to date as possible using Windows Update.
Re-configure any Windows settings you had previously set.
Take another backup as a snapshot should you ever want to return to this point without the reset process.
My approach to reinstalling applications is to do so as needed. Rather than just reinstalling all the applications that had been there, reinstall as needed so you only install the applications you actually use, resulting in a system that takes up less space, is faster, or both.
Podcast audio

Download (right-click, Save-As) (Duration: 3:31 — 1.7MB)
Subscribe: RSS
More for Patrons of Ask Leo!
Silver-level patrons have access to this related video from The Ask Leo! Video Library.
  Resetting Windows 10
Footnotes & References
1: It also appears to leave non-standard folders untouched as well, meaning folders outside of "Windows", "Users", "ProgramData" and the "Program Files" folders.
2: You'll even be given the option to overwrite the entire disk — presumably a format operation — to make existing files harder to recover.