Many possibilities mean it's a process of elimination.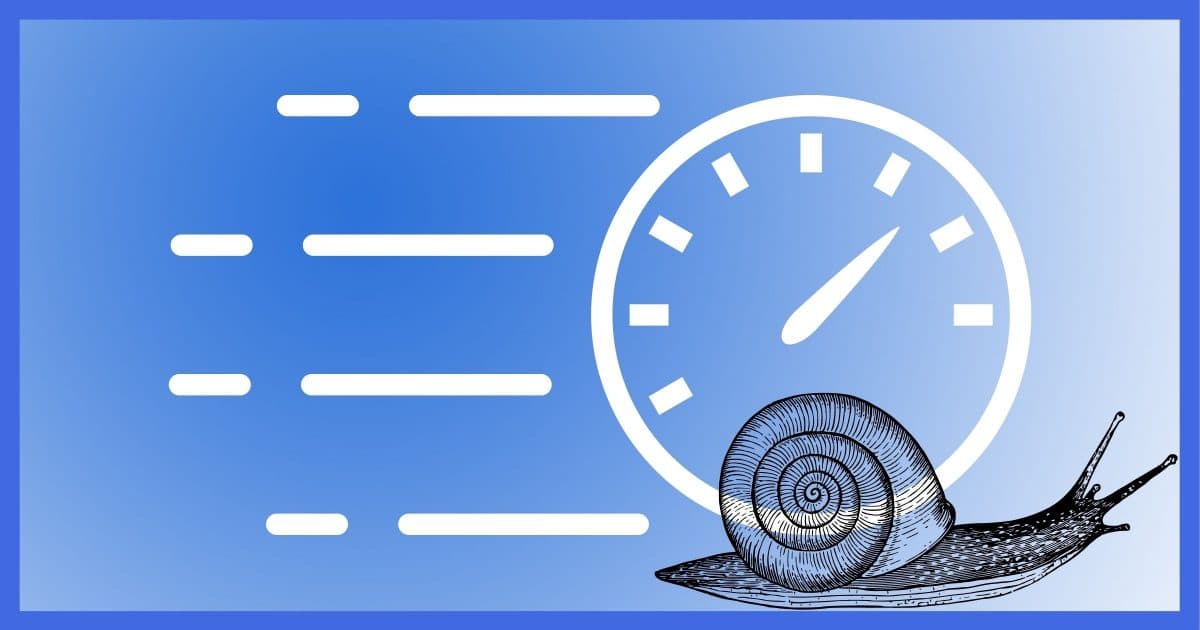 In general, faster is better, but make sure you're testing properly so that you get an accurate report.
Through my ISP, I've contracted for 100 megabits per second of internet speed. The maximum speed that I can get, however, is about 30 megabits per second through WiFi. When I connect to the router via a LAN cable or I have the laptop right next to the router, I get 80 megabits per second, which is close enough for me. I've read that unless the WiFi signal is very strong, you never really get the advertised internet speed.
But my question is about the following: my ISP recommends one measure the speed using one specific link and their web page. And that speed is measured downloading a large file from a server that is some 100 km from where I live. I find that when I use one of the many speed-testing sites, I get about the same results if I specify the same server my ISP uses; when I choose servers which are much further away (like another continent), the speed sometimes slows to a crawl. So it would seem that there is a somewhat inverse relationship between the effective internet speed and distance. So my question is, what's the point of getting ultra fast internet when it hardly ever gets anywhere near the speed promised by the ISP?
There are several interesting issues here I want to cover. Internet speed confuses a lot of people, mostly because it combines many different issues under a single heading.
So, let's talk about your 100 megabits.
Testing internet speed
Wi-Fi is not a reliable way to test speed: use a wired connection. Make sure you're the only one using your internet at the time. Make sure no other applications on your machine are hogging the internet while you run the test.  Try to select the closest testing site. When all else fails, talk to your provider. Speed matters.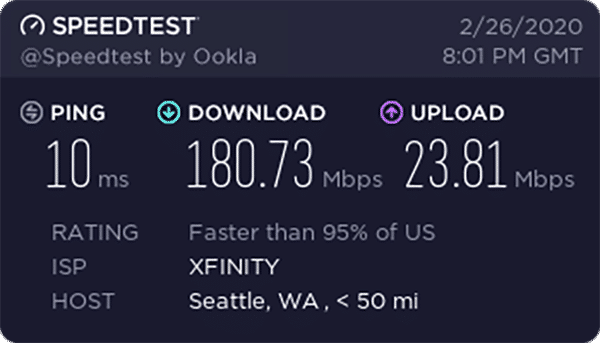 First: don't use Wi-Fi to compare
(In case you're wondering, I use speedtest.net to run my comparisons. There are others but it's most consistent for me.)
The Wi-Fi protocol your equipment uses may be your limiting factor. Some Wi-Fi standards don't support speeds of 100 megabits (Mbps).
Similarly, your Wi-Fi speed is affected by many other things, including electrical interference, distance, and even the kinds of walls between your computer and your Wi-Fi hotspot. Wi-Fi is designed to work, but work more slowly, in the face of these and many other obstacles.
There are simply too many other factors that can affect speed when using Wi-Fi. If at all possible, don't use it to test your internet speed.
Go wired
To compare speed, use a computer that is connected to your router via an ethernet cable. In addition, make sure your connected equipment is capable of the speed you're looking for. Like Wi-Fi, older ethernet standards have speed limits that may be lower than your current internet speed. Some top out at 100Mbps or even 10Mbps, if you go back far enough. If you have an old 10-megabit hub in your configuration, it will limit the speeds on any devices connected to it.
Most newer routers and switches are gigabit-capable (1000Mbps), and that's what I'd recommend for this exercise, even if you're only looking for speeds of 100Mbps from the internet. Your router should be capable of speeds faster than your internet connection if you want to get that speed.
Go solo
This is by far the hardest step.
You probably have many devices connected to the internet. As I write this, I have 33 devices connected to my router one way or the other. I have multiple computers, mobile devices, and an assortment of internet-connected "things" (like light switches). Your number may be different1, but it's almost guaranteed to be greater than one.
The problem is, all those devices compete for your internet. Depending on what they happen to be doing at any point in time, their internet usage could affect the results you get from your internet speed test. If someone is streaming video in another room, for instance, that will negatively impact your test results.
Go even more solo
The software running on your single connected machine can also impact your speed test. If some program chooses to download something at the same time you're running your test, your test numbers will be lower than expected.
The solution, of course, is to close as many open programs as you can to reduce this risk.2
The good news is that most of the time, running the test without worrying about machine and/or application interference is perfectly valid. It won't get you an absolute number, but it'll give you a good order-of-magnitude. Even with my 33 devices, my speed test (pictured above) was quite acceptable3. If, however, you get lower than expected results, you might need to disconnect everything but your test machine, close all those applications, and re-run the test.
I can almost guarantee it's what your ISP will suggest you do if you complain to them about your speed.
Get closer
Even with all of your own equipment and software out of the way, your internet speed still isn't likely to be a hard, fixed number.
Depending on the technology and how your ISP has set things up, your internet speed could be affected by many other things, including the equipment between you and the test site, or even how heavily your neighbors are using their internet at the same time.
That's where the distance you reported factors in: the further away the server, the more equipment between it and you, and the higher the chances that some of that equipment has slower speed capability than your desired internet speed. This isn't at all unusual when testing your speed using a server located on another continent. Inter-continental cables are cool and all that, but they're used heavily, and your traffic may not warrant priority handling.
When testing your internet speed, always choose the closest available testing server. This limits the test to the equipment provided directly by your ISP. Tests further away are interesting — they may show you the quality of your ISP's connection to the rest of the internet, or your country's connection to another point on the planet — but the internet connection you're paying for is really the connection from the ISP's equipment to your home.
Speed matters
Particularly in today's world of online content streaming, huge application updates, and more, the speed of your internet connection is more important than ever.
With all the increased demand, however, some ISPs struggle to keep up. They may not always deliver what they promise.
Checking your speed every so often can be a useful bit of data to make sure you're getting what you pay for.
Podcast audio

Download (right-click, Save-As) (Duration: 6:50 — 7.0MB)
Subscribe: RSS
Footnotes & References
1: Honestly, I expect (and perhaps hope) smaller.
2: Or, to go even more extreme, perhaps reboot in Safe Mode to reduce the number of applications running, or choose a machine you know doesn't have much installed on it.
3: Better than acceptable, since while it shows 180Mbps download, my contract is for 150Mbps.