Why does most software get bigger and bigger as times go by with each version?
You know, that's a common problem and actually a very common complaint. What I can tell you is that it's not likely to change. But let me throw out a few of the reasons that I can think of that might explain why it's happening.
It's mostly about competition
Far and away the number one reason that software only gets bigger is that products are competing with each other for users and customers.
Competition means that the program vendors need to add more features, more capabilities; more of this, more of that. And over time, all of that means more code to implement all of those features and capabilities and bug fixes including the patches that you get from time to time.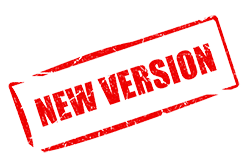 Companies rarely remove code or features. Over time, additions accumulate and make things bigger.
Now, none of this happens overnight. It doesn't even happen over a year. But over the span of a few years, you'll start to notice that the program that used to be this big and had a certain requirement, is now that big and runs either exceptionally slow on your old hardware, or now requires more hardware to do its job than it used to.
It may not be what you want, but the market says otherwise
"

Programs that continue to grow and innovate get used by more people than programs that stagnate.

Now, I get it, not everybody wants more and more. And yet, the market speaks with its wallet and its downloads. Programs that do more and more are more popular. More people buy them; more people download them. That's the measure that the program vendors use.
Programs that continue to grow and innovate get used by more people than programs that stagnate.
More people certainly doesn't mean everyone, and it may not mean you. But in many cases it does mean the majority and often the vast majority. Companies that don't continue to improve their products with features and functionality eventually die away. Speed might be a feature that sells somewhat, but size rarely is.
With great power comes … more features
Another contributing factor here is what I'll call the march of technological progress. Machines sold today are significantly more capable than the machines sold just five or ten years ago. My new machine has 16 GB of RAM and the potential to upgrade to 64. Ten years ago, we were happy with hard disks that size and never dreamed of having that much RAM!
With hard disks in the terabytes and RAM measured in multiple gigabytes, software developers often choose to develop to the latest and greatest systems, or at least the current ones, to enable them to provide as much functionality as they possibly can into the future. Older, less capable machines, are a shrinking market by definition, so it's really difficult to justify developing software with those machines in mind.
So that leaves those of use with older, less capable machines in a difficult spot.
Realize though that we too are actually contributing to this problem to some degree because we're asking more of our machines now than we did five or ten years ago. Maybe we've just accumulated ten years of email. Maybe we're doing way more on the internet than we used to. Maybe it's something else. But our own needs as well as the software we expect to meet those needs have grown over time. Our trusty old machine? It hasn't.