Leo, I've got an HP Pavilion H8 1017, which I love dearly. I'm on a Windows 7 operating system and it's standalone. I use it mostly for graphic work: Photoshop, video editing, and the like. Lately, my screen goes black for about 10 seconds whenever I stop what I'm doing and open another program. I'm afraid that this may be a prelude to the blue screen of death. I do disk cleans and defrags regularly. I have McAfee protection and AOL computer checkup and backup. Please help! I don't want my HP to become the recently departed.
A screen going dark isn't likely to be a computer problem; it's probably a monitor problem. Your HP is a desktop model, which means you have a separate monitor.
I have a similar problem with my machine. After doing some research, I have a couple of ideas.
Let's start by getting some of the obvious things out of the way.
Check the cables
Sometimes, a monitor blackout can be as simple as a loose cable between your computer and its monitor. Just jiggling the cable a bit might cause an intermittent connection, which causes the screen to go dark.
Make sure the cables are properly and securely connected.
Check the monitor
It's not likely that this is an issue related to the computer itself, but you can rule that out easily by simply plugging in another monitor.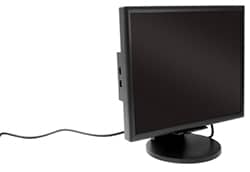 If you don't have an extra one from another machine, borrow one from a friend. It doesn't have to be the best monitor; you just need it long enough to connect to your HP computer for a while. Once plugged in, do what you normally do and see if the screen ever goes dark.
I suspect that you won't see this on the new monitor. If that's the case, then the problem is with the original monitor.
A worn-out monitor
In your question, you mentioned that you're doing graphics and video work. To me, that says you're doing some visually intensive tasks. Monitor quality is also probably pretty important to you.
That said, my research seems to indicate that some of the components in your monitor could be stressed, resulting in this symptom. One simple fix may be to reduce the brightness of your monitor. This may reduce how often your screen goes dark.  If you can live with a not-as-bright display, it may even lengthen the life of this monitor.
But if that's not an acceptable option to you or you continue to experience problems, this may be an excuse to get yourself a brand new monitor.