I've used Mozilla to enjoy YouTube videos for years without problems. Now, I get lots of stops and starts. I checked your article on this and didn't find out how or why the videos played faithfully before but not now. The problem started about a month ago. AT&T wants me to upgrade. Well, why would I pay more for something that I've enjoyed for years. I'm running Windows 7 and I've tried both IE 9 and Mozilla 25 with the same results. I even tried a different computer. I've emptied my cache and deleted my cookies; checked my browser speeds and so forth. So what's happening? Is using the internet becoming more demanding of our resources? I could not even watch your videos without starts and stops. Am I going to be forced to pay AT&T more for something I've already enjoyed for years?
Progress is wonderful but it can also be kind of painful. And personally, I feel your pain. Or more specifically, my pocketbook shares your pain. A megabit per second just isn't what it used to be. But let's look at what you can do before you start shelling out more money.
How many devices?
The very first thing to consider is to think about how many devices are sharing your internet connection.
A few years ago, only a couple of computers were sharing my home router. Now I've got multiple computers, tablets, gaming devices, smartphones and even a television or two sharing my bandwidth.
If other devices are doing something on the internet while you're watching your videos, that can impact what you're watching. In other words, it can slow down your connection.
How many programs?
The same is true for software running on your machine.
Lots of software now assumes internet connectivity and if present, uses it. So check what applications are running on your machine to see if any of them are accessing the network.
My article "How do I monitor network activity on my Windows 7 machine?" is a good place to start. It will walk you through using a tool to identify which programs on your computer are actually trying to connect to the internet and even transferring data.
Browsers, malware and more
Switching browsers is a good idea, at least as an experiment. I'd also look to see what add-ons are installed in those browsers and perhaps try disabling them.
And of course, malware could easily be causing this. A spam bot could, for example, be using your internet bandwidth to send spam and again; what's leftover for you then would appear to be slower.  I'm going to assume that that's not the case, but it is something worth checking out.
YouTube Quality
Changing YouTube's video quality settings may help.
YouTube tries to guess what quality of video is appropriate for your internet connection speed. In my experience, not only are more and more videos on YouTube of higher quality (requiring more data transfer), but YouTube's guess as to what is appropriate for you connection is often off the mark. To choose your own video quality setting, click on the little gear symbol in the video's control bar, and then select a quality that is lower than the one you're currently experiencing problems with.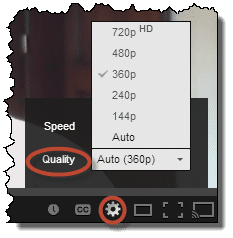 Lower quality might mean a fuzzier picture, but it also means less data moving through your internet connection, and thus a greater possibility that it can actually keep up.
Technology is indeed advancing and assuming that we have more bandwidth than we used to. What was fast years ago is only adequate today and will clearly be insufficient tomorrow.
Like I said, progress is awesome; it's amazing what we can do these days. But, it can also be a little painful.