Question: I'm getting a lot of ads popping up when I'm on a site (I guess they're called pop-ups). It could be anything – an ad for an insurance company, or some other product disrupting my viewing and often it's very hard to delete it; it just keeps popping up regardless. Is there any way I can eliminate these interruptions and if I do will it affect my viewing or access to these sites? The reason I ask is this: I can remember a few times I had to allow these pop-ups in order to continue accessing a site. Is it impossible in today's internet that we can't view the internet without these interruptions?
The problem here is that pop-ups come from many, many different sources and may be of many different kinds. Some are the very legitimate price you effectively pay for viewing a free website, others not so much.

Free isn't free
First, remember that free websites are not free. They cost money to set up, they cost money to maintain, and they cost money to be informative and useful. Trust me on this – I know!
So, that money has to come from somewhere. They have to pay the people that run the site and the people who help the people who run the site; they have to pay for the hardware, and for the software. You get the idea. There's really no such thing as "free" on the internet.
Somewhere, somehow, someone has to pay the bills.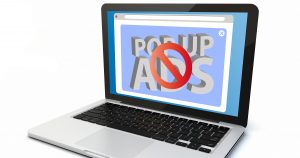 Advertising is perhaps the single most common way that websites attempt to generate revenue, and many websites will actually use pop-up advertising.
Pop-up ads
Website-generated pop-ups happen in two distinct forms.
The first are pop-ups that actually open up an entirely new browser window. That window might appear in front of or behind the window that you're looking at. It's also the kind that's the easiest for a browser's built-in pop-up blockers to block. Most browsers already block them by default.
The second kind appears like a small window or an overlay within the web page that you're looking at. These are nearly impossible to block, because the browsers don't see them as pop-ups at all. They're just parts of that same web page that, for a while, were hidden. When they un-hide, they appear to the viewer to "pop up".
Website owners choose whether to use either of these two types of pop-ups on their sites, or not. For example, Ask Leo! has no advertising pop-ups that make new browser windows. In fact, there's not supposed to be any kind of pop-up except for the newsletter offer and the social media overlay, which I'll talk about in a moment.
Other website make different choices. Websites that include more aggressive pop-ups typically make more money because, to put it bluntly, those more aggressive pop-ups work. While they may alienate some readers, perhaps even to the point of never returning, the increase in advertising revenue makes up for it.
Foistware-generated pop-ups
There is another pop-up that's not under the control of website owners. That's pop-up advertising that's generated on your machine by malware.
Sometimes toolbars and other software installed on your machine include embedded pop-up advertising. They actually hook themselves into your browser in such a way that they modify the pages that you visit, and very often the search results. With that modification, they add pop-up advertising to sites that don't have it.
The site gets no benefit. You just get annoyed. But the advertiser gets seen and the advertising service that caused that pop-up to get added gets paid.
More often than not, these are the results of what we call foistware or "PUPS": Potentially Unwanted Programs. They get on your machine when you install something else unrelated. There's often a checkbox in the setup program that you can un-check to avoid installing them. In other words, if you're not paying attention, they get installed.
And you see pop-up ads from sites that don't have any pop-ups at all.
But the rest – the honest presentation of advertising by the sites you visit – pop-up or not, that's how they stay in business.
Yes, I Know, Ask Leo! Has a Pop-up
As you'll see from many comments, some people get incredibly angry when they visit this page and stay long enough for the Ask Leo! Newsletter pop-up to appear.
It's the cost of keeping this free resource free. It's important, and it works. There's even more on why pop-ups exist, and why I have one, here: Why Do Websites Use Pop-ups? In short: I've tested with and without, and to be completely blunt Ask Leo!'s survival requires that it remain. Without it normal attrition is such that the newsletter would fade away, visitor traffic would dwindle and the site would cease to exist.
(And if you're annoyed because you already subscribe to the newsletter, that's all about privacy. This website has no idea who you are, or that you might be subscribed. More on that here: Why do I keep getting a newsletter subscribe pop-up on your site? )
The newsletter pop-up is configured to appear exactly and only once every 90 days1. Dismiss it by clicking on the "X" in the upper right corner, or pressing the ESC key.

Many people find it useful. Others ignore it without a second thought. And some, unfortunately, are annoyed.
Regardless, consider them part of the "price" of information being made available for free on the internet.
Update: 2/26/2018: If you have an "askleo.com" account as the result of making any purchase in The Ask Leo! Store, that gives us a way to know who you are, and the newsletter subscribe pop-up will no longer appear as long as you're logged in.