Question: You're full of crap. That didn't work.
This was a comment on my Facebook fan page in response to a tip I'd posted. Apparently, the feature I was discussing either hadn't yet been made available in the commenter's account, or they couldn't find it.
Apparently, I was at fault for trying to be helpful.
Now, I get this kind of thing from time to time; more often than you see on my website, abusive questions are ignored and inappropriate comments deleted. In fact, the poster of this comment apparently thought twice about leaving it up. Shortly after I replied, "A personal attack? Wow," his comment disappeared.
But it got me thinking. Is the internet turning people into jerks?
The internet and social media aren't necessarily creating more jerks, but they're definitely giving existing jerks a bigger audience with more visibility. It seems like there are more than ever, but they've probably been there all along.  With all that visibility, it's easy to overlook everyone else: the grateful, respectful people helping one another. Since they're less noisy, it may seem otherwise, but they overwhelmingly outnumber the jerks.
The internet is a playground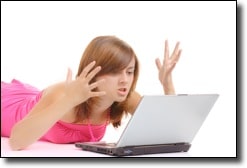 I'm using the term "jerk" as a catch-all for many descriptive and colorful words. I'm sure you can think of a few … I know I did. Feel free to replace "jerk" with whatever term comes to mind.
In my opinion, the internet hasn't created as many jerks as it's simply uncovered them, especially in recent years.
There have always been jerks, certainly before the internet and probably before civilization itself. There was probably some caveman who pointed a finger and yelled, "Zug zug!"1 when his hunting buddy tripped over a rock and impaled himself on his spear.
That caveman lives on today in social media and email "discussions" and webpage comments.
It's not new. It's nothing special. It's just that these days, jerks have a much larger playground on which to show themselves.
More people see 'em
If it seems like there are more jerks around, one reason is that we're exposed to more of them than ever before.
The playground that is the internet not only gives jerks a place to be jerks, but it gives them something else: an audience. A huge audience. And many jerks thrive on that. It encourages their behavior.
As that audience, we simply see more people being jerks than ever before. Not because there are more of them, but because we now see more of them.
For example, in the past, jerks might have been filtered out by newspaper or magazine editors, or they just didn't have the opportunity to express their jerkiness to the world. Today, everyone's a publisher, everyone's a critic, and anyone can post whatever they like without negative consequences, and often anonymously.
There aren't that many more jerks. We just see more of the ones that have always been around.
Jerks of a feather
There's something else that could be happening. With more jerks visible, it's possible the internet is giving more permission by making "jerkiness" more socially acceptable.
People see other people being jerks and getting away with it, so they start acting like jerks themselves.
I think rather than having created a jerk, the internet has instead exposed or magnified one that was there all along. Perhaps seeing other people acting like jerks allows one's pre-existing inner jerk to come out.
Perhaps it's some of both.
Don't let the jerks get you down
I know reading comments on YouTube or on any contentious topic can make you start to wonder about humanity in general and whether we even deserve to live on this planet. Regardless of where they come from or how long they've been around, there are most assuredly jerks out there.
But you know what? There are awesome people, too. In fact, there are way more awesome people than there are jerks.
What I see much more often than jerks are grateful people, respectful people, people who are helping one another,  and people who can disagree without resorting to acting like schoolyard bullies or my example caveman. I see them in my inbox, in my comments, on Facebook, and everywhere else.
Like what I call "the bad news problem",2 jerks get the headlines. But in reality, however many there are, they're in the minority.
They're just louder.
Don't feed the jerks
I probably don't have to tell you not to be a jerk and to treat everyone with respect.
You already know that behind every comment, post, and question is a real live human being with problems, struggles, and issues, just like you and me.
They deserve our respect.
I think it is important to mention what not to do when you encounter a jerk.
Don't be a jerk in response. That'll only encourage 'em.
Don't feed the jerk.
I go either of two ways (and I recommend you do the same).
I ignore the vast majority. As I own a platform on which they sometimes appear, I make them go away (deleting comments and whatnot) and do so with very little regret.
Sometimes, as with our Facebook friend above, I'll call them on it. Not in an abusive way (however tempted I might be), but in a way that may remind them there's a real live human being to whom they're "speaking."
Sometimes a reminder is all they need.
And sometimes, it's we who need the reminder: while there may be jerks out there, there's way more awesomeness. Just keep your eyes open and watch for it.
Podcast audio

Download (right-click, Save-As) (Duration: 12:09 — 14.0MB)
Subscribe: RSS
Footnotes & References
1: Theoretical caveman lingo for "Haha!"
2: People believe the world is much worse than it really is because all that they see are headlines and news reports. By definition, to be a headline or newsworthy, something must be exceptional or out of the ordinary. That means that all of the good, ordinary, day-to-day things that make our world wonderful … aren't newsworthy.