Adobe Flash player is going away at the end of 2020.
Most major browsers will stop supporting it, and websites that rely on it will stop working.
What can you do? Nothing.
But then, you shouldn't have to.
Adobe Flash is old, unsupported, and has security issues that will never be fixed. It's also been replaced by the HTML 5 standard. Websites and online games that rely on Flash will stop working when browser support is finally, completely removed. Website owners fix this by rewriting their sites to use HTML 5 or other alternatives. Website visitors have no real alternatives or options.
Adobe Flash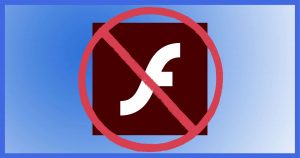 Adobe Flash is a combination programming language and support environment originally written to make websites, webpages, and some classes of applications more interactive and graphical. The most common use has been to write games you can play online, though there are many other applications. YouTube, for example, originally used Flash to support playing videos online.
Adobe, the company that wrote and owns Flash, has announced an official end of life of December 31, 2020. Downloads of the Flash player, as well as (presumably) any other Flash-related tools, will be removed from the Adobe websites.
Most major web browsers will completely remove support for Flash on or before that date. Apple's Safari browser has already done so.
Websites still relying on Flash after that will break.
Flash Replacement: HTML5
HTML is the language used to create webpages such as this one. Version 5 of the HTML specification, or simply HTML5, added a wide array of support intended to solve many of the problems Flash tried to solve, but uses open standard rather than proprietary technology.
Web browsers have supported HTML5 for several years. It's extremely likely the browser you're using to read this page online has complete HTML5 support.
The bottom line is that HTML5 should be able to replace almost all use of Adobe Flash.
The problem, however, is that HTML5 is not compatible with Adobe Flash. Webpages or applications like games currently relying on Adobe Flash will need to be rewritten in order to keep working.1
What to do about Adobe Flash end of life
You and I do nothing. There is nothing we can do. Flash is proprietary technology from Adobe.
There's nothing to install, nothing to turn on or off, and nothing to replace it with. When it dies, it dies.
The good news is that you should have nothing to do anyway. The impending end of Flash has been known for years. The vast majority of the sites that used to use it — like YouTube — stopped using it long ago.
It really should be a non-event; much ado about nothing.
But will it be?
But what if…
What if you encounter a site that still requires Flash after Flash is no longer available?
There's little you can do. Your options really do boil down to:
Stop using that website or application.
Stop using that website or application and complain to the website owner.
It really is on website and application owners to update their content so it no longer relies on Adobe Flash.
Podcast audio

Download (right-click, Save-As) (Duration: 7:46 — 8.8MB)
Subscribe: RSS
Footnotes & References
1: Or something else. While HTML5 is positioned as a Flash replacement, I'm sure it doesn't support absolutely every little quirk or feature. Flash applications that rely on something HTML5 doesn't directly support will need to find a different solution. Fortunately, those should be few and far between.