Question: When downloading software or whatever, what is the difference between SAVE and RUN?
This is one of those things that I think a lot of people take for granted, but to many it's just so much magic.
So, a quick look at what it means when you choose between "Run" and "Save" when downloading a file.
Downloads
A download is nothing more than transferring a file from "up there" – typically a server on the internet – to your computer "down here".
The file being downloaded can be anything. It could be a program that you've elected to get for your computer, it could be a picture that was attached to an email you're viewing on line, or it could be a PDF document that you just purchased at a popular online source of computer books.
It could be anything.
The difference between Run and Save is two-fold:
Where the file is placed on your computer.
What, if anything, happens after the download completes.
Let's look at each in turn.

Run
When you select Run on a download, it begins a two-step process:
The file you've requested is downloaded to your machine and placed in a temporary location.
The file is then run exactly as if you had used Windows Explorer to navigate to the temporary location and double-clicked the file.
The temporary location is either your browser's cache or temporary folder, or one of your Windows temporary folders. Which it is, actually doesn't matter, simply because it's temporary. The file isn't meant to be something you'd actually try to access directly. In fact, it really only needs to be preserved long enough for the "Run" that happens next, and could be deleted at any time thereafter.
What it means to "run" a file can mean several things.
If the file is a ".exe" file, that's a program, and running it means exactly that: the program is loaded into memory and Windows runs it.
If the file is a ".pdf" file, that's a document, and running it means that the PDF viewer installed on your machine is run, and told to open the document for you to view.
If the file is a ".jpg" file, that's a picture, and running it means that the image viewer configured on your computer is run and told to open the picture for you to view.
And so on…
Hopefully, you get the idea. Run means either run the downloaded program, or run the program that knows how to deal with the type of file you just downloaded.
One important thing to reiterate about using Run: the file was downloaded into a temporary location, and it may eventually be deleted. In fact, it almost certainly will, if you wait long enough.
That's why Save exists.
Save
When you select Save (sometimes only offered as Save As…) in response to a download, the browser simply downloads the file.
That's it.
The file is copied to your computer, and it's then up to you to do something with it.
The big difference is that it's not downloaded into a temporary location. The file is downloaded into either:
A default folder, such as "My Documents" or "Downloads" (often the default when you select Save).
A folder that you specify in response to a "Save As…" dialog (the action when you specify Save As…).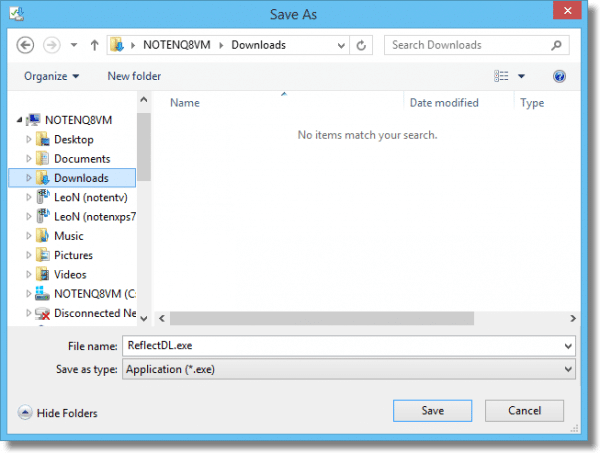 The file is placed into a folder that you specify or know how to access, and will not be automatically deleted.
Like I said, you have to decide what to do with it and when.
It could be as simple as leaving it where it is, and using Windows Explorer to locate and then double click on the file whenever you want to use it in the future. Or you could move it to a different location to backup and archive it. Or you could do something else entirely.
Save and run
Internet Explorer, at least, has a third option: Save and run.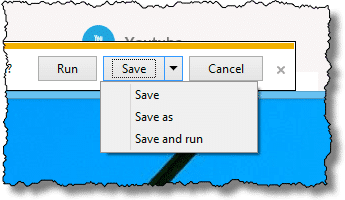 This combines what we've seen so far:
The file is saved to a known, not temporary, location.
The file is then run.
Which to choose?
When might you use one or the other?
Run: Choose Run when you only need the download once. Perhaps it's a song or video you only plan to listen to or watch once. Another scenario might be an installation program that, when run, installs software on your machine in other, permanent locations. Once installed, you probably don't need the installer again.
Save: When you want to keep whatever it is you've downloaded, choose Save. You can still run it, or whatever else you'd like to do with it, but you'll need to do that yourself. You'll also want to decide where, on your computer, to keep the file.
Save and run: Use this option when you want to do both: save the file to a location you control, and then immediately run it.
Podcast audio

Download (right-click, Save-As) (Duration: 5:25 — 5.0MB)
Subscribe: RSS