This "SATA" stuff is new to me. What does it mean? It's something about hard disk drives, I know, but I don't understand what. I went to get a new hard drive for my machine and the one that I wanted was SATA. But when I told the salesperson what computer I had, he said I didn't want it and instead, I needed something called PATA or IDE? I'm very confused.
Well, one part of this is easy: IDE and PATA are two names for the same thing.
The rest – well, the easy part is that SATA and PATA are two different ways of connecting a hard drive to your computer. Your computer will have one or the other, and what you purchase must, in general, match.
When we go further, however, things start to get a little complex.

The Interface
SATA and PATA (aka IDE) are two different disk drive interfaces. By that I mean that the physical and electrical connection to a hard drive uses either a SATA or a PATA interface.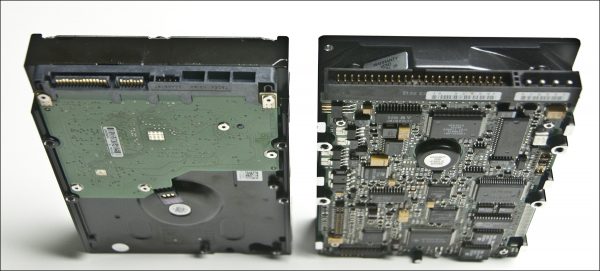 The picture above shows the physical differences. The SATA drive on the left is a pair of flat connectors – the larger one for power, and the smaller one for data. The PATA drive on the right uses the larger connector full of pins for data, and the four-prong connector on the right for power.
SATA is an acronym for Serial Advanced Technology Attachment, often shortened to Serial ATA. Serial refers to the fact that data is sent one bit at a time down a single connection in each direction. There's a separate connection for data going in to and out of the device.
PATA is an acronym for Parallel Advanced Technology Attachment, often shortened to Parallel ATA. Parallel refers to the fact that data is sent 16 bits at a time through a single 16-bit connection, which is used for data traveling in both directions.
While it might seem faster to send 16 bits at a time, PATA actually transfers data more slowly, for a variety of reasons. Current PATA interfaces can transfer at up to 133 megabytes per second, whereas SATA interfaces can transmit up to 150, 300, or 600 megabytes per second, depending on the version of the interface being used.
The history of SATA and PATA
PATA is the older interface. Originally known as IDE (Integrated Drive Electronics), it was the connection of choice not only for hard disks, but for floppy and optical (CD/DVD) disk drives as well.
In recent years, the PATA interface has been slowly disappearing. Most new machines today come with SATA hard disk drives, and may use a PATA interface only for the optical drive. As expected, optical drives are now also becoming available with SATA interfaces, so we could soon see the end of the PATA interface completely.
Compatibility between SATA and PATA
As for compatibility, there is none. SATA and PATA drives are completely incompatible at the interface. They can certainly co-exist in a machine, but only if that machine has both SATA and PATA interfaces.
If a computer has only one of the two styles of interface, then only drives compatible with that interface can be used.
What it all means
In practical terms, what this really means is simply that you need to know what you have when you replace a drive or buy drive-related equipment.
When replacing the drive in your computer, you must know whether your computer uses a PATA or SATA interface, and make sure to get a replacement that uses the same. You also need to make sure you get a drive that is the same physical size. The drives pictured above are classified as 3.5-inch drives, and are common in desktop computers. Laptops typically use 2.5-inch drives.1
If you decide to take a hard drive and put it into an external disk enclosure, you'll need to know whether it's a PATA or SATA drive and get a compatible enclosure, again of the same physical size. It's not the actual enclosure that's different, but the small amount of circuitry included that physically connects to the drive to provide the USB interface.
Podcast audio

Download (right-click, Save-As) (Duration: 4:49 — 4.5MB)
Subscribe: RSS