How do you reduce the brightness of the monitor in Windows 7?
Well, to be blunt … more often than not, you don't.
At least, you don't adjust it in Windows. Brightness, along with a few other settings, is typically adjusted elsewhere. Though, of course, that's changing as well.

Adjust the brightness of your monitor
On a traditional desktop machine with a separate monitor, brightness is often a control on the monitor itself.
Consult the documentation for your specific model, of course,1 but the controls are generally either of two styles:
Actual, physical knobs that can be turned one way or the other to adjust the brightness.
Push buttons that let you increase or decrease the brightness as you see fit.
If you're using a laptop, you or may not have actual physical controls. Instead, there may be a key sequence that can change the brightness for you. The exact sequence varies based on what laptop you have.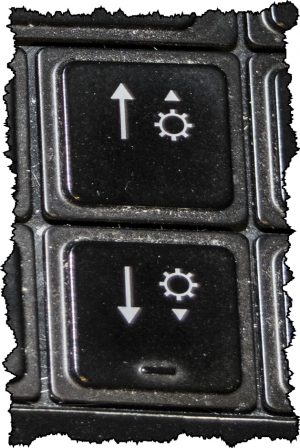 In most cases, these "secondary functions" use the same keys as other functions, like the up/down arrows pictured above. The secondary functions are occasionally printed in a different color, such as blue. Regardless, you'll need to hold down another key, often a "Fn" key, to use the secondary functions.
Adjust the brightness via software
If you have the correct drivers (in other words, if your video-card drivers support this), it's sometimes possible to adjust the brightness in Windows itself.
Right-click on the desktop and choose Personalize.
In the left-hand column, choose Display.
On the resulting page, there may be something called Adjust brightness or Brightness level.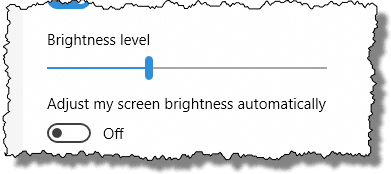 It may not be there, or it may not be enabled. Not all displays allow for their brightness levels to be adjusted using software.
If it is present and enabled, then naturally, you can adjust the brightness as you like. You might also like to turn off the "Adjust my screen brightness automatically" option if you find that the brightness is changing in ways that don't work for you.
Unfortunately, if there's no physical adjustment control, no secondary keyboard control, and no software control for brightness, then I'm not aware of a way to adjust it.
Podcast audio

Download (right-click, Save-As) (Duration: 2:41 — 2.5MB)
Subscribe: RSS