Yet another way of organizing data.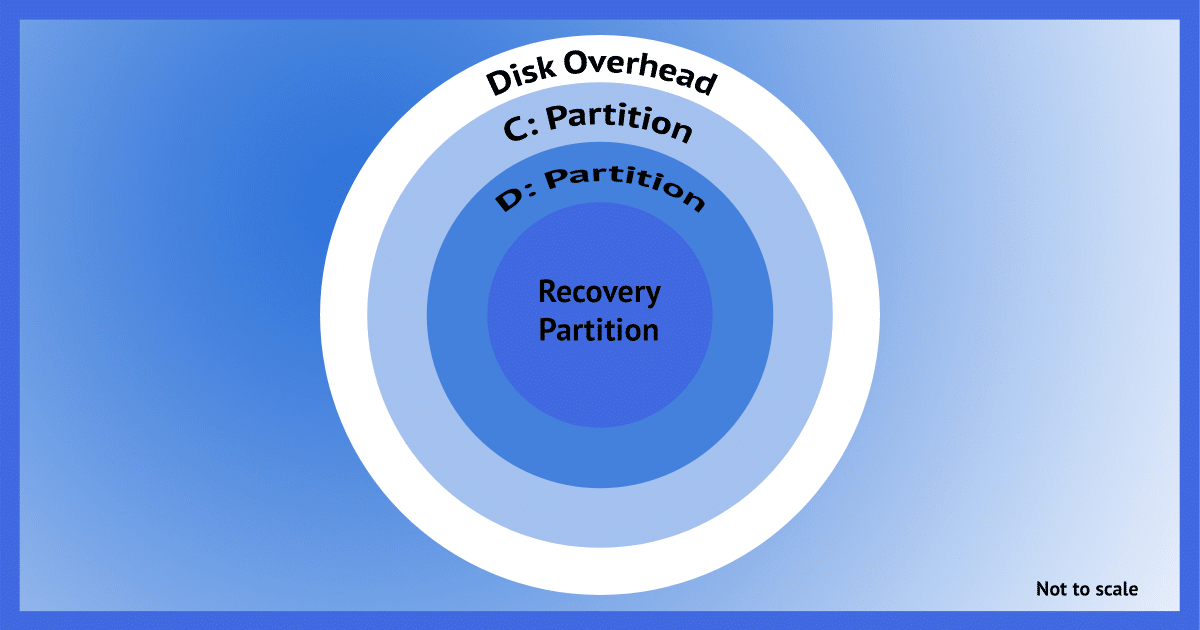 Partitions allow a single physical disk drive to be treated as if it were multiple disks.
Particularly when it comes to backing up, one of the terms often thrown around is "partition", or more specifically, "disk partition".
Let's look at exactly what it means, and when you need to care. (Spoiler: not often, but mostly when backing up.)
A single physical disk can have multiple partitions. That's why partitions exist: to allow a single physical disk to be treated as if it were multiple disks. These separate disks are often used to contain important system resources. Individual partitions are one approach to organizing a separation between system and data, which can facilitate certain types of backup and recovery strategies.
Synonyms & terms
As with so much technology, there's a lot of overlap with related or semi-related terms. Here are a few of the common ones.1
Volume: when applied to storage media such as disks, a volume is essentially the same thing as a partition. You'll often see phrases like "disk volume" used in the same way as "disk partition".
Logical vs. physical drives: A physical drive is exactly that: a specific piece of hardware. It could refer to a hard disk drive (HDD) or a solid-state disk (SSD), but it specifically refers to the entire device. A logical device is best explained as something that is treated as a drive but is in fact only a portion of an actual physical drive.
Disks & drives:  These terms are generally used interchangeably, even if no actual circular magnetic disks are involved. You'll see references to both "physical disks" and "physical drives", meaning the same thing.
A partition, then, is some portion of a physical disk drive treated as if an independent drive itself.
A single physical disk can have multiple partitions. Indeed, that's generally why partitions exist: to allow a single physical disk to be treated as if it were multiple disks.
Partition layout
Let's look at an actual system.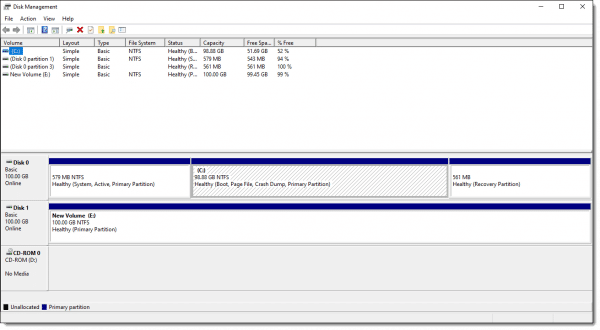 The upper pane presents a list of all the partitions in the system.

You can see that this system has a total of four partitions accessible to Disk Manager. Information about which partition is on which physical disk, however, is incomplete.
The lower pane shows the physical layout of the partitions.

Here you can see that this machine has two physical disk drives: "Disk 0" and "Disk 1".
Disk 0 contains three partitions: a small system partition, the partition containing the "C:" drive, and a small recovery partition.
Disk 1 contains only a single partition, which appears to Windows as the "E:" drive.
Common configurations
In many systems and on many disks, "partition" and "disk" are effectively synonymous: a single partition encompasses the entire available space on the disk. This is the case with Disk 1, above.
Partitioning is commonly used by computer manufacturers to place data, such as a pristine system image or other installation media, onto a hard disk when an operating system is pre-installed. This might be the case for "system" and "recovery" partitions, similar to those found on Disk 0 above.
The majority of machines with a single disk typically have a single large partition in addition to any system partitions, like Disk 0, above. Even when using a single physical drive, some folks like to organize their information into two partitions: the "C:" partition on which Windows and all applications are installed, and then a separate partition specifically for data. While I advocate the simpler, single-partition, there are backup and recovery strategies that can take advantage of the division.
Podcast audio

Download (right-click, Save-As) (Duration: 11:01 — 13.0MB)
Subscribe: RSS
Footnotes & References
1: To be clear, these aren't formal, exacting definitions, but rather a more practical list of terms and situations often used interchangeably.