Question: My wife and I once used Eudora, where email was downloaded, but right now seem to be happy with the huge amount of space we have available for our web-based email on the ISP's servers. We do lots of housekeeping, retaining only what we need for as long as we need it. What other things should we consider? What does a traditional email program like Thunderbird provide that we might consider?
Web-based and PC-based are different ways to approach email.
As you can imagine, there are arguments in favor for and against each. Which is most appropriate for you depends on many things, not the least of which is what "feels" right to you.
I'll look at both, identify what I think are the important issues, and outline my own approach.
Web-based email is ubiquitous and easy, but puts you at the mercy of the provider.
Downloaded email gives you both control and responsibility, but is available on only one PC.
A hybrid approach can use both.
I use a variation of the hybrid approach.
Web-based email
Web-based email, as the term implies, uses a website as a portal to your email.
Using your web browser, you visit the site provided by either your ISP or a third party and log in to read, send, and otherwise manage your email online.
The huge advantage of web-based email is that there's nothing to install, and your email is available on any internet-connected computer at any time. All in all, it's pretty convenient.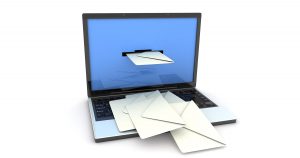 The downside, though, is that you're at the mercy of that provider.
A few things to consider:
An internet connection is required. If you can't connect for any reason, your email is not accessible to you.
You have no control over the interface used to access your email. If the email provider changes their interface, you have no choice but to deal with it. (Many Hotmail/Outlook.com users face this scenario periodically, though they are certainly not alone.)
Your email is stored in one place: the servers of the email service you're using. Unless you take additional steps to back it up, if anything happens to that email, it's typically lost and gone forever.
You have restrictions on the amount of email you can keep. This varies (greatly) from provider to provider, as do the consequences of exceeding your allowance or "quota".
Downloaded email
Downloaded email uses an email program installed on your computer, which connects to your email service to download your email to your computer's hard disk. You then read, send, and otherwise manage your email on your computer, connecting to the email provider only to send and receive messages.
Various considerations include:
You do not need an internet connection to read email you've already downloaded, or to compose messages. You do, of course, need a connection to send and receive new messages.
There are perhaps hundreds of different email programs to choose from. For Windows, the most common choices include Microsoft Office's Outlook, Thunderbird, and the Mail program included with Windows. Many include additional features in the form of "extensions" or "addons".
PC-based email programs tend to have many more email management features than their web-based counterparts. This works both ways, making them more complicated to use at times, but significantly more capable of meeting various needs.
Since your email is downloaded to your computer, you have the ability — I'd go so far to say the responsibility — to back it up. With an appropriate backup strategy, you need never lose email.
The amount of email you keep, and where you keep it, is limited only by your computer's own hard disk space, additional storage you provide, and your ability or willingness to manage it.
Hybrid: online and downloaded
With the proliferation of devices on which we access our email, the restrictions of having email downloaded and available on only one machine (the PC in our home) has  become cumbersome. Fortunately, there's an approach that allows us the best of both worlds.
Use a web-based email service to access your email from any computer on the internet.
In the download-only scenario above, the desktop email program uses a protocol called "POP3", which literally downloads the single copy of your email, removing it from the server. IMAP is designed to download a copy, and then keep the copy of your email automatically synchronized with the contents of your email on the web server. IMAP operates best with continuous connectivity, which we tend to take for granted these days.
As a bonus, this hybrid approach works as a great solution for backing up your email. By fetching a copy of your email to your PC, you've effectively created a backup. If you then also back up your PC, as you should, you're covered even better.
A word about free email
To many people, "web mail" is synonymous with "free email", but that's not the case.
Free email services, like Outlook.com, Gmail, Yahoo!, and others, certainly provide web-based interfaces — perhaps even as their primary or preferred interface — but all can be used by desktop email programs that download your email to your PC.
Similarly, many services that you pay for — such as the email provided by your ISP — might most often be used by desktop email programs, but also often offer a web-based interface.
The important thing to remember about free email services is this: you get what you pay for. Typically, that means little to no customer service, and not much help should something go wrong.
What I do
Since this article was originally written, I've probably accessed email just about every way possible. Today, my approach is based on the hybrid approach I mentioned above:
Email sent to any of my email addresses is fetched by a Gmail account. Gmail has the best spam filter I'm aware of, and the web-based interface acts as my primary means of dealing with all my email.
I run Thunderbird, configured to use IMAP to download a backup copy of my email, on one of my machines .
What should you do?
I can't say what you should do. It really depends on your needs, as well as how comfortable you are with the alternatives.
Regardless of which approach you take, I caution you to pay attention to backing up your email regularly. By far the most common issues I hear of relating to email loss could be avoided had the individuals in crisis backed up. That statement applies equally to both web-based or downloaded email solutions.
Podcast audio

Download (right-click, Save-As) (Duration: 7:34 — 3.5MB)
Subscribe: RSS
Video Narration