The memory used when you don't have enough memory.
Available virtual memory is controlled by a setting you can adjust. If you're constantly running low, you should look at what you're running.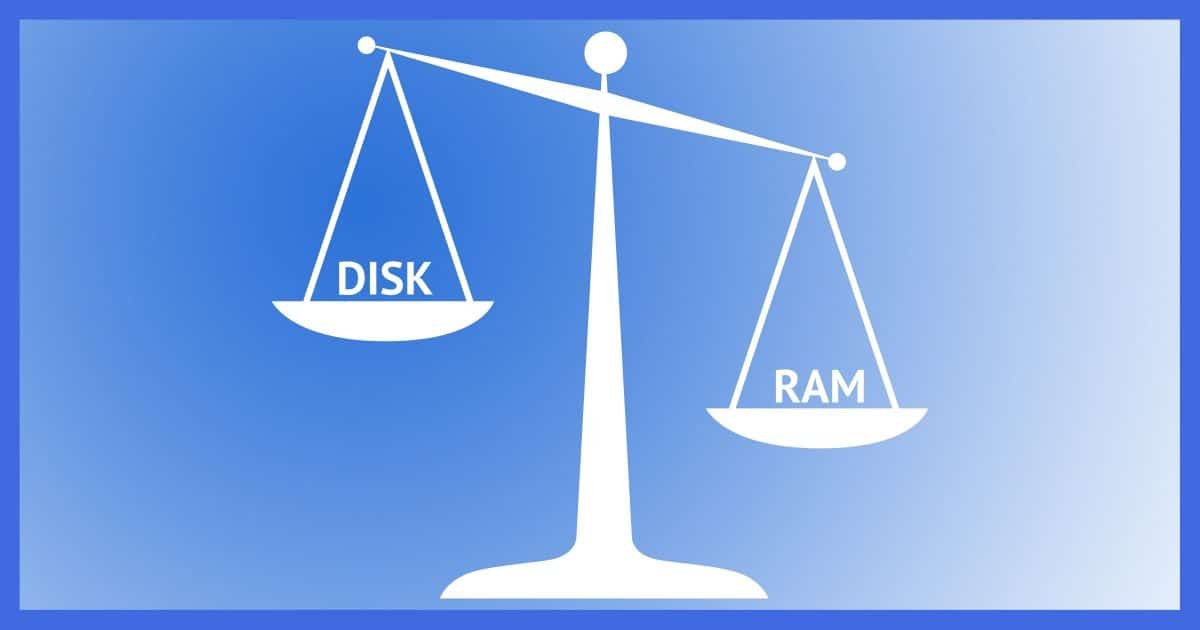 Question: My PC tells me I don't have enough virtual memory. What do I need to do to get more?
It's a setting, and I'll show you where it lives.
That you're running out is concerning. There may be a different solution that would serve you better.
Virtual memory settings
Virtual memory settings are buried in:
Settings -> About (right-click Start button and click on System)
Advanced system settings
Advanced tab
Performance: Settings…
Advanced tab
Virtual memory: Change…
Exactly what you want to change the settings to depends on the problem you're experiencing, but more often than not it's a sign that you're asking too much of your system or that it has too little RAM.
Virtual memory?
Virtual memory is disk space used when your computer doesn't have enough memory (RAM) to do whatever you've asked it to do. Since disks are slower than RAM, this comes at a performance cost.
If your computer runs out of RAM, it'll start to use virtual memory. If you run completely out of both RAM and virtual memory applications will begin to crash, or display "out of memory" errors.
For more details about exactly what victual memory is, see What is Virtual Memory?
Locating virtual memory settings
Right-click on the Start menu and click on System.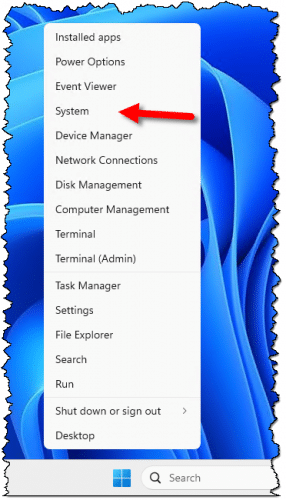 In the resulting "System > About" window, click on Advanced system settings.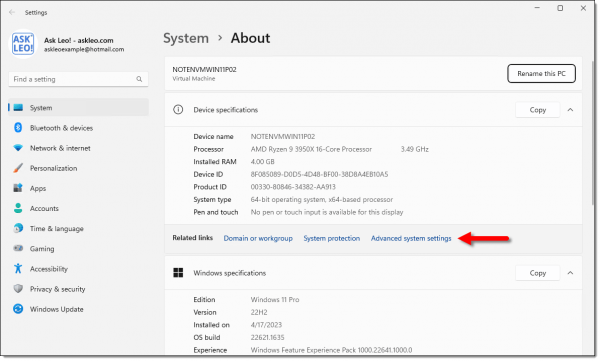 In the Advanced tab of the resulting "System Properties" dialog, click on the Settings… button in the Performance section.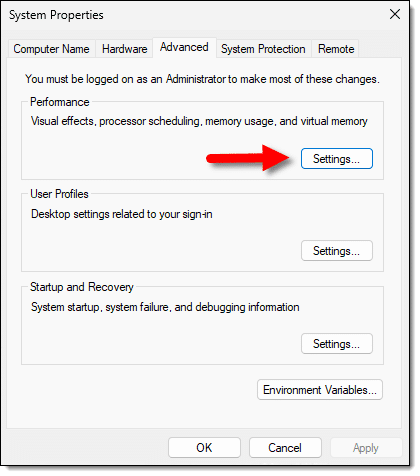 In the resulting "Performance Options" dialog, click on the Advanced tab.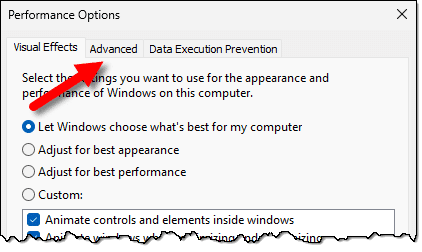 In the Advanced tab, click on the Change… button in the Virtual memory section.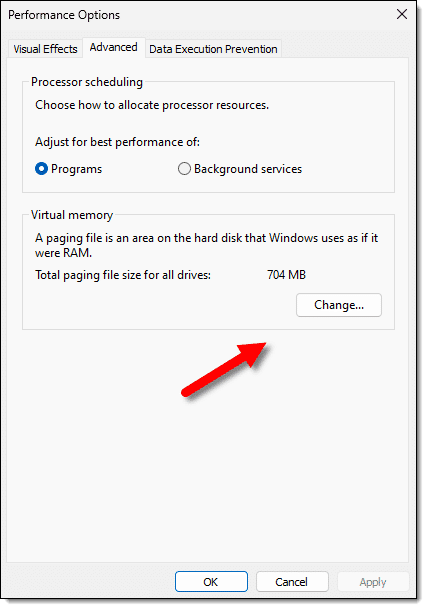 Finally, you'll have reached the virtual memory settings.
Changing virtual memory settings
As you can see above, the default is to allow Windows to "automatically manage" the paging file(s) across all appropriate devices. This is typically the best option.
If you uncheck that setting, you can make changes to each individual drive on your system.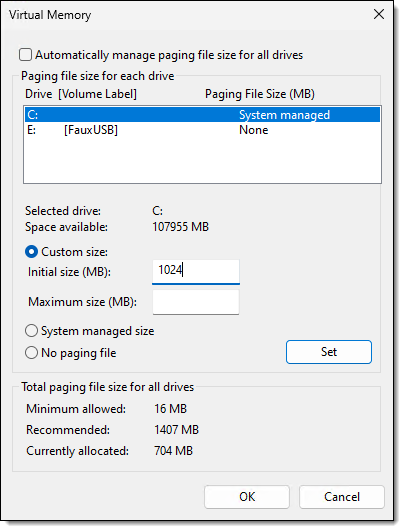 In this example, I've:
Selected the C: drive
Clicked on "Custom size"
Entered a size of 1024 MB (aka 1 gigabyte)
Clicking on Set would make change. You can see that my choice of 1024MB is larger than the currently allocated number of 704MB in the lower pane.
You can also choose to have paging files on multiple drives, or no paging file at all.
What to set
What I can't tell you is what to set this value to.
In an ideal world, letting the system manage the paging file drive would be plenty. But if you're running into trouble specifically due to insufficient virtual memory, setting a larger value may help.
Honestly, in an ideal world, you wouldn't need virtual memory at all, and that's typically what I do by selecting "No paging file". My machine has more than enough RAM, so not having a paging file reduces some system overhead, and allows me to free up the disk space that would otherwise be used.
Do this
Virtual memory is used most often when you don't have enough RAM installed in your system to do what you're asking your system to do. Virtual memory is used to make it "look like" your machine has more RAM than it does, at a cost of often significantly reduced performance.
If you run out of virtual memory, then your machine really doesn't have enough resources to do what you're trying to do. Rather than increasing virtual memory, I'd seriously consider either:
Adding more RAM to your machine, if it supports it.
Doing less. By that, I mean running fewer programs simultaneously, having fewer browser tabs open, and just generally not trying to do as much on your machine at the same time. ("How Do I Tell Which Program Is Using So Much Memory?" may help you identify the biggest offenders.)
The latter can be as simple as closing programs when you're done using them.
Subscribe to Confident Computing! Less frustration and more confidence, solutions, answers, and tips in your inbox every week.
Podcast audio

Download (right-click, Save-As) (Duration: 4:42 — 3.3MB)
Subscribe: RSS