At least two articles on the future claim that either USB sockets and/or Flash drives will disappear in 5 years or more. I use mine daily. Should I stock up on flash drives while I can?
The article(s) in question predict the USB port's demise on two things: cloud storage replacing local, physical storage, and smaller mobile devices that leverage the cloud with no ability to connect to external storage devices.
The problem is, they're absolutely right: much of the technology we take for granted and rely on today will be replaced by something.
The question isn't whether it will happen; the question is: when?
The lifespan of USB
To address USB specifically, I don't believe the end is anywhere close to near.
Connectors continue to change from time to time, necessitating conversion cables or adapters, and newer versions of the interface continue to get faster and faster, but ultimately, USB has become too ubiquitous for it to disappear any time soon.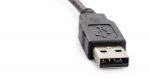 USB is the most commonly-used interface for attaching just about anything to your desktop computer, your laptop, and in many cases, your mobile phone. Particularly for mobile phones and small electronic devices, and even some laptops using USB-C, it's also become the most efficient and ubiquitous power-delivery system for recharging device batteries — to the extent that these days, hotels often provide multiple USB ports in your room to recharge portable devices.
I fully expect to be using USB-something well into the next couple of decades. After that, who knows? But I'm not worried about the devices I have today.
The problem with hoarding
On one hand, stocking up on flash drives sounds like a way to prepare for their eventual demise, whenever it happens.
There are two problems with that approach.
The first is that it'd be the equivalent of stocking up on floppy disks 20 years ago because you heard that the floppy drive was on the way out. Today you've be left with a pile of obsolete disks and very few drives to use them in. If the USB port truly is on the way out in a timeframe that will impact you, you might find yourself in a similar situation: plenty of flash drives, and nowhere to use them.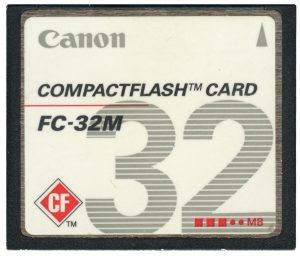 The second problem is that today's "huge" is tomorrow's "tiny". This is particularly true for external memory and disk devices, including CF, SD, and uSD cards as well as USB thumb drives. Sure, you might stock up on whatever size is popular and cheap today, only to find that in 10 years, it doesn't have anywhere near the capacity required for whatever you'll be using it for then. I've got this fantastic little 32MB (megabyte) compact flash card that was originally primary storage on one of my older digital cameras. I can insert it into my current camera, but it doesn't have the capacity for even a single image1.
Rather than hoarding them, better to just buy them as you need them. Your needs, as well as their capacity and speed, will no doubt continue to increase over time.
Obsolescence and betting on the right horse
Product obsolescence is generally market driven. As long as there's a demand, and whatever comes along to replace it doesn't create a more compelling demand, USB should around for a long time.
But in part, it's also a gamble. As I said, someday the USB interface will join the floppy disk as an interesting relic of the past. I think it's a safe bet that USB will be around for a while, but it is just that: a bet. I've certainly seen my share of odd technologies over the years which have not just fallen out of favor, but for all practical purposes just disappeared completely.
The difference that allows me to believe my bet on USB is more secure, or at least longer lasting, is simply ubiquity. Even if I still had it, there's no device that would read the seven-track magnetic tape on which I carefully archived all my university projects. The biggest problem isn't age or even device capability; it's that I used a proprietary, non-standard format. Had it been in a more ubiquitous format, there'd be hope. (And I'd have converted it to a more contemporary format long ago.)
But, yes, technology changes. The good news is, it doesn't happen overnight. That's what's allowed me to carefully copy over my backup CDs of recent years onto more capacious, more easily-accessed (and backed up) hard drives in recent years.
To me, the ultimate irony of all this is that there are solutions to disappearing storage technology like floppy disk and optical (CD) drives no longer built into your computer: external drives connected by — you guessed it — USB. (For example, here's a USB 3.5″ floppy drive.)
As technologies change, I'm confident that transition-enabling converters and adapters will be part of that change, at least for the most common technologies.
And there's no question that USB is common today.
Podcast audio

Download (right-click, Save-As) (Duration: 5:40 — 2.7MB)
Subscribe: RSS