We got a new laptop, and of course it has Windows 10. It also has the latest fancy-dancy screen, or so I'm told. Supposedly it's "bigger", 3200×1800 I guess? But everything on it is teeny tiny! That's the exact opposite of what I want! I can barely read it!
It's always frustrating when making things "bigger" makes them smaller instead. As newer displays have much higher resolution than we've seen in the past, yours is a very common reaction when people get new machines.
Fortunately, Windows 10 has made this easier to deal with than in previous versions.
When we're done, icons and text will indeed be bigger, and everything — especially photos — will be crisper and clearer than ever before.
Pixel density
First, a very quick overview of what's happened.
Let's say your laptop's display is about 14 inches wide by about 8 inches high.
On older devices, your computer might have been able to display 1400 pixels across by about 800 pixels, which is about 100 dots (pixels) per inch, or "DPI"1. An icon that might be 64 pixels square would take up about two-thirds of an inch square. That doesn't sound terribly big, but when displayed on a computer screen, it's not bad, and possibly something close to what you're used to.
Your new computer now packs more pixels into that same 14-x-8-inch area: 3200 x 1800 pixels. That works out to (very roughly) 225 pixels per inch: more than twice as dense as before. That 64×64 icon will now take up a hair over 1/4 of an inch. And yes, that's pretty tiny, even if your eyesight is great.
Windows 10 offers two common solutions.
What not to do
Right-click on an empty area of your desktop and click on Display settings in the resulting pop-up menu. True to its name, that will bring up the Display settings dialog.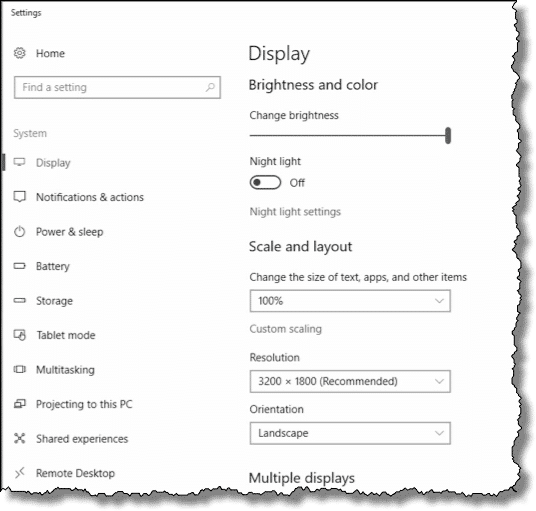 One of the items there is labelled "Resolution". Click on the current resolution and you'll be presented with a drop-down list of available resolutions.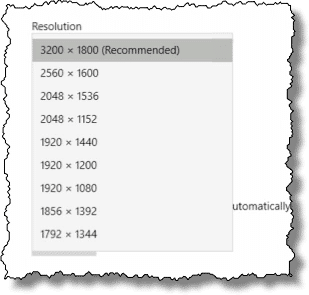 Your list will almost certainly be different. You can see that in my list, the "3200 x 1800" resolution is labelled as "Recommended". That's because 3200 x 1800 is the native resolution of the display. It physically has 3,200 by 1,800 pixels, and nothing will change that.
Changing the resolution, say to 1920 x 1080, tells the hardware, "Treat my 3800 x 1200 screen as if it had only 1920 x 1080 pixels". Now Windows will provide only 1920 x 1080 pixels of information for the hardware to deal with. Typically, that means the video display hardware will stretch across the 3800 x 1200 physical pixels on the display.
The good news is that our 64 x 64 icon will also be stretched, and will look larger, as we wish.
The bad news is that the hardware has to play games that either make things look a little fuzzier, disproportionately wide or high, or sometimes add a black bar at the top and bottom, or left and right, of the display.
Changing the resolution can be a useful tool for some things, but it's not the only tool, and it's not the first tool we want to try. There's a better way.
Scale instead
Immediately above the Resolution dropdown in Display settings is another setting: "Change the size of text, apps, and other items". Click on that and you'll be presented with a list of percentages.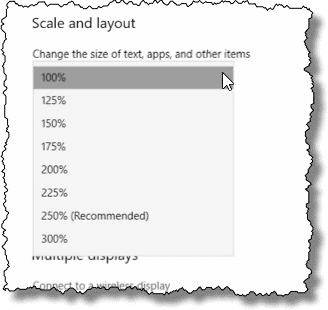 Once again, the list you see may be different than that shown here, but the idea is the same. This list allows you to instruct Windows to make things bigger by some percentage.
The difference here is that Windows still considers the display to be at its native resolution. In my case, that means it'll continue to give the 3200 x 1800 display exactly 3200 x 1800 pixels of information. It'll be Windows that makes things larger, by using more pixels to draw them. At 250%, for example, our 64 x 64 icon will take up 160 x 160 pixels of space, having been scaled up by Windows.
You can see the difference almost immediately, as the settings dialog box itself scales once you click on the new scaling factor.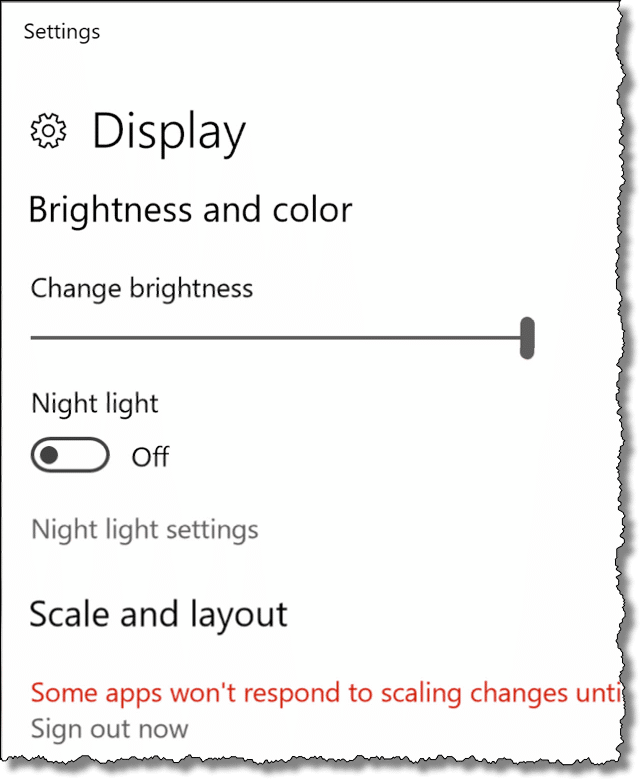 Rather than just scaling the entire display, Windows is able to do a much better job making things bigger not by just stretching them, but by rendering them at the larger size. For example, fonts will look crisper scaled this way, because they'll be drawn using all the available pixels the scaled resolution allows them to use.
A word about signing out
Partially obscured in the image above is the phrase, "Some apps won't respond to scaling changes until you sign out."
Scaling affects almost everything you see, and much of that was calculated or set in place when you logged in. Many things — like the Settings dialog itself — will respond to the new setting immediately. A few things will not. In my experience, these typically show up as odd-looking or fuzzy characters and other graphical elements.
There's nothing wrong with not signing out. You can continue to use things as they appear, but for the best-looking experience, you'll want to sign out or reboot for all changes to take effect.
Podcast audio

Download (right-click, Save-As) (Duration: 5:51 — 2.8MB)
Subscribe: RSS
More for Patrons of Ask Leo!
Silver-level patrons have access to this related video from The Ask Leo! Video Library.
  Making Things Look Bigger in Windows 10