For a home user with no special programs and no gaming, am I better off with a single core processor or a dual core processor? I play no games. I simply have a few usual things (word processor, registry cleaners, anti-spy and security stuff, etc.) but I need a new PC. This one is over 10 years old. It is SLOW even after cleaning the registry, defragging, optimizing, and everything else. Would I be better off with a dual core or a single core processor?
Normally, I stay away from specific processor recommendations because things change so much, and so often, and I'm just not one of those people that wants to do a detailed comparison between processor A and processor B. There are plenty of other passionate people who'll happily do that all day long.
In this, however, I do have an opinion: more cores may be better, but too many may not be worth it.

Core
A "core" is simply another way of saying CPU or, in a sense, computer.
The CPU, or Central Processing Unit, is the brains, or engine, of the computer. It's the thing that executes instructions, one at a time but very quickly, to make the system "do stuff".
Everything else inside the computer – the memory, the circuitry on the motherboard, even the hard disk and other peripherals – are there either to support the CPU in its task, or to allow the CPU to interface with devices or people.
A single core CPU can do exactly and only one thing at a time. It does them very quickly, so it can switch between different things to make it look like it's doing several things at once, but at the core of the matter (pun somewhat intended), it's doing exactly one thing at a time.
A dual core machine can do two things at a time.
A quad core machine can do four things at a time.
So the math, at least, is pretty easy.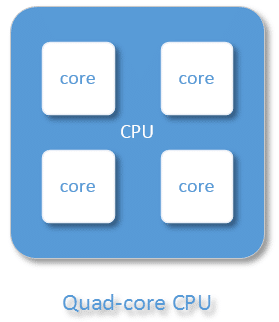 Core benefits
To understand if there's any benefit to single, dual, or quad core for you, we have to understand how you use your computer, and if any of the things you use it for are actually "CPU intensive".
The tasks you've mentioned – like word processing, internet surfing, and even malware scanners – are not CPU intensive. Those tasks are limited by the speed of other things: a word processor is only as fast as you are, surfing the internet is limited by the speed of your internet connection, and programs like malware scanners are usually limited by the speed of your hard disk.
In almost all cases, your CPU – even a single one – is much faster than needed for any of those tasks.
So why have more than one core?
CPU-intensive programs
The most obvious reason you would need more than one core is when you are doing things that are CPU intensive. But even then, things get tricky.
File compression and audio/video encoding are good examples of computationally intense processes. In other words, when compressing a file, the process to calculate the compression is typically slower than reading and writing the file being compressed.
Now, one would think it would be twice as fast on a dual core, and four times as fast on a quad. Unfortunately, most of the time that's not true.
The reason is that software must be written to take advantage of multiple processors, and most software is not. (Writing what's called "multi-threaded" software can actually be quite complex – I know, I've done it.
).
Most software is either not CPU intensive, or is written to utilize only a single processor.
What that means is that if you run that file compression and watch your CPU usage, you'll find that exactly one of your two (or four) cores is completely consumed by the compression operation, while the other(s) are mostly idle.
On the other hand, some software – often video or audio processing software – is designed to use multiple cores.
This is, in fact, exactly why I have the desktop computer and software I currently do. Its processor has 12 cores, and my video-editing software knows how to distribute its work across multiple cores.
Responsiveness
The other way that multiple cores come in handy is the responsiveness of your computer.
Consider this example: you're running some program that uses a lot of CPU. Perhaps you're compressing a large file that will take some time to complete.
On a single core processor, that's going to take 100% of the CPU's resources. Doing something else at the same time – even something as simple as typing or viewing a web page – will likely be very sluggish.
On a multiple core processor, especially if the compression software only knows how to use one core at a time,  you still have other core(s) available1 to keep doing whatever else it is you want to do while the compression continues. Your computer simply remains more responsive.
Bottom-line recommendation
Single core processors are actually difficult to find these days, even in mobile devices. I'd avoid them, at any rate.
I now recommend at least dual core machines, even for machines that may never run CPU-intensive software. The reason is simple: it's all about the responsiveness I mentioned earlier. If something hangs, or a program crashes in such a way that it is eating up all CPU resources, it's doing so on only one of the two cores. The other CPU core is available for other tasks – like handling the screen and keyboard – and the machine remains usable.
If a quad or other multiple-core processor were the same price as a dual core, and other characteristics of the systems being compared were similar, I'd certainly say go for it. There's no real downside to having more cores, but typically more cores will be more expensive, sometimes by a significant amount.2
If, on the other hand, you plan to run CPU-intensive software that you know will use multiple cores if available, or you plan to run several CPU-intensive programs at the same time, then a multiple core machine might make more sense, as it does for me.
But for most people, dual core is plenty.
Podcast audio

Download (right-click, Save-As) (Duration: 6:56 — 6.4MB)
Subscribe: RSS