Next to simply making an image backup, scheduling those backups to happen automatically is one of the topics most people find confusing.
Depending on the backup software that you're using, it's typically not hard at all.
I'll show you by walking through the steps of scheduling a monthly full backup, using the free version of the backup software I use and recommend: Macrium Reflect.
Defining the backup
My previous article, How do I create a new machine image?, walks you through the steps to create a one-off image backup.
What we're going to do now is build on that, and set Reflect to automatically make a new system-image backup once a month.
In that previous article, we:
Installed Macrium Reflect Free
Defined a backup of the primary disk in our machine
Defined a location to place the backup image file
Created that backup image
The process for defining the backup is the same, but I'll make one small change: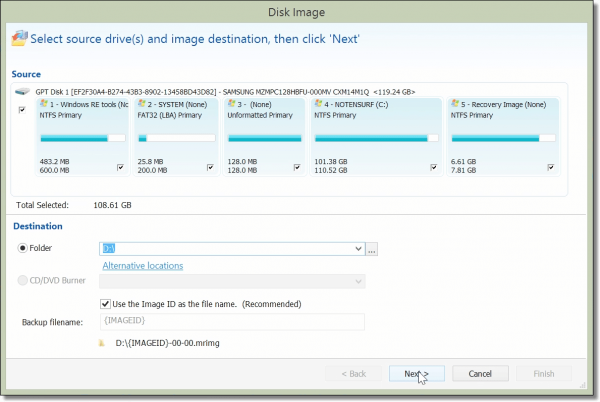 "Use the image ID as the file name" remains checked. To avoid overwriting existing backup images, I let Reflect simply use the Image ID, which is different for each image created, as the filename.
The other change comes when it's time to run the backup or save the backup definition file: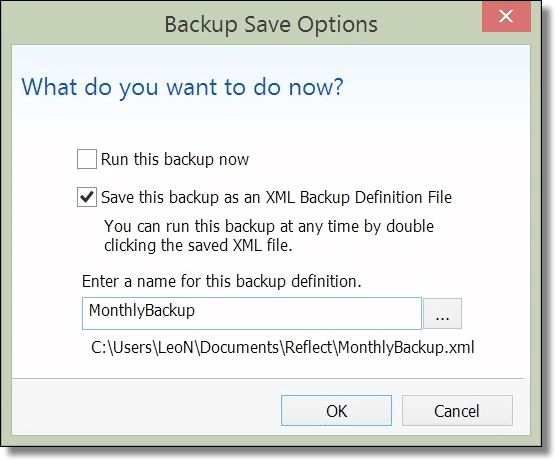 I've unselected "Run this backup now", and instead selected "Save this backup as an XML Backup Definition File". This causes all the decisions made to this point – what to backup, where to place the backup image, and so on – to be saved to disk. I've also elected to give that backup definition file a name of "MonthlyBackup".
Schedule automatic backups
After saving the XML backup definition, Reflect should bring you to the Backup Definition Files tab of its interface. If not, click on that tab to see a list of all the backup definition files that it's aware of.
Right click on the one we just created, MonthlyBackup: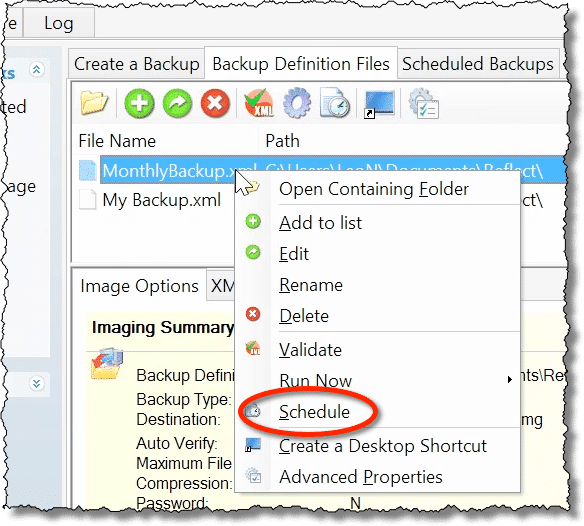 Click on Schedule in the resulting menu.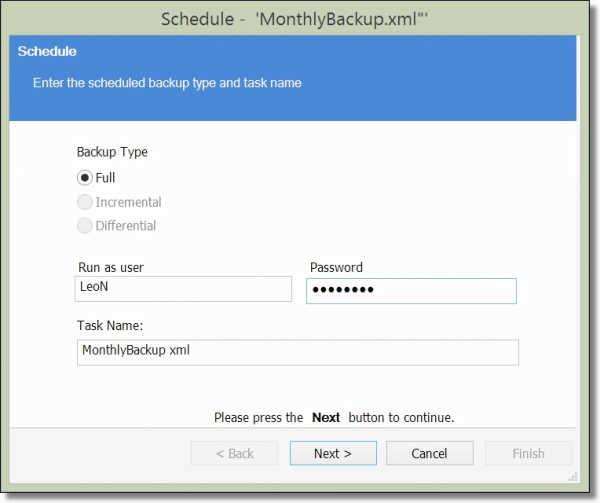 The only choice of Backup Type in the free version of Reflect is "Full".
Enter your Windows user ID and password – the same user ID and password you use to log in to Windows itself. Reflect needs this so that it can run your backups whether or not you're logged in.
The Task Name is up to you. I tend to leave it as the name of the xml file I originally created.
Click Next. In the next dialog box we select how often the backup should be run: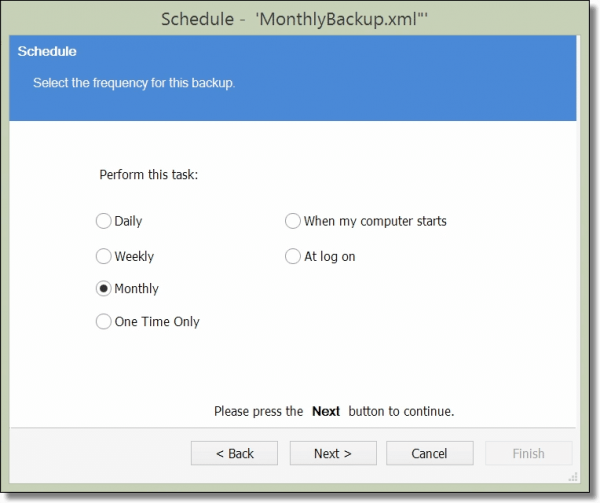 Select Monthly and click Next to set up the specifics:
For my example, I've set up the monthly backup to happen at 6:00am on the first Sunday of every month.
One important option that I recommend you select is "If missed then run at next start-up". If for some reason your machine is unable to run your backup at its scheduled time – perhaps the machine is turned off – then it'll run automatically the next time you log in.
Click Next and you'll be presented a summary of the scheduled operation: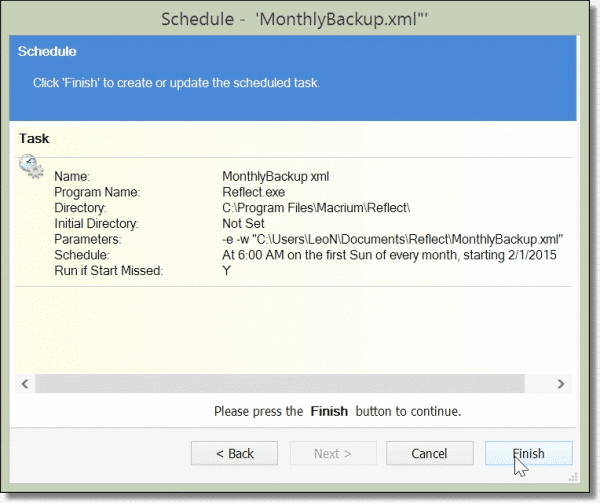 Click on Finish, and … you're done!
Your backup is now scheduled and will happen once a month, automatically, without any thought on your part.
Automatic backups and disk space
At this point, you may be asking yourself if these automatic backups are simply going to accumulate and take up more and more disk space.
The answer is yes.
In my example configuration, each month Reflect will create a new backup image, and add it to the collection of images that have been made to date.
Sooner or later, you're going to run out of disk space on your backup drive.
There are two solutions:
Periodically clean up the backups by deleting or moving older backup images to free up space for newer images.
Use the paid version of Reflect, which includes two features that can help.

Incremental backups, which can dramatically reduce the amount of space that backups take, because they back up only those things that have changed since the previous backup. Since many files don't change once installed, this provides a significant reduction in the rate at which disk space is used up.
Disk space management, which can automatically delete older backups, based on age or quantity. For example, I use this to keep only the two most recent backup sets, deleting the oldest automatically after the third backup is created.
Naturally, if you're using another backup program, disk space management solutions will differ. It's an important issue to be aware of, however, so that your most important (newest) backups aren't blocked by a simple lack of disk space.
Podcast audio

Download (right-click, Save-As) (Duration: 5:28 — 2.6MB)
Subscribe: RSS