The difference between 32-bit and 64-bit computers and versions of Windows remains a point of very common confusion.
It's really no surprise because the concept is actually fairly geeky and not something a typical computer user should need to worry about.
And yet, it turns out that it's important to realize that there is a difference. When installing software, including the operating system itself, using the wrong flavor can lead to anything from decreased performance to installations that don't work at all.
It's also important to know what you already have, if for no other reason than to be able to select appropriate software and possibly system updates in the future.
Do I have 32-bit or 64-bit?
Let's start with determining what flavor of Windows you have.
Click the Start menu/orb and then right-click on Computer (or "My Computer"). You can also simply right-click the Computer icon on your desktop.
Click Properties.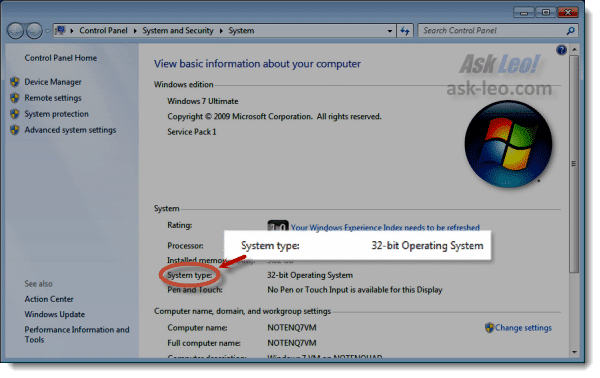 There, you'll see the information indicating whether your system running a 64-bit or 32-bit version of Windows.
Great, but what about the actual capabilities of your hardware?
For that, we need a separate program. I happen to like the free utility Securable from Steve Gibson out at grc.com.
Download and run the program, and it'll display a window like this: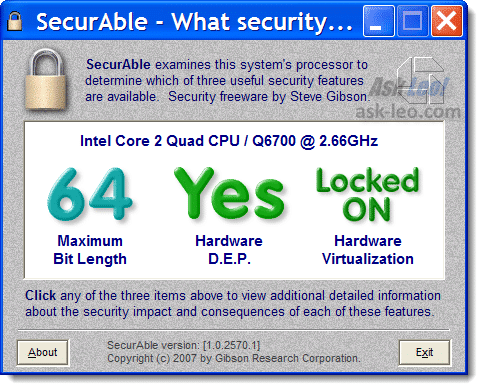 The information includes a few other aspects of your CPU that we need not concern ourselves with right now. The important issue is that it indicates whether you have a 32-bit or 64-bit CPU installed on your machine as the "Maximum Bit Length" item.
So now you know:
Whether you're running the 32- or 64-bit version of Windows
Whether you're running on a 32- or 64-bit CPU
Great, so why all the fuss?
What's the difference between 32-bit and 64-bit?
Computers are all about bits where a "bit" is a thing that can have a value of either 0 or 1. That's it.
In fact, that's all that computers really know: zero or one. Everything else is built on collections of zeros and ones. Everything from the article that you're reading to the pictures you see on your digital camera to the music you play on your portable device, it comes down to zeros and ones. Personally, I find that concept absolutely amazing, until I realize that that means all I really do all day long is put zeros and ones in the right order for whatever it is I'm doing.
Fortunately, you and I don't have to think about zeros and ones. We group them together in various ways to make them easier to think about.
Computers do that too in that they work on groups of bits at a time. Popular CPUs can be easily traced back to ancestors that worked at four, eight, and 16 bits at time.
Computers don't do this to make "understanding" the bits any easier, but because it's faster. A 32-bit processor works on information 32 bits at a time (grossly oversimplifying here, but that's the concept), and a 64-bit processor works on it 64 bits at a time. The difference is in hardware – all the way from the CPU to the memory installed as well as their interconnections on the motherboard.
Do I want 32-bit or 64-bit?
If you have an existing computer, and you determine that it has a 32-bit CPU, then you're done: you can run only 32-bit versions of Windows. Your hardware is incapable of running 64-bit software. In addition, your computer is limited to four gigabytes of RAM, the most that a 32-bit CPU can access.
These days, most new computers come with a 64-bit CPU. In fact, even if you're running 32-bit Windows, you may find that if your computer has been purchased any time within the past few years that it may in fact have a 64-bit CPU.
64-bit CPUs are capable of running 32-bit software, just not the other way around.
The problem is that running a 32-bit operating system still limits you to that four gigabytes of RAM. Even if your machine has more, only the first four gigabytes will be used if you're running a 32-bit operating system.
Today, the choice is fairly simple:
If you are getting a new machine, get a 64-bit machine. (It'll be difficult to get anything else, to be honest.) On that machine, install the 64-bit version of your operating system of choice. Consider making sure that new machine has or can be expanded to 8, 16, or even 32 gigabytes of RAM. You may not need it today, but as we all know, resource requirements only grow over time .
If you have an existing machine that has a 32-bit CPU, then you're stuck. Put as much RAM in it as you can (to its maximum of four gigabytes) and the 32-bit version of the operating system of your choice.
If you have an existing machine that has a 64-bit CPU, but the computer system itself cannot be upgraded beyond four gigabytes of RAM, there's really not much point in installing a 64-bit operating system. I'd recommend a 32-bit operating system and once again as much RAM as the machine can handle.
If you have an existing machine that has a 64-bit CPU and the computer is capable of handling more than four gigabytes of RAM, then you have a choice to make: leave the existing machine as is until the day you need to reinstall the operating system, and maximize the RAM and move to 64-bits at that time, or force the issue and backup, reformat, and reinstall now.
Backup, reformat, reinstall?
Aye, there's the rub.
Upgrading from 32-bit to 64-bit
There is no "upgrade" path from any 32-bit version of Windows to a 64-bit version.
The only way to "upgrade" your machine from your 32-bit operating system to a 64-bit version is:
Backup the machine completely.
(Optional) Install any additional RAM that you plan to install for the new operating system.
Install the 64-bit operating system from scratch.
The operating systems are so fundamentally different throughout that a clean install is the only approach you can take.
This is why many people elect to leave existing machines running as-is, until they either find themselves in a position that they need to reinstall from scratch anyway, or until they get a new machine.
Maintaining 32-bit or 64-bit
In use, 32-bit and 64-bit versions of Windows operate virtually identically. In fact, it's often difficult to know exactly what version you're using unless you actually look at the Properties dialog that we started with.
However, there are some ramifications to ongoing maintenance and related choices.
64-bit versions of Windows will typically run most 32-bit applications. However, you may gain additional performance or capacity if you elect to install the 64-bit versions of some applications, if available.
Drivers and system software typically must match. That means that if you have a 64-bit operating system, you'll probably need to ensure that you have 64-bit drivers available for any hardware that's not natively supported by your install of Windows.