If you have Adobe Reader installed to read PDF files, and you use Chrome, you may find that you got a little something extra you didn't ask for in a recent update.
The most recent update to Adobe Reader, as of this writing, automatically installs an extension to Chrome.
Without asking.
That's just wrong.
Almost a PUP
I'm not going to call this a PUP, but to be honest, I can see how many people might believe it to be. It's something you didn't ask for and probably don't need, installed without being asked. That's pretty close to the definition of a PUP, if you ask me.
The first sign was the orange exclamation mark in Chrome where the Settings menu ellipsis usually sits. Clicking on it revealed the cause for the alert.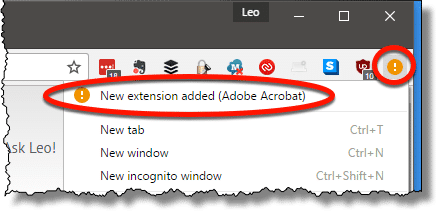 "New extension added (Adobe Acrobat)" displayed because the Adobe updater had just run and updated Acrobat. In addition to the update, it installed the Chrome extension. Clicking on that alert displayed additional information.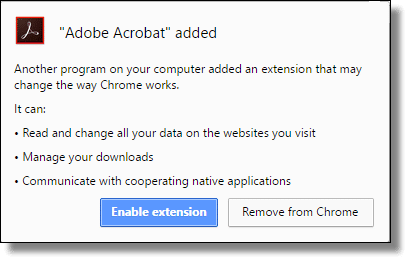 Fortunately, Chrome had not activated the extension.
My recommendation: click on Remove from Chrome to remove the unasked-for extension (for reasons I address shortly).
Removing it later
If you happened to move on without removing the extension, or accepted the extension and enabled it, you can always remove it later.
Click on the settings (ellipsis) menu in the upper right, and then click on Settings.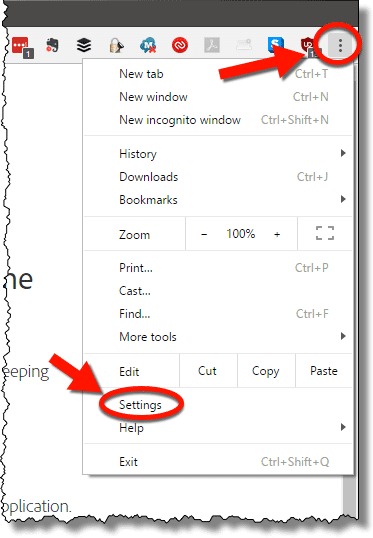 On the left, click on Extensions.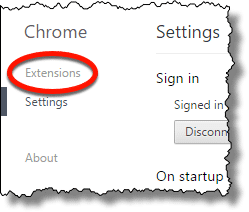 On the resulting page, look for the listing for Adobe Acrobat, and click on the garbage can icon to its right to remove it.

You'll be given a prompt to confirm.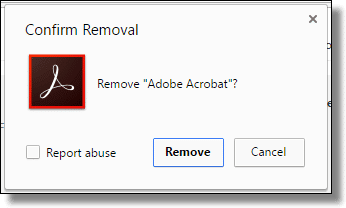 You have the option to report abuse when you remove it. It's up to you whether or not you want to. I did, citing that the extension was installed without my permission.
Click Remove to remove the extension.
What does it do?
Of course, we're curious – just what does this surprise extension do?
If you enable the extension, you'll be presented with a web page that contains the following:
Adobe Acrobat extension for Chrome
Interact with Acrobat directly from within Chrome
With this all-new extension, you can:
Easily turn web pages into PDF files so they look and act just like the page you converted – keeping original links, layout, and formatting intact
Quickly switch from viewing PDFs in Chrome to opening them in Acrobat on your desktop
Explore Adobe Document Services to convert and combine files in your browser
Please note: With this release, you can share information with Adobe about how you use the application. This option is turned on by default. The information is anonymous and will help us improve product quality and features. You can change this setting at any time in Options for this Chrome extension. Learn more ›
Note that some features may only be available on Windows with Acrobat XI or Acrobat DC installed.
Whether or not you find these features to be valuable, it's important to note that anonymous usage information is shared with Adobe by default. That, all by itself, is a serious breach of trust for many.
I removed the extension.
Podcast audio

Download (right-click, Save-As) (Duration: 4:16 — 4.0MB)
Subscribe: RSS
Related Video