Have Windows show you what it remembers.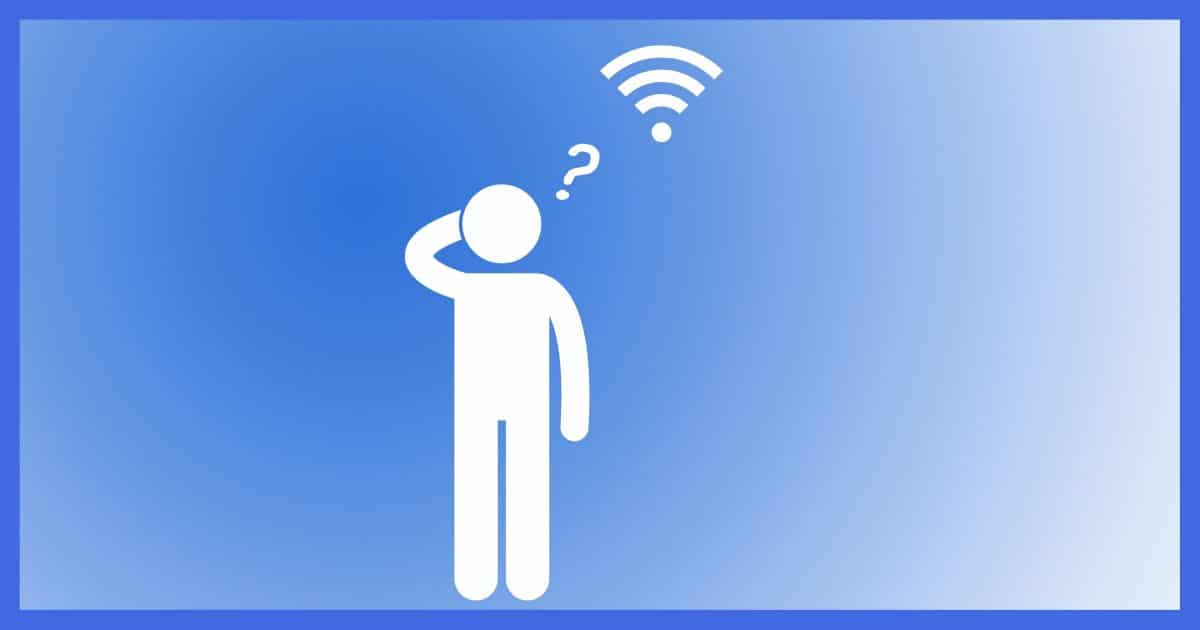 If you forget your Wi-Fi password Windows may be able to remind you what it is.
Question: I connected to my WPA-protected Wi-Fi network ages ago, and now I can't remember the password. How do I figure out what it is?
It's common to set up a wireless network securely and then get on with your life, neglecting to save the encryption password you created.
Later, when it comes time to add another device, you're unable to remember that all-important password.
It's so secure, even you can't get in!
There are two approaches you can take.
Recover a Wi-Fi password
If you've connected to a Wi-Fi network once and allowed Windows to remember it, you can have Windows tell you the password with a simple command-line command: "netsh wlan show profile <profile name> key=clear".
The traditional approach: set a new password
If you forget the Wi-Fi password, the traditional approach is simple, yet cumbersome.
Simple:
Sign in to your router or access point's administrative interface.
Set a new Wi-Fi password. (Maybe save it somewhere this time. )
Cumbersome:
Now go visit every device connected to your wireless network, and reconnect them using the new Wi-Fi password.
Conceptually very easy, but if you have a lot of devices, it can be a pain.
Get the Wi-Fi password remembered by Windows
Fortunately, if you have a Windows device connected to your wireless network, you can have it show you the password. It's not as simple, but a lot less cumbersome.
If you know the name of the wireless network you're connected to, you can skip this first step.
Step 1. Run Command Prompt or PowerShell, either will do; and type in the command:
netsh wlan show profile
Picking the command apart:
netsh is the "networking" shell, a repository for several networking and non-networking functionalities.
wlan indicates that the following command is about the wireless LAN.
show is a command to display information.
profile refers to the information to be displayed; in this case, a list of all known wireless LAN profiles or names.
An example of the result: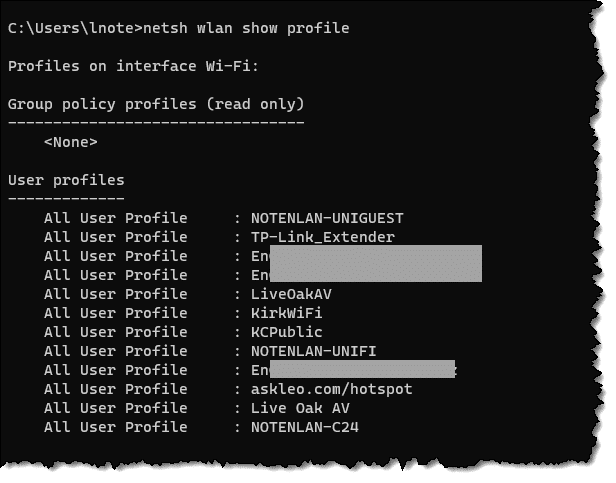 Hopefully, that will jog your memory about which network you want the password for.
Step 2. Once you know the name of the wireless connection, enter:
netsh wlan show profile <profile name> key=clear
In addition the parameters explained above, we've added:
<profile name> – replace this with the name of the network whose password you're looking for.
key=clear indicates that the password or "key" should be displayed in clear text, rather than being indicated as simply present or not.
An example for my askleo.com/hotspot wireless network: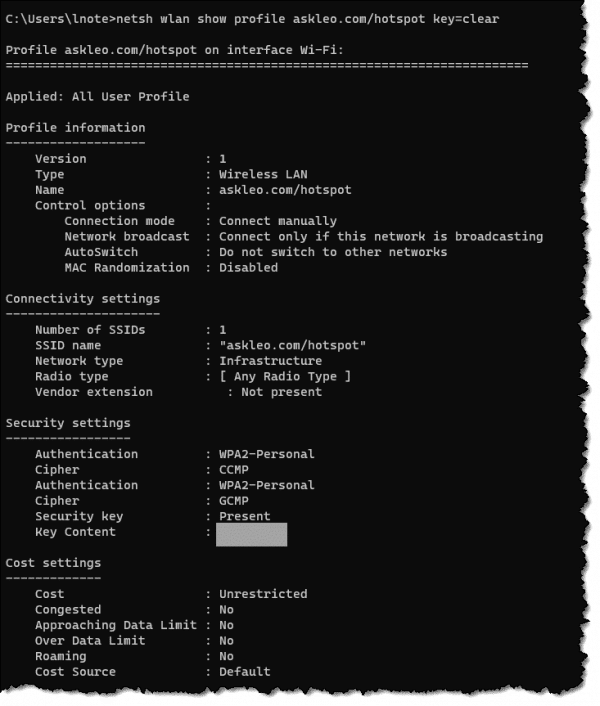 Here, I've obscured the actual password. In reality, it was displayed in plain text.
Do this
You might want to save the password somewhere for easier access next time. Though if you don't, you should be able to recover it using these instructions.
Something else you might want to do is subscribe to Confident Computing! Less frustration and more confidence, solutions, answers, and tips in your inbox every week.
Podcast audio

Download (right-click, Save-As) (Duration: 4:14 — 4.0MB)
Subscribe: RSS