Something was downloaded to my computer while I was away this week. (My husband probably thought it was ok.) Now when I open an email thru Outlook it's huge – it goes way off the screen to the right. I don't know how to resize this or fix this.
Can you please tell me in simple one and two syllable words just what to do?
Oh, those husbands. Can't leave 'em alone for a minute, much less a week.
The too-wide window could be the result of a download, but it's also possible that it's not his fault. Even though it's not supposed to, sometimes it can happen for other reasons. Fortunately, it's fairly easy to fix.
Normally, of course, you can resize a window by using the mouse and clicking on and dragging the border of the window. In a case like this, though, the border is off the screen, and there's no way to move the mouse over to click on it. The result is that we have to use the keyboard interface.
When you're in one of those too-wide windows, do the following.
Type ALT+spacebar: this should pop up a menu at the upper left of the window that should look something like this:

Click on Size (or just type s): the cursor should change to a 4-pointed compass
Press the right arrow key (or the key that "points to" the window border that is off the screen): the cursor should jump to that window border – which of course you can't see right now, since it's off the screen.
Press the left arrow key (or the opposite of whatever key you pressed in the previous step) to resize the window: the edge of the window should move in the direction you've chosen.
Press Enter when done resizing.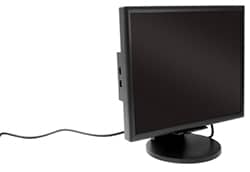 I believe it's still the case that while a mouse is technically listed as a requirement for Windows, there is a keyboard interface for everything. (Sadly, while Windows meets this criteria, not all applications do.) It's not always elegant, and sometimes downright cumbersome, but in cases like this it can be quite handy to at least have some familiarity with it.