The email equivalent of "something didn't work".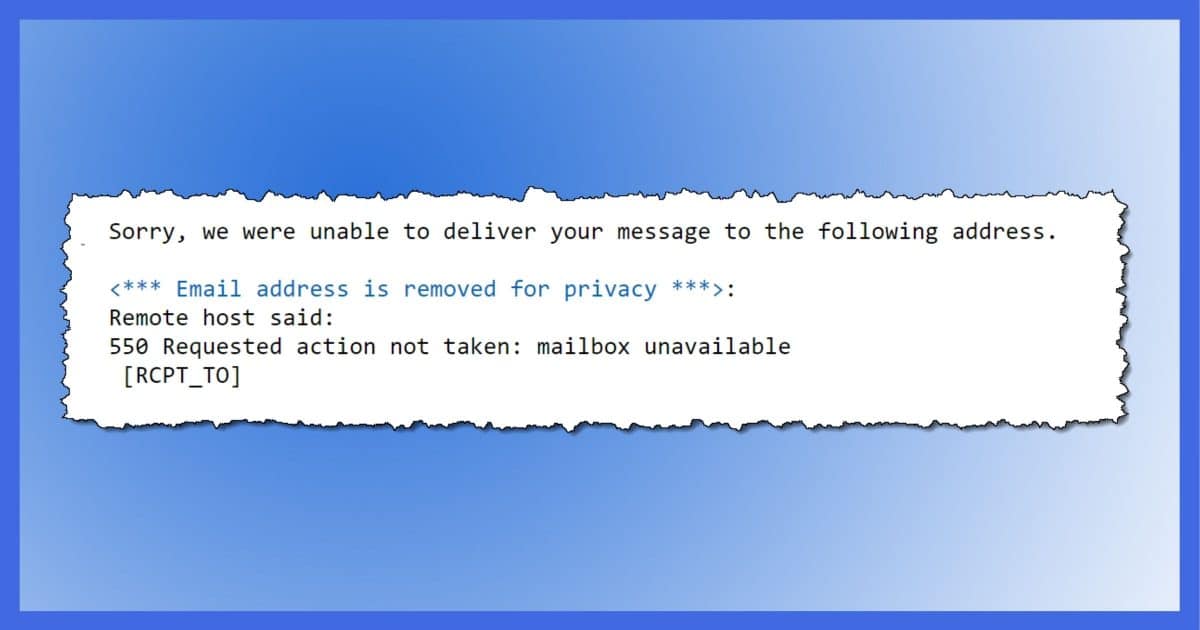 "Mailbox unavailable" is a common email bounce message that tells us very little. I'll review some of the more common causes of "mailbox unavailable".
Question: What does "smtp; 550 Requested action not taken: mailbox unavailable" mean? I can no longer send emails to my friend at *****@live.com … the mail comes back with this message.
Unless you've mistyped the email address, "mailbox unavailable" is likely not your problem, and not something you can fix. It means that your friend's mailbox isn't available, for unspecified reasons, and your message could not be delivered.
From there, all we can do is guess why.
"Mailbox unavailable" can indicate that your email message failed to deliver for any number of different reasons, ranging from bad email addresses to closed or suspended accounts to quotas having been reached to mail server problems and more. Unless there's more information included with the message, there's rarely any way to get more details. The "mailbox unavailable" error is the email equivalent of saying, "Something didn't work".
Mailbox unavailable
"Mailbox unavailable" is a frustratingly vague message. The only thing it tells you is that the mail could not be delivered. It gives no clue why. Unless there's additional text in the error message saying more — which there typically isn't — there's just no way to know exactly why it failed.
It gets worse.
Different mail systems use different error texts to report the same errors. So whatever might cause a "mailbox unavailable" on one system might generate a completely different message from another.
All we can do is make some guesses. I can't say which of these might be the cause in your situation. I can't even be sure I've listed all the reasons you might get this error message, but these are the most common.
Bad email address
First things first: make absolutely certain you've entered the email address correctly. Any error could have you sending to a non-existent account, which could easily result in this error. This is perhaps the most common cause of "mailbox unavailable".
Account closed
This is a variation of the preceding item: it's possible the email address you're sending to may have been valid at one time but has since been closed. Make sure you're not only entering the address correctly, but that it's the correct email address for whomever you're trying to reach.
Account suspended or hacked
It's possible the account was suspended due to abuse. This might mean your recipient was doing something they shouldn't have, but more often it means the account was hacked and taken over by someone using it to send spam. The account could remain suspended indefinitely, or things could return to normal once your recipient regains access to it.
Looks like spam
If your message looks like spam to the recipient's email server, "mailbox unavailable" is one way servers reject your message. They intentionally don't say "this is spam" to avoid giving spammers any clue about how to bypass the filters. Try rewording anything that might be misinterpreted as spammy.
Server problems
A surprisingly common scenario is that the recipient's email server is having a problem of some sort and can't deliver the email. When this is the case, typically the problem is resolved in a matter of a few hours or so. Wait a while and try again.
Quota limits
Most email services have limits (or "quotas") on how much email they'll accept and store. Your recipient may have exceeded this limit.  Most email services will include something about a quota or limit being exceeded in the bounce message, but they could also just say that the mailbox is unavailable.
Something else or anything at all
While those are all things to look at and try to rule out, what it all boils down to is that any reason for email not being delivered could cause this message.
When I find myself in this position, I try to contact my correspondent some other way.
Podcast audio

Download (right-click, Save-As) (Duration: 5:18 — 5.8MB)
Subscribe: RSS