I'm a snowbird. We live in Des Moines, Iowa in the summer and in Arizona in the winter. I have CenturyLink. I have more trouble with it than it's worth. I'd like to know of an internet service that I can take back and forth and it doesn't cost too much. I currently pay about $20. They never get the order right; I lose them all the time and I'm getting tired of it.
Traditional ISPs are almost always location-centric. The company that connects through the telephone or cable connections that come into your home is the one that provides the internet.
Two different locations will almost always require two different traditional ISPs. Even if the ISP happens to be the same company in both locations, then you're still typically looking at two separate accounts in those two locations: one for each.
There are few solutions.
Multi-location solutions
In the past, I actually would have suggested you look into Clearwire, a wireless internet provider. If they have you covered in both of your locations, that actually could have been a reasonable solution for not too much expense.
The problem is that they were purchased earlier this year by Sprint and they're no longer taking new customers.
The only other real solution that I can come up with is a more traditional mobile carrier like Sprint, Verizon Wireless, AT&T, T-Mobile, Virgin Mobile or perhaps others. They work using their cellular networks, independent of where you are.
If you've got cellular coverage in both of your locations by the same provider, then a single wireless data plan using your cellular phone or a cellular modem could actually solve the problem quite nicely. I personally happen to be a long-time Verizon wireless customer and I've been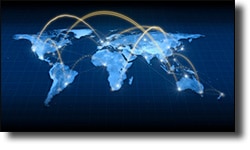 quite happy with their service  wherever I am.
It gets tricky if you have more than one computer. Most of the services are intended to be used by a single computer. It's not to say that they can't be used by more than one. It's just harder to set up.
And cost. I honestly couldn't come up with a $20/month solution this way. I certainly am paying much more than that for my wireless connection.
Unfortunately, those options are ones that I know. Perhaps readers will be able to chime in to the comments to this article to suggest some alternatives.