With the end of support for Windows XP, Microsoft is taking an above-average number of approaches to scare people away from continuing to use it.
It turns out Microsoft Security Essentials (MSE) has one of those scary messages that seems exceptionally concerning. But when you look at it more closely, it's not really the big red flag that it sets out to be.
At risk?
After taking the most recent and final round of updates to Windows XP, many people are seeing this:

"PC status: At risk" is the warning that's now being displayed by Microsoft Security Essentials' red notification area icon.
In the past, the red icon was used to represent something actually being wrong – an infection that's been found or the software's inability to run.
None of that is the case here. In fact, MSE is running quite normally and no infections have been found.
So what's the deal?
The  risk is XP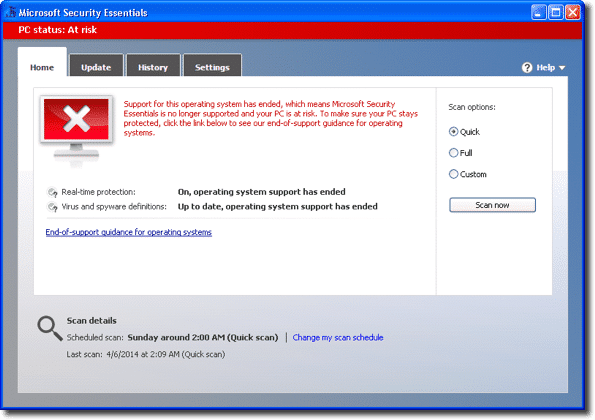 If you open MSE and look carefully at what it's saying, the messages displayed are clearly confusing. For example:
"Support for this operating system has ended, which means Microsoft Security Essentials is no longer supported and your PC is at risk."
That would imply that MSE is no longer supported. However…

Real-time protection is on and the virus database is up to date, but both statuses include explicit statements about "operating system support has ended."
So what's the deal?
When supported doesn't really mean supported
Remember the goal here: Microsoft wants you to stop using Windows XP. And, to be completely honest, that's the right thing to do.
In my opinion, the warnings have more to do with Windows XP than with Microsoft Security Essentials. Remember, Microsoft did commit to providing malware database updates to XP-based security tools like MSE until well into next year (2015).
So:
The Windows XP operating system isn't supported.
Anything Windows XP specific in MSE will not be fixed.
MSE will continue to run.
MSE will continue to receive anti-malware definition updates well into next year.
And apparently, MSE will continue to warn/nag you until you either get rid of it or upgrade Windows.
But is it safe?
Are you safe running Windows XP and MSE?
The answer is no.
Windows XP is no longer supported, and it's likely that there will be problems discovered with it that will not be resolved. For the last five years, Microsoft has made that abundantly clear through every venue, including MSE,  that it has.
Is MSE part of the problem? I don't know.
Would you be safer running something else? Perhaps.
The problem is that many anti-malware tools have also moved on to assume Windows versions beyond XP. Some may work, some may not. And from what I hear, many work, but work poorly or impact XP system performance adversely.
My recommendation?
Switch away from XP if you can.
Keep running MSE for now.
Backup your Windows XP machine daily, including the entire system and all your data. If there's ever a problem, this is your most powerful safety net.
Consider an alternative to MSE if you feel particularly concerned, but be prepared for a little work and trial-and-error.
Me? Well, I'm upgrading my last production XP machine to Windows 7 as I write this. If I couldn't, I'd probably leave MSE in place and see how it goes.
But I would back up.
Daily.