Question: Hi, Leo. A little less than two years ago I bought a new Acer Aspire laptop with Windows 7 Home Premium with a 320 GB hard drive. I currently backup weekly to a DVD and it shows currently 1120 files are backed up. When I bought this laptop, they included a Mukii TIP-230SU-BK external hard drive that plugs into a USB port. The info on the box says it's compatible with any 2.5 inch SATA hard drive. Would this unit, assuming it works correctly, be better for an external backup than the DVDs I'm now using?
My short answer is yes. I now always recommend using an external drive over backing up to DVD for an assortment of reasons.
But first, we really need to figure out just exactly what it is you have.
A drive without a drive?
I looked up that Mukii device you mentioned and it turns out it's an external drive enclosure.
What that means is that when originally sold, it doesn't include a hard drive. It's just a box that you would put a hard drive into. It says "compatible with any 2.5 inch SATA hard drive", because that's the type of hard drive you would purchase and you would put into that box.
However, I find it really odd that an empty external enclosure would be included with a new laptop purchase. My suspicion is that there's actually a hard drive already in it. We just don't know what kind or how big.
So, plug it in. See if a drive shows up in Windows and if so, how big it is. If nothing shows, then it's possible that the enclosure is indeed empty, and you should either go out and get a hard drive to put in it, or just get yourself a new external hard drive. As I said, getting an empty one with a new laptop would be odd, but weirder things have happened.
Assuming, as I suspect that it does indeed have a drive in it, I'd start backing up to it.
Backing up with DVDs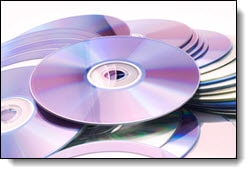 There are various approaches to backing up, and to be honest I'm not sure what technique you are using right now. I'll just summarize that my recommendation is a full image backup once a month and incremental backups daily using a program like Macrium Reflect.
The concern I have with DVDs is that we don't know what's being backed up to them. DVDs don't really hold a lot anymore, so the one thing we do know is that you're not backing up your entire system. Just the fact that backing up your entire system would take a lot of DVDs is my biggest reason for recommending you switch to using an external hard drive.
By backing up a system image, you're backing up everything and you're protected from almost anything that can go wrong.