Yes, you can.
Blocked from upgrading to Windows 11 by the TPM 2 or CPU requirements? There may be a way.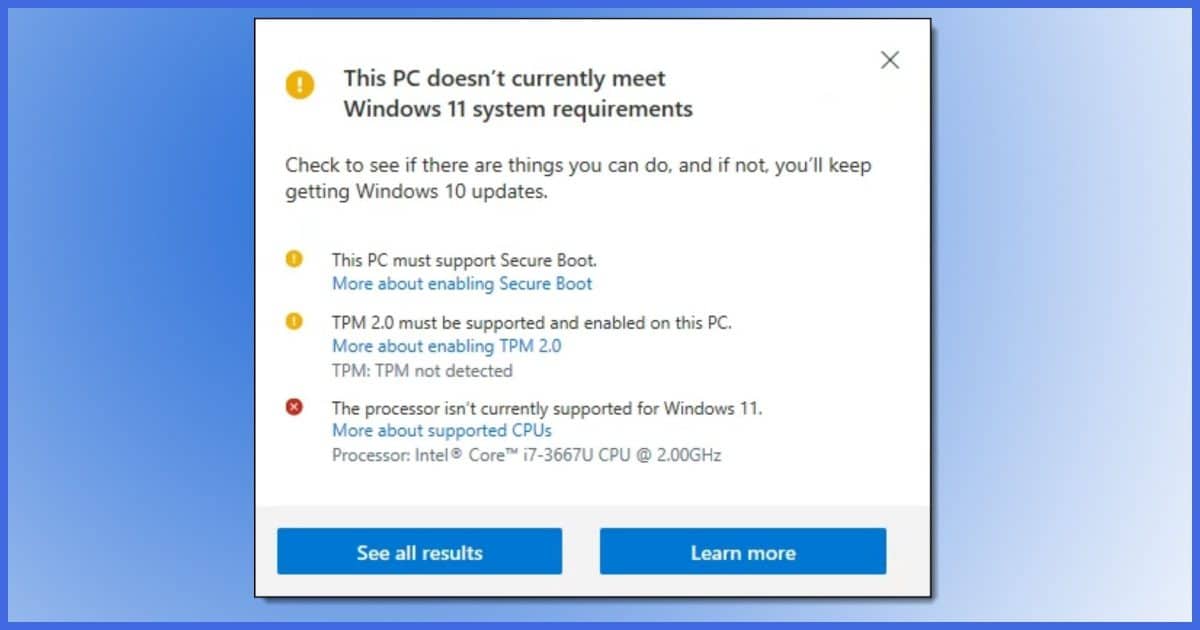 One of the more controversial aspects of Windows 11 is its requirements for a TPM 2.0 and for "newer" CPUs. In addition to frustration, it also brought out the conspiracy theorists, who insisted that Microsoft was colluding with computer manufacturers to sell more new computers. (Spoiler: nope.)
Turns out the "requirements" may not be as required as we thought.
Install Windows 11 without TPM 2
There are, of course, risks, but as long as your PC meets the other Windows 11requirements, you can bypass the TPM 2.0 and CPU requirements with a simple registry setting: HKEY_LOCAL_MACHINE\SYSTEM\Setup\MoSetup – AllowUpgradesWithUnsupportedTPMOrCPU=1
The requirements you might not have
The two controversial requirements are:
Trusted Platform Module (TPM) version 2.0. (The older TPM 1.2 is often present, but not enough.)
One of a collection of "newer" CPUs. (Microsoft has a list.)
In the example at the top of the page, the processor doesn't meet the CPU requirements, and there's apparently no TPM at all.1
The problem, of course, is that many existing machines don't meet one or both of those requirements, implying that they'll never be able to run Windows 11. This frustrates many because the further implication is that they'll be required to purchase new computers when Windows 10 is no longer supported.
In some cases, both implications are wrong.
You can keep running Windows 10, if you like, past its end-of-life. You'll just need to be a little extra careful.
Or, assuming you meet the other Windows 11 requirements, you can hack the registry to bypass the TPM 2 and CPU requirements.
Yup. Using Microsoft's own instructions, even.
Risks
You need to be aware of several risks if you decide to do this.
One: We're about to play in the registry. Back. Up. First. I cannot stress this enough. Take a complete system image backup before embarking on this process. This will protect you from anything that might go wrong. I believe this is a "safe" change, but whenever you make changes to the registry, it's important to assume the worst.
Two: Once installed, Windows 11 may have problems. The requirements are there for a reason, and bypassing them runs the risk that something associated with those requirements will not be present or perhaps fail completely. I've not heard of major catastrophes, but because of the wide variety of machines and configurations out there, we have to assume yours might be problematic. The solution? The backup you took in the previous step. If something goes wrong, you can restore it and be back running Windows 10.
Three: Microsoft's instructions throw lots of dire warnings, including:
If you proceed with installing Windows 11, your PC will no longer be supported and won't be entitled to receive updates. Damages to your PC due to lack of compatibility aren't covered under the manufacturer warranty.
While that implies you won't get updates, I don't believe that to be true. What it really means is that if you run into trouble, Microsoft, and perhaps even your computer manufacturer, will help even less than they already do; perhaps not at all.
With all that out of the way, let's forge ahead.
The registry modification
Honestly, I'm shocked at how simple this registry setting is.2
If you're familiar with registry editor, here's the short version. On your Windows 10 machine:
In HKEY_LOCAL_MACHINE\SYSTEM\Setup\MoSetup
Create a DWORD entry named AllowUpgradesWithUnsupportedTPMOrCPU
Set that value to 1
Alternately, you can download and run this ".reg" file: AllowUpgradesWithUnsupportedTPMOrCPU.reg. Right-click the link and save to your computer. You can open it in Notepad if you like, and it should look like this:
Windows Registry Editor Version 5.00

[HKEY_LOCAL_MACHINE\SYSTEM\Setup\MoSetup]
"AllowUpgradesWithUnsupportedTPMOrCPU"=dword:00000001

In Windows File Explorer, double-click on the .reg file to run it. You'll likely be prompted for administrative access and then given a warning.

IMPORTANT: this .reg file is provided without warrantee, and you use it entirely at your own risk. Download it and open it in Notepad to confirm it is what I claim. Remember the backup I mentioned above? Make sure you've done that in case this breaks and/or completely erases your machine. That's highly unlikely and not my intent, but I must cover my behind.
Once you've confirmed the warning, the information is added to the registry, and you should be good to go.

You should now be able to pass the requirements check on your Windows 10 machine, as long as either the TPM 2.0 or CPU requirements were the only ones not met.
(Don't) Do this
You don't need to rush. You also don't need to update to Windows 11.
And you certainly don't need to buy a new machine. Whether you use Windows 11 via a registry setting or Windows 10 with increased vigilance on your part, there's just no need.
Subscribe to Confident Computing! Less frustration and more confidence, solutions, answers, and tips in your inbox every week.
Podcast audio

Download (right-click, Save-As) (Duration: 10:08 — 7.2MB)
Subscribe: RSS
Footnotes & References
1: The other missing requirement, Secure Boot, is typically available by changing a UEFI setting. TPM can sometimes be enabled on some processors via a UEFI setting as well.
2: There's a theory that this was requested specifically by a computer manufacturer attempting to support a large installed base.